I have heard that Tonkatsu by Ma Maison served the best tonkatsu, but have never tried it before.
Did you know?
Tonkatsu is a Japanese dish that consists of a breaded, deep-fried pork cutlet. It involves coating slices of pork with panko (breadcrumbs), and then frying them in oil. The two main types are fillet and loin.
Tonkatsu by Ma Maison
Tonkatsu by Ma Maison is a well-known and well-loved Japanese chain specialising in tonkatsu. They have outlets in Japan, Singapore and Malaysia. They have 9 outlets in Singapore, and 8 outlets in Malaysia. I went to their outlet in Westgate, Jurong East.
Even before you enter the establishment, they have plasticised bowls of pork on display that look really appetising.
The Tonkatsu by Ma Maison branch in Westgate is small. There aren't many tables in the restaurant itself. It's no wonder why there are long queues during peak hours.
Service was prompt. They offer you hot or cold tea, or water when you sit down. In case you are wondering whether do you need to pay for those, they are complimentary.
The Food
Tonkatsu by Ma Maison now has a contactless menu that you can browse from your phone. If your phone fails you, you still can request for a physical menu. However, to place an order, you'd still need to do it the old fashion way though – by hailing a waiter and letting them take down your oder.
They serve mainly pork options, but they do have chicken and seafood katsu options. All sets come with rice (white or multigrain), cabbage, tonjiru (pork and vegetable miso soup) and pickles, which are all refillable by the way.
Did you know?
Tonjiru literally means pork soup in Japanese. It is a Japanese soup made with pork and vegetables, flavoured with miso. It is a more substantial version of miso soup, with a larger quantity and variety of ingredients.
Sauce-wise, you are given Kewpie toasted sesame dressing, soy sauce, and two kinds of tonkatsu sauce in two teapots.
[Promotional Menu] Miyazaki Pork – $31.80
I tried their Miyazaki Pork. It was a promotional menu item that day. Basically, the Miyazaki Pork Set is similar to their other pork katsu sets, just that they use Miyazaki-grade pork instead of a normal grade pork.
Did you know?
The Miyazaki breed originates from Kyodo Farm in Miyazaki, and is fed a diet of whole corn kernels – the key to tender and flavourful pork.
As mentioned, all sets come with rice, soup, pickled radish, a dollop of yellow wasabi and a mountain of shredded cabbage.
I was awed by the crispiness of the breaded, deep-fried pork cutlet. It was love at first bite. The taste gets even better with a bit of katsu sauce. I preferred the non-spicy version over the spicy version. I also liked that they gave a sauce plate (with labels) for the three different sauces available.
The cabbage is completely raw and unseasoned. It goes well with the Kewpie sesame dressing. It also serves as the perfect counterbalance to the tonkatsu. It was also a pleasant surprise that the miso soup served here is much more than just the watery broth you'd get in most restaurants. This is packed with shredded pork meat and vegetables.
Cheese Mille-feuille Katsu Set – $25.80
My friend tried their Cheese Mille-feuille Katsu set. It is basically a deep-fried multi layered sliced pork cutlet with a cheesy core, encased in the crispy breadcrumb batter.
They say fried cheese makes fried food taste better, and it's true!
Did you know?
Mille-feuille is a French term, which means one thousand sheets, layers or leaves. A Mille-feuille Katsu is one of the Japanese most authentic creations which is overlapped thin sliced meat.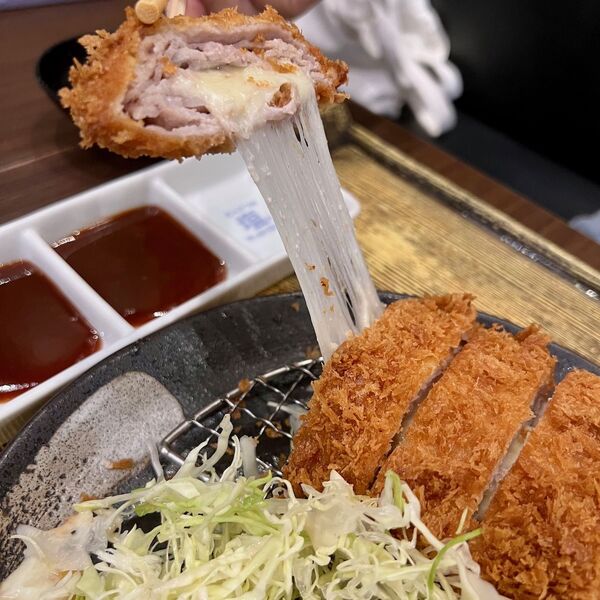 Overall, it's expect the dish to be oily, especially since cheese will produce oil when melted, but it wasn't oily at all! The multi-layered slice pork had a really nice texture and bite to it.
[Promotional Price] Oyster 1 pc – $3.80 (Normal $4.80)
The deep fried oyster was surprisingly nice too. Crunchy, lightly cooked inside and paired really well with the tartar sauce that came with it.
The dish was also on promotion that day.
Verdict
After my first bite, I knew the tonkatsu here was of a different standard. The taste did not disappoint. It was, hands down, by far the best tonkatsu I have had. It will be hard to meet this standard again. I liked their tonkatsu so much so that I had two bowls of rice to go with the tonkatsu and cabbage.
Service was really good. When asked for recommendations, the waiter would happily provide an insight of their best sellers. They were also attentive whenever your supply of cabbage, rice or tonjiru runs low, and are quick to provide refills.
Price-wise, it's slightly on the pricier side, but it was worth the money. The total bill ended up at $72.27 for a meal for two. They charge both 10% service charge and 7% GST.
Check out also:
My Rating
90%: Ambiance
75%: Price (value for money)
80%: Taste
90%: Location
85%: Service
84%: Overall Rating
Opening Hours
Open from 11:00 AM to 3:00 PM; 5:00 PM to 10 PM on Mon to Fri
Open from 11:00 AM to 10:00 PM on Sat / Sun / Public Holidays
Address / Contact Information
+65 6465 9556