I was searching for restaurants to try in Johor Bahru and stumbled across George & Dragon Cafe on the internet, saying that it was one of the better, if not best, Western restaurant in Johor Bahru. So, I decided to give it a try during my day trip in Johor Bahru.
George & Dragon Cafe
If you're coming from Singapore (Woodlands), George & Dragon Cafe is located about a 15 minute drive away, depending on which route you take. Otherwise, you'd need to hail a taxi / Grab / AirAsia ride to get there. Parking is ample surrounding the restaurant.
With a shield on its signboard, I expected the place to be medieval-themed, and I was right! When you step in, you'll be greeted with suits of armour, shield plates, old barrels and other memorabilia on the walls. Because it was Christmas, it was decorated to give a Christmasy vibe too.
Apparently, this establishment has been around since 2002!
I like stepping into nicely decorated restaurants. It gives you a certain confidence that since so much thought and effort has been put into the decoration, the food should be of a certain standard too.
I'm also happy to report that the service at George & Dragon Cafe was pretty good too.
The Food
I asked the waiter for recommendations since it was my first time here. I tried their best seller items – Creamy Chicken Pasta, and Fish and Chips. They are also known for their steaks, but I guess I'll try it the next time I visit this establishment again.
Creamy Chicken Pasta – RM31
George & Dragon Cafe's take on creamy chicken pasta is basically creamy pasta with sliced up seasoned chicken breast.
The creamy pasta was nice, though on the saltier side. The chicken was a tad dry. It reminded me of Nando's flame-grilled peri-peri style chicken, though not as good.
Fish & Chips – RM38.80
Who doesn't like traditional English fish and chips? It's an English classic – a popular hot dish consisting of fried fish in crispy batter, served with chips and a side of salad.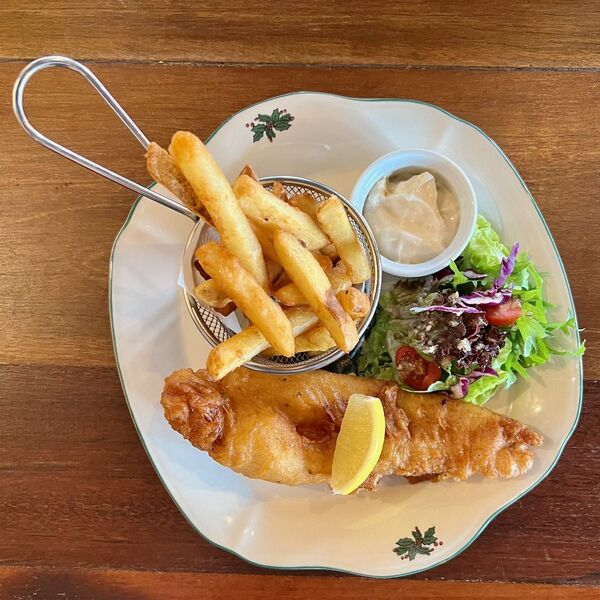 Although the dish overall was nice, the price of this dish was not justified given the size of fish given. Both the fish and chips were on the oilier side.
Apple Crumble with Ice Cream – RM16.80
How some wizard implanted the rosy fruit of the vine into such an elegant home of carbohydrates is beyond even me. Apple crumble is one of the greatest inventions ever. Period.
The crust was ample, but perhaps put it under a wee little bit more under the rays of the great fireball above to give it a crunch, and a sprinkle of cinnamon.
Orange Juice – RM14.80
Just plain old boring orange juice. Though you'd get better freshly squeezed orange juice (and cheaper too!) from iJooz's many vending machines in Singapore for SGD2 (RM6.40 @ 3.2 SGD/MYR).
Verdict
Entering George & Dragon Cafe feels like you're stepping into the past, complete with knights in shining armour, the various antiques and memorabilia.
Price-wise, it's definitely leaning towards the pricier side. The total bill for two summed up to be a grand total RM112.56 (inclusive of a 5% service charge and 6% service tax)!
Would I be back for more? Maybe. The food was generally decent, though not a place I'd go again if there are better options.
On a final note, to those who are celebrating Christmas:
Wishing you a season that's merry and bright with the light of God's love! Christmas is a season to wish one another joy, and love and peace. Merry Christmas my dear friends, may you feel the love this special day! May this festive season brings lots of joy and happiness in your life.
Check out also:
My Rating
90%: Ambiance
70%: Price (value for money)
70%: Taste
80%: Location
85%: Service
79%: Overall Rating
Opening Hours
Open daily from 12:00 PM to 10:00 PM
(Closed on Tuesdays)
Address / Contact Information
+607 232 3761