I was told that one of the must-try dessert shop in Singapore is Ah Chew Desserts! They are known for their extensive combination of traditional and modern Chinese style desserts.
Normally, my most immediate thought when I think about desserts would be ice-cream, waffles, Korean bingsu, cakes, and more, but never traditional Chinese desserts. That's perhaps because Chinese desserts are usually served hot, and I never fancied these kind of desserts.
Ah Chew Desserts has two outlets in Singapore – one at Novena and another at Bugis. Since I was already near Bugis after having salted egg chicken rice for lunch at Taste Good, I decided to stop by their Bugis branch. It was just a short MRT train ride away. Take the Downtown Line from Rochor MRT, which is right opposite Sim Lim Square, to Bugis MRT. It's only one station away!
Ah Chew Desserts
Ah Chew Desserts is located quite near Bugis MRT station. It's just a short 5 minute walk away, approximately 300 metres from the station.
How this place operates is that you'll first queue for a table before they seat you. Once you have a table, they'll hand you the menu and a self-order chit for you to fill up. After that, head over to the payment counter (and queue again) and pay. They will give you a buzzer and when your desserts are ready, head back to the collection counter to collect your desserts.
The facade of the place is decorated with old-school Chinese art decor. You'll see Chinese antiques being displayed on the shelves around you. Even the bowls used to serve the desserts are ceramic bowl sets. This definitely adds authenticity to the experience of eating these Chinese desserts.
The Food
They have quite an extensive menu – boasting with approximately 60 items from you to choose from.
P5 Black Glutinous Rice – $3.30
My friend tried their black glutinous rice – something that I wouldn't order myself.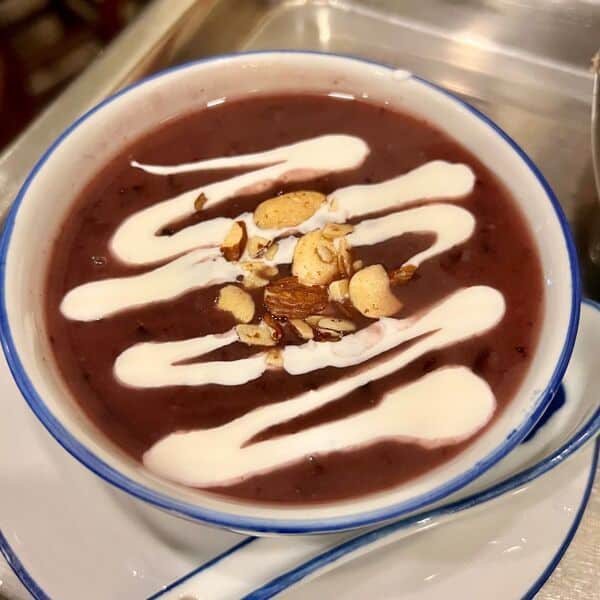 True to its reputation, it was indeed one of the better ones.
S6 Watermelon Honeydew Sago – $4.00
Ah Chew Desserts' version of Watermelon Honeydew Sago tasted more coconut rather than watermelon or honeydew.
Furthermore, they used small ice bits rather than shaved ice, making eating the dessert a pain, because you'd need to sieve out the ice first before taking a bite.
N2 Mochi made of rice-ball – $2.80
This was really the star dish of the day. As a huge mochi fan, this is one of the better ones I've had in a really long time.
The mochi was soft and yet with the right amount of chewiness. The peanut powder used was also on-point!
Verdict
Overall, Ah Chew Desserts is one of those places that will serve you more than just mere desserts – but nostalgic memories as well. The quaint Chinese interior decor, warm ambiance and cordial staff are a great compensation for the long queues that flock the establishment. Ah Chew Desserts' use of quality ingredients also sets it apart from your average dessert joint.
Price-wise, it's also pretty reasonable unlike the likes of those Korean bingsu. Be prepared to dish out about $5 per person? Do note that there's a dining time is restricted to 30 minutes.
Do note that Liang Seah Street becomes a bustling place at night as the road will be cordoned off for more seating along the whole stretch of eateries. So be prepared to queue if you are heading down after dinner.
Check out also:
My Rating
70%: Ambiance
85%: Price (value for money)
70%: Taste
80%: Location
70%: Service
75%: Overall Rating
Opening Hours
Open from 12:30 PM to 12:00 AM on Mon to Thurs
Open from 12:30 PM to 1:00 AM on Fridays
Open from 1:30 PM to 1:00 AM on Saturdays
Open from 1:30PM to 12:00 AM on Sundays and Public Holidays
Address / Contact Information
+65 6339 8198
1 Liang Seah Street
#01-10/11 Liang Seah Place
Singapore 189032