Chick n' Buns is part of myBurgerlab group. They launched it as a spin-off from their main burgers served at myBurgerlab towards the end of 2021. Chick n' Buns signature food are their double fried buttermilk chicken burgers and franks.
Chick n' Buns
Currently they have only one outlet at the Hartamas Shopping Center, Sri Hartamas. The outlet's choice of location is a little odd to me, given that the Hartamas Shopping Center is pretty run down and nearly dead. There has been little footfall here, even during the weekends.
Then again, it makes economical sense, as rental there might be significantly cheaper as compared to, say, Sunway Pyramid. I guess they are banking on their myBurgerLab brand name to draw people there, similar to Uokatsu, which is also located nearby.
Chick n' Buns is located on the highest floor in the shopping complex.
What's different from their myBurgerLab chicken burgers? Rather than using their signature charcoal buns at myBurgerLab, they use Japanese Milk buns here at Chick n' Buns. It is as soft as their charcoal buns, but I personally think prefer their original offering of charcoal buns.
Patties-wise, they also only offer chicken as their protein, and use exclusively fried buttermilk chicken thighs for their burgers. They also have hot dogs, which aren't available at their myBurgerLab outlets.
Since it was my first time here, I asked the staff for recommendations. I wanted to try one of each – their burger and hot dog. I was recommended Pineapple Under the C and Dirty Joe's.
You can also opt to make it a set. There's an option to upgrade from any of their mains for RM8. Each set comes with a drink and a sidekick. There are two sidekicks can be chosen from – awesome fries and salsa nachos. I ordered both of my orders as a set, as I wanted to try both their fries and nachos.
The Food
Pineapple Under The C (combo) – RM27.50 / RM19.50 (a la carte)
I ordered their Pineapple Under The C as a set with the sidekick being their awesome fries. I also added RM3 to try their shaker spice.
The Pineapple Under The C burger consisted of fried buttermilk pickled brined chicken thigh, with yasai itame (teppan-grilled veggies), cheese, grilled pineapple, onions, pineapple ketchup, spiced oil in between two Japanese milk buns.
Personally, I felt that their burger was not bad considering that I prefer the meat in my burger to be either beef, mutton or pork. As for the dipping sauce, I prefer the one that myBurgerLab serves, which is slightly spicy. My sister also felt that the fries here were nicer that those at myBurgerLab, though I couldn't really tell the difference, other than it was missing the garlic pieces that you would find with myBurgerLab Awesome Fries.
Dirty Joe's (combo) – RM24 / RM16 (a la carte)
For Dirty Joe's, I had it with the sidekick as Salsa Nachos. Dirty Joe's is basically a smoked Vienna chicken sausage in a milk bun, topped off with sloppy chicken, pickled onions and smoky tomato sauce.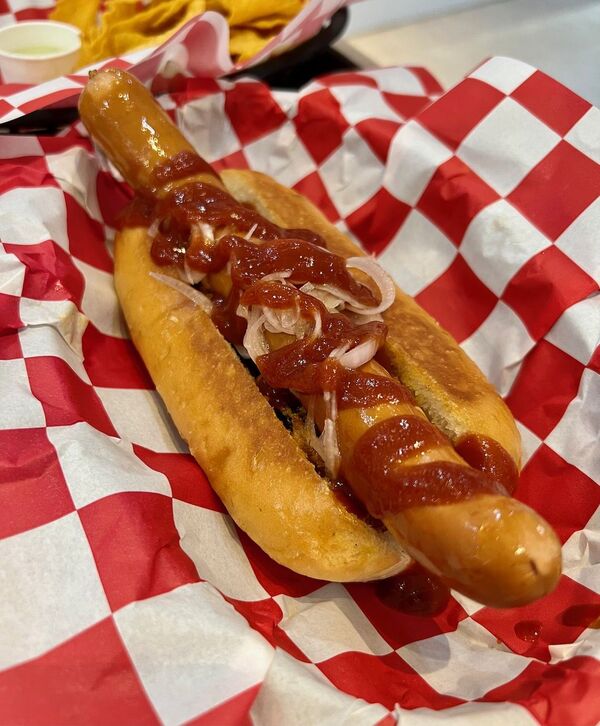 They use naturally smoked Vienna sausages which they claim is known for their superior juiciness, flavour and snap when you bite into it. The sloppy chicken that was at the base of the bun tasted a little weird, but the smoky tomato sauce was on point. It reminded me of the 1901 hotdog stand which I really liked when I was a kid.
For the Salsa Nachos, it came with tangy avocado dipping sauce. I saw their food preparers throwing away a Twisties Chaco's Tortilla Corn Chips bag away, so I assume their nachos are of that brand. The dipping sauce paired well with the nachos, though I still prefer the dipping sauce that comes with nachos at myBurgerLab.
Verdict
Overall, their burgers and hot dogs are not bad, if you like your protein to be chicken. The buttermilk fried chicken was tender and flavourful. But they do not really stand out. The other downside is that they do not offer a spicy option, unlike Fowlboys.
The burger that I had, however, was a little on the oilier side. Look at the residual oil that the burger left behind! There was literally a small puddle of oil.
Seating spaces are limited, given that the outlet is pretty small. However, there isn't much of a queue… yet, since Chick n' Buns is not really well known yet. I reckon they can only fit about 18-20 diners at once. The only reason I came to this outlet was because I was given a 15% off voucher for dining at myBurgerLab.
Another downside is the absence of sinks in-store. It's really inconvenient that one has to go to the toilet nearby just to wash one's hands.
Overall, although their food is not bad considering I am not a chicken meat fan. So, would I come back? For burgers, I don't think so given that the outlet is pretty far away from where I am at, and also because there isn't a spicy option. But maybe for their hotdog.
You may also be interested in:
My Rating
80%: Ambiance
70%: Price (value for money)
70%: Taste
80%: Location (ease of parking)
85%: Service
77%: Overall Rating
Opening Hours
Open daily from 11 AM – 9 PM
Address Information
Hartamas Shopping Centre
KP-06, Plaza Ground Floor Level 2
Sri Hartamas
50480 Kuala Lumpur