Burgertory, the only burger joint that I know in Selangor that sells really good pork burgers! Of course, they do sell other types, like beef, chicken and vegetarian, but I usually only go there for their pork ones (typical Chinese here!)!
This restaurant goes way back with me. I have been their loyal patron since my university days… ah the good old days. Coming back to bitter reality, I found that the quality of their burgers has dropped somewhat, as with the size of their patties. Well, it's still good overall… but I noticed that there is also a hike in price since then too!
Burgertory Menu
It has been quite some time since I visited this place, they've updated the menu somewhat, and removed some of their choices. It's sad to see that one my favorites, Mascarprone Curry & Cheese, were among the casualties.
The Peanut Butter Bacon (f.k.a. Skippy Bacon)
With one less out from my list, I ordered another of my favorites, Skippy Bacon or rather the newly rebranded "The Peanut Butter Bacon". I took the liberty of looking up the old price up, from RM19 to RM20, a 5.26% increase in price (to factor in inflation?).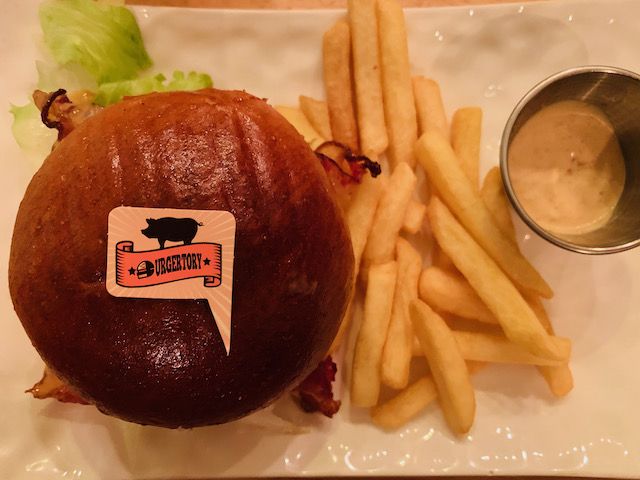 Burgertory Verdict – Declining in Quality
Sad to say, I prefer BurgerLab now (which I used to dislike back in the days). I feel that BurgerLab is more innovative and has improved tremendously with time, whereas Burgertory is still stuck in their old ways. BurgerLab's sides wins hands down too! Have you tried their Nacho Salsa? Only good thing about Burgertory now, is that they serve pork.
Read also: Strangers at 47 @ Seksyen 17, Petaling Jaya
Doubt I'll be revisiting their outlet again anytime soon, unless the craving for pork burgers kicks in.
This place can be located one floor above Guardian Pharmacy in SS 15 (address below).
My Rating
90% : Ambiance
60% : Price (value for money)
70% : Taste
70% : Location (ease of parking)
95% : Service
77% : Overall Rating
Opening Hours
Tuesday – Friday: 6 to 11 PM
Saturday – Sunday: 1 to 11 PM
Monday Closed
Address / Contact Information
03 5611 9991