Ipoh is often equated with good dim sum. You may have heard of Ming Court and Foh San dim sum shops that are often frequented by locals and tourists in Ipoh, but my Ipoh friend recommended me the lesser known Chooi Yue Dim Sum restaurant as another dim sum outlet to try that is equally as good, or even better.
I decided to pay the restaurant a visit after my friend's matrimony ceremony for lunch. I arrived at the restaurant a little past noon. Although dim sum is often considered a breakfast staple, the restaurant was still packed with people, with a queue in front of the establishment. A crowd could only signify one thing – good food ahead?
Read also: A short and sweet weekend getaway @ WEIL Hotel, Ipoh, Perak
Chooi Yue Dim Sum 翠月楼港式点心
Chooi Yue Dim Sum is located at the commercial hub of Ipoh Garden South. Parking can be rather hard to find, even on the weekends. Do note that illegal parking will be fined by the traffic officers who are constantly on patrol.
The restaurant is cramped with simple marble-top tables and wooden chairs. A typical Chinese kind-of shop.
You are required to take a number in front the shop upon arrival, and let them know how big of a table you require. Smaller groups get seated faster as they have more smaller tables.
On the other end of the shop, they have a dedicated take-away counter for those on the go. Chooi Yue Dim Sum is also apparently available on GrabFood, as I noticed quite a number of Grab riders collecting orders from the take-away counter.
The Menu
We weren't given a menu, instead, the staff would bring around assorted trays of dim sum for you to pick from.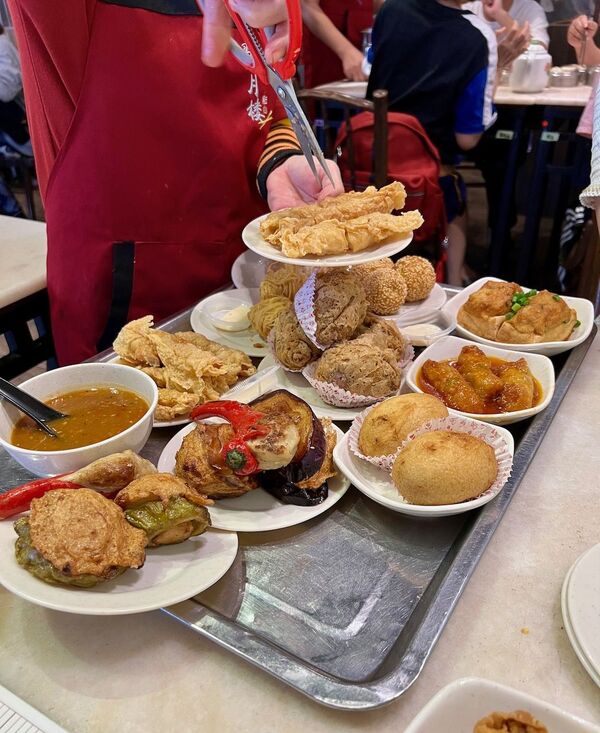 I was told that they have an extensive choice of dim sum, ranging from the usual dumplings, baos, porridge, chee cheong fun, fried stuffs, pastries, and even a few yong tau foo items.
Fried Prawn Rolls
The fried prawn rolls were crispy on the outside, and filled with moist and juicy prawns on the inside. It is best paired with mayonnaise. Fried prawn rolls is one of the must order dish for me when visiting a dim sum shop.
Fried Prawn Dumplings
Another favorite of mine were the fried prawn dumplings! I loved the fact that the put a few pieces of cucumber to counter the oiliness of the fried prawn dumplings.
Siu Mai
The siu mai is a type of traditional Chinese dumpling. The one I tried here is nicely stuffed with generous amounts of prawn fillings.
Chee Cheong Fun
Unfortunately, I didn't really enjoy Chooi Yue Dim Sum's version of prawn chee cheong fun. It felt a little too starchy, and the sauce did little to elevate its taste. Furthermore, certain pieces of chee cheong fun were empty on the inside. I'd rather they chop the prawn into smaller bits, so every piece would have a little bit of prawn.
Char Siu Pao
The char siu bao is a Cantonese barbecue-pork-filled bun. The buns are filled with barbecue-flavored cha siu pork. The pork filling was nice, but a little too sweet for my liking.
Loh Mai Kai
Loh mai kai literally means glutinous rice chicken. It is a popular dim sum dish, and usually is topped with Chinese sausage, dark soy sauce chicken and mushrooms.
I didn't really enjoy their loh mai kai that much. I still prefer the one in my hometown. Perhaps that is because I grew up having that loh mai kai for breakfast on a regular basis.
Prawn with Tang Hoon
This was another dish I really enjoyed. The sauce below when mixed with the tang hoon paired really well together. Tang hoon by the way, are commonly called as glass vermicelli.
Scallop with garlic
Though in the picture the scallop looks quite sizeable, in reality, the actual piece of scallop was rather small, with the rest of the structure being made up of fish paste.
Verdict
Overall, the food here at Chooi Yue Dim Sum was average. The only food I really enjoyed here was their dim sum dishes that had prawn in them. The aftertaste of the food left me pretty thirsty. Perhaps there was too much salt or MSG in their food? I prefer the dim sum shop in my hometown any day.
Check out: Dim Sum at Restoran Hwa Poh Lou @ Alor Setar, Kedah
Service here is pretty quick and efficient here though at Chooi Yue Dim Sum. This is as expected out of any dim sum establishment. Do note that with the current endemic, the restaurant has limited a maximum dining time of 50 minutes.
My Rating
80%: Ambiance
70%: Price (value for money)
70%: Taste
70%: Location (ease of parking)
80%: Service
74%: Overall Rating
Opening Hours
Open daily from 7 AM – 2 PM (Closed on Thursdays)
Address / Contact Information
016 534 5965
2, 4 & 6
Tingkat Taman Ipoh 12
Taman Ipoh Selatan
31400 Ipoh
Perak