Every time there's a new burger chain in town, I'd make time to try it, as I love burgers! Meet Five Guys, a franchise from the States. They recently opened their first outlet in Malaysia at Genting Highlands, and the second outlet is already on the way, soon to be opened at Pavilion Kuala Lumpur.
See also: Instagram (@lifeofaworkingadult) Gallery of Five Guys
Five Guys
Five Guys hails all the way from the US, where they opened their first outlet in Arlington County, Virginia in 1986. In early 2003, the chain began franchising, and rapidly expanded. As of today, they have expanded their presence all around the world and have more than 1,700 outlets across the United States, Canada, United Kingdom, Europe, Asia and the Middle East.
"Start a business or go to college."

Jerry and Janie Murrel – Five Guys Story
On 25 October 2021, Five Guys opened their first outlet in Malaysia, on the hills of Genting Highlands. Barely a day after their grand opening, they announced that they will be opening their second outlet at the heart of Kuala Lumpur, Pavilion KL Bukit Bintang.
They serve mainly hand-formed burgers cooked to perfection on a grill along with fresh-cut fries cooked in pure peanut oil. Five Guys boasts that they only use fresh ground beef, peanut oil, and that there are no freezers in Five Guys locations, just coolers.
Their outlet in Genting Highlands
Five Guys is located in Sky Avenue itself, located nearby Burger & Lobster. Although I arrived early at 10.30 AM (they open at 11 AM*), there was already a long queue of about 15 people before me. There are limited dine in tables available in the store itself. Hence, I waited for approximately an hour to get a table.
*Note: They have recently changed their operation hours to 4 – 10 PM. Previously when I visited, it was open from 11 AM – 5 PM.
Still don't get why they don't open the whole day from 10/11 AM – 10 PM.
Once I got a table, and queued to place my order, I got my food in about 10 minutes. So except for the excessive queuing time, service was pretty quick.
If you're there just to tapao, you can skip the queue by letting the staff know and they will allow you to go straight to the ordering counter.
The menu
There aren't much choices available on the menu. Firstly, if you can't eat beef, this is probably not a place for you to go to. Their only non-beef option are their sandwiches.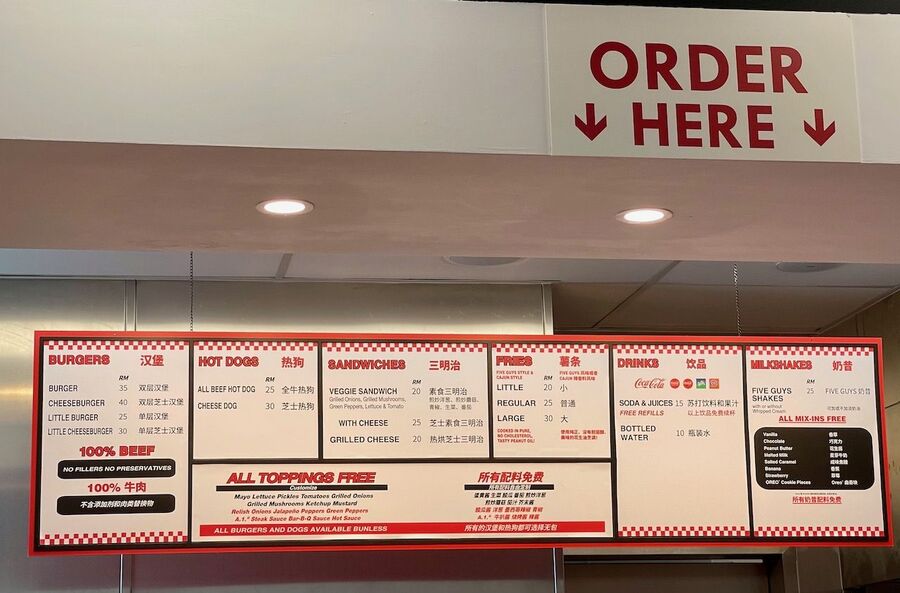 Five Guys offers burgers, hotdogs, or sandwiches for mains, fries for sides, and sodas and milkshakes for drinks.
The burgers and hotdogs
They offer two kinds of burgers, each comes in two sizes – burger (RM35 or RM25 for the little size) or cheeseburger (RM40 or RM30 for the little size). For hotdogs, they have the all beef hot dog (RM25) or cheese dog (RM30).
You can customise what toppings you want on your burgers or dogs. They have:
Mayo
Lettuce
Pickles
Tomatoes
Grilled Onions
Grilled Mushrooms
Ketchup
Mustard
Relish Onions
Jalapeno Peppers
Green Peppers
A.1. Steak Sauce
Bar-B-Q Sauce and Hot Sauce
You can choose any amount of toppings as you like. And oh, should you wish to have it bun-less, they offer that too!
Sandwiches
For sandwiches, they have three variants – Veggie sandwich (RM20), Veggie sandwich with cheese (RM25), and Grilled cheese (RM20).
Fries
Their fries come in either Five Guys style or Cajun style. It comes in three sizes – Little (RM20), Regular (RM25), and Large (RM30).
Drinks
They offer customisable milkshakes, topped with whipped cream or not for RM25! You can mix in a combination of:
Vanilla
Chocolate
Peanut Butter
Malted Milk
Salted Caramel
Banana
Strawberry
OREA Cookie Pieces
Other than their milkshakes, they offer refillable sodas and juices (RM15), and bottled water (RM10).
Verdict
The Mains – Cheeseburger (RM40) and Cheese dog (RM30)
All mains come wrapped in aluminium foil, which helps to keep the food warm. That's a good thing, especially if you're planning to tapao it home.
At Five Guys, you get to pick as many toppings you want for your mains. The concept is similar to Subway. Just bear in mind that if you decide to get the burger with all the toppings, you might have a little trouble getting a proper bite of the burger, unless you have a big mouth. I had trouble getting a proper bite out of my burger (cheeseburger with lettuce, pickle, tomato, onions, mushroom with BBQ and hot sauce).
Though it looks good in the picture, I found their burger patty to be on the drier side. Perhaps it's because they leave the cooked patties on the griddle to keep them warm whilst waiting for the orders to come in. The buns were also pretty meh. It was rather bland and not fluffy. The only plus point was that it was not greasy unlike most burgers I know. The tomatoes and sautéed onions were also great.
Their cheese dog was surprisingly not bad, though on the saltier side. If you eat the beef hot dog on it's own, it's really salty. Their hot dog buns were also meh.
Overall, the mains were good. But was it amazing? No. It's pretty pricey for the quality you get. Out of the two mains, I preferred the cheese dog better over the cheeseburger (and that's coming from a burger lover!).
Milkshake (RM25) & Fries – regular (RM25)
What stole the show were their milkshake and fries! They were really good, albeit pricey.
You can customise your milkshakes according to your taste preferences. Mine was recommended by their staff as I wanted to try their best seller. It was rich in flavour, with chewable bits of strawberry and Oreo cookies with every sip. It was really sweet though.
As advertised, their fries are fresh-cut fries cooked in peanut oil. The type of potato was also proudly displayed on the chalkboard. The potatoes I had were from Hanrahan, Victoria, Australia. It was really tasty, though they seasoned it with a tardy too much salt. I ordered the regular size, and they generously filled the cup to the brim and added extra in the bag (easily filling an extra half a cup). However, it's still easily one of the best fries I've tasted in awhile.
Service – Needs to be improved
I found the management to be inexperienced in handling long queues.
Firstly, there was only one counter opened when there are three counters available despite the long queue. Only at about 12 did the other two counters open.
Secondly, I found the process of them handling dine in and takeaway orders to be rather inefficient. If you decide to takeaway mid-way, you can jump queue to place your orders first. But, this led to longer waiting times for people who were queuing together and were there first.
What they should have done is they should have a dedicated lane for take-away orders only, and another just for dine-in. Or they could take a leaf out of McDonald's book and have self-service kiosks for customers to place their orders. Mind you, we are in the twenty-first century after all!
Would I come back again?
Probably no. Five Guys is one of the priciest burger joints I've been to in Malaysia. RM40 a cheeseburger is a little too much for me to stomach again. Order it with fries and a milkshake, the bill would come out to a bomb of RM90!
Furthermore, unfortunately, I disagree with their statement below. I've had better. It's overhyped and overrated.
Check out other (better) burger joints I've reviewed:
My Rating
80%: Ambiance
50%: Price (value for money)
70%: Taste
80%: Location (ease of parking)
70%: Service
70%: Overall Rating
Opening Hours
Open daily from 4 PM to 10 PM
Address / Contact Information
03 6101 1026