Disclosure: Some of the links in this post are

affiliate links

. If you buy something through one of those links, you won't pay a cent more, but we'll receive a small commission, which helps keep the lights on. I never put anything on the page that I haven't personally verified and used.
For more information, check out our Privacy Policy.
I was researching for battery chargers for rechargeable batteries and was recommended by my dad to purchase the NiteCore UM4. It is important to pick the right and compatible charger with your rechargeable batteries to prevent problems with your batteries. One should consider the battery chemistry, battery capacity, and voltage compatibility when choosing a battery charger. Rechargeable batteries are generally more costly and it will be good to be able to make them last as long as possible.
Fun fact:
Inspired by the notion to "Keep Innovating" with the industry-leading innovative power for 15 years, NITECORE is the first brand to achieve a grand-slam milestone in the industries of professional lighting and chargers to receive the German iF Design Award, Red Dot Design Award, the Japanese G-Mark (Good Design) and the American IDEA, as well as Gold Winners of the ISPO Award and Outstanding Outdoor globally recognized in the outdoor industry.
– NiteCore – About
I am a strong advocate in using rechargeable batteries over their non-rechargeable siblings. Some of the pros are longer use out of rechargeable batteries, helps reduce waste, and is more environmental friendly in the longer-run over non-rechargeable batteries. You also get more bang out of your buck in the longer run despite the higher initial cost of purchasing rechargeable batteries.
NiteCore UM4
General Specifications:
– Input: DC 5V/2A, 9V/2A, 18W(Max)
– Output voltage: 4.35V±1% / 4.2V±1% / 3.7V±1% / 1.48V±1%
– Output current:
QC Mode: 1,500mA*1 (MAX), 1,500mA*2 (MAX), 750mA*4 (MAX)
Standard Mode: 1,500mA*1 (MAX), 1,000mA*2 (MAX), 500mA*4 (MAX)
– Compatible with:
IMR/Li-ion/LiFePO4: 10440, 14500, 14650, 16500, 16340 (RCR123), 16650, 17350, 17500, 17650, 17670. 17700, 18350, 18490, 18500, 18650, 18700, 20700, 21700, 22500, 22650, 25500, 26500, 26650, 26700
Ni-MH/Ni-Cd: AA, AAA, AAAA, C, D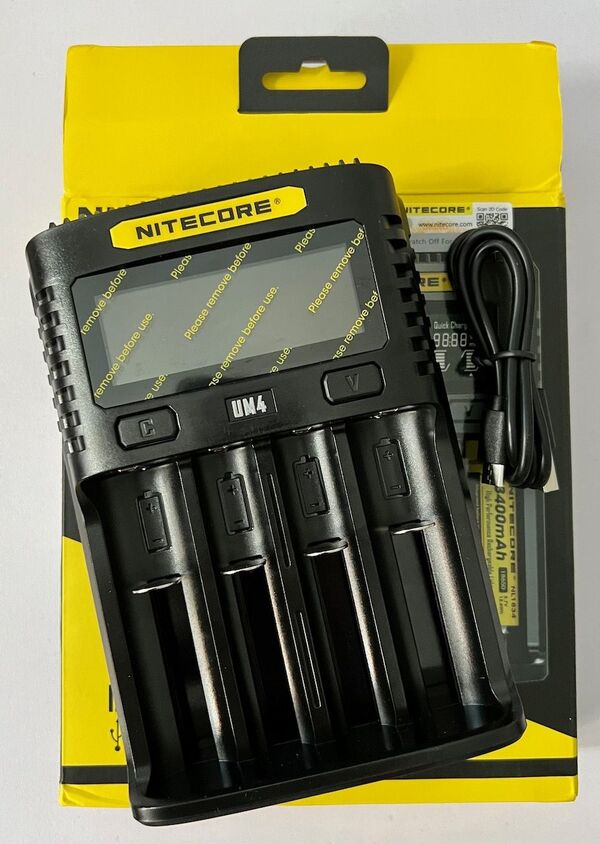 The Nitecore UM4 Charger is a four-slot smart charger that will quickly charge batteries of varying chemistries and sizes efficiently. With a single slot max output of 1,500mA, it is possible to charge up to 80% of a 3,500mAh battery in 2 hours – you will always have batteries to use that are charged without losing any power to overheating or overcharging.
Not to mention, with the four-slots, this charger is able to charge all four batteries independently from each other and you can control the batteries charging modes on the built-in LCD screen. The Nitecore UM4 Charger has a specially optimized charging program for IMR batteries. The program ensures the cut-off voltage is within safe limits and, unlike chargers without these capabilities, the UM4 will extend the lifespan of the batteries.
Why I like the NiteCore UM4?
✓ It has a feature to detect your battery health
The NiteCore UM4 has a built in feature that tests your battery health before it starts charging your batteries. You will either see a "Good" or "Poor" on the LED screen. Poor means your battery should be replaced.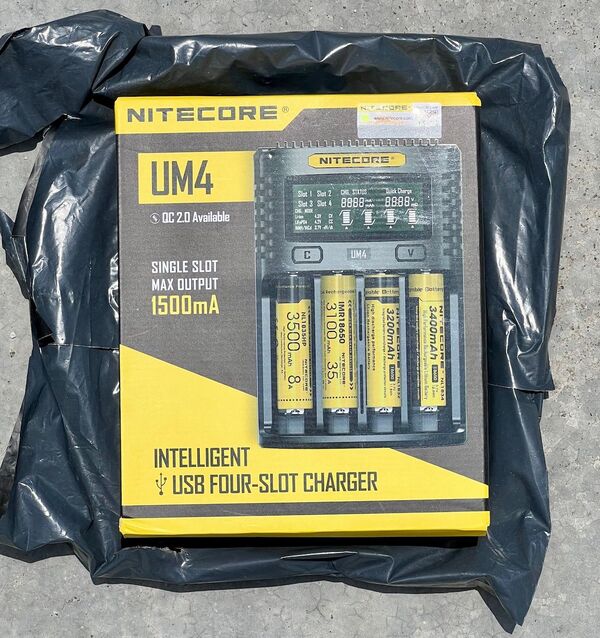 However, there are mixed reviews about this feature, with some reviews online stating that the test are erratic and would should different results for the same battery by just reinserting it. I have not have such problems so far. Perhaps they got a bad egg.
✓ Can charge 4 different battery types
Another feature that I like about NiteCore UM4 is that it can charge 4 different types of batteries – Type AA, AAA, AAAA, C and D. It makes it pretty convenient as a one-stop solution, rather than getting 4 different battery charges. I only use it to charge AA and AAA type batteries though.
✓ It has a LED screen that shows you the real time charging status
The NiteCore UM4 has real time reporting feature on your battery charging status.
Verdict
Overall, I am pretty happy with the NiteCore UM4. I have no complaints. I use it mainly to charge my rechargeable Panasonic eneloop pro batteries.
Check out also:
Get yours today on Shopee / Lazada Malaysia!
As always, it's cheaper to get stuff on Shopee. I got mine from this store. It comes with a 3-Pin plug which is suitable for use in Malaysia.
Otherwise, you may opt to get your NiteCore UM4 from Lazada. It's a tad bit more expensive, but it was the seller with the highest rating and number of ratings.