Disclosure: Some of the links in this post are

affiliate links

. If you buy something through one of those links, you won't pay a cent more, but we'll receive a small commission, which helps keep the lights on. I never put anything on the page that I haven't personally verified and used. For more information, check out our Privacy Policy.
Meet the Dyson Pure Cool TP04. Think of Dyson, we think of their powerful cyclonic vacuums and bladeless fans. I've always have been a fan of Dyson products, just that their products have always been on the pricier end. It was only recently that I decided to get one of their purifying tower fans, after my very ancient Honeywell Air Filter blew.
After much consideration, I decided to get the Dyson Pure Cool TP04. Got it for RM2,829. Check it out at Dyson's official store on Shopee.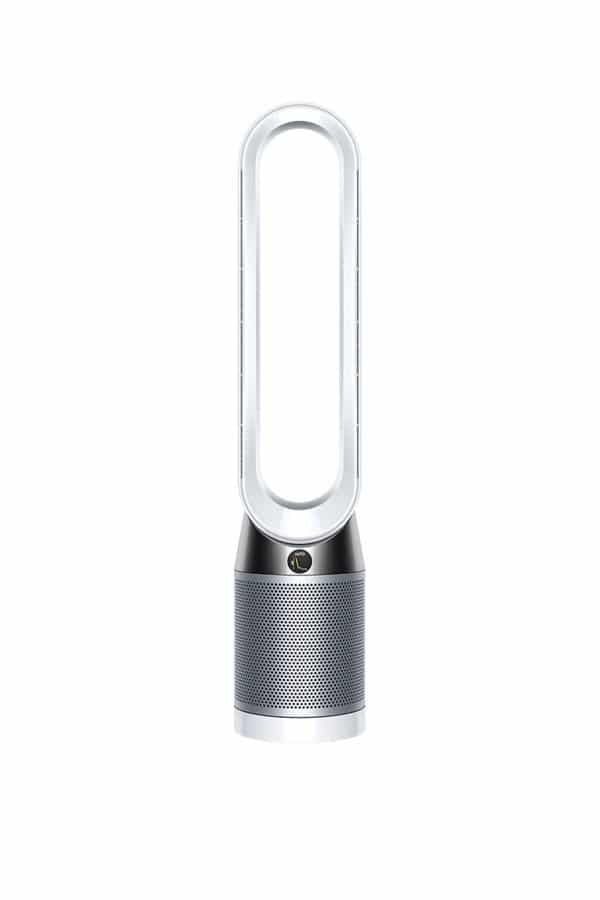 The Dyson Pure Cool TP04
Pros
Cons
✓ Intelligent reporting.
✓ Can be controlled with a smart device.
✓ Effective in cleaning up the bad stuff in the air.
✖ Pricey.
✖ Not the best for cooling.
This is one of the products that I absolutely love from the time it came out from the box. My first impression of it was that it felt solid, and the plastic felt premium.
Key features


– Whole-room purification – projects 290 litres of smooth and powerful airflow each second.
– Automatically senses particles and gases, then diagnoses and reports them in real time.
– Purifies ever corner of the room – oscillates up to 350°.
– Captures pollutants with 360° sealed filtration system – an activated carbon filter to remove gases and a glass HEPA filter that capture 99.95% of microscopic allergens and pollutants as small as 0.1 microns.
Why Do I Like The Dyson Pure Cool TP04?
Intelligent reporting
Now what is the thing that I like about this gadget? It's smart! The first thing that took my attention was the LCD screen. I have had fans with LCD screen before, but this one looked cool, with all its reports of the air quality in real time. And dig this. When you set it on auto mode, it kicks in when the air quality goes bad. When my mom fries stuff that gives out a strong smell, the Dyson kicks in. Usually takes about 30 minutes or so to bring the red alert down. Now how cool can you get?
Can be controlled with a smart device
The next thing that I like is remote control. The fan came with its own remote but I am not referring to that. What I had fun with were the other remotes that you can find for yourself. This Dyson Pure Cool TP04 comes with both a handy remote control and Wi-Fi connectivity. It supports both 2.4 GHz and 5 GHz network so that you can connect it with almost any modern Wi-Fi router.
They have their own app, called Dyson Link. So, I downloaded one from the App Store. It is delightful to be able to get instant information about the air quality. You'll also be able to see daily and weekly averages of the air quality, as well as an ongoing line graph. It also allows you to monitor, control and schedule the purifier from anywhere using the app. I'd say the app pretty robust, and is one of the best out there for seamless integration and analytics. And now I know the air quality in our hall is pretty decent most of the time.
Fun fact: Did you know your Dyson remote can be handily attached to the top of the Dyson Pure Cool TP04? It has a magnet on top.
Even better is when you set it to "Auto", it becomes a little autonomous machine that kicks off when the air quality gets bad, as have happened over and over again when the frying takes place in the kitchen.
Apart from that, I recently discovered that I can control the fan with my Apple Watch too. I especially like this very much because the Watch is something that is with me all the time and that makes it really convenient. It also works with all the popular smart speakers – Alexa, Google Home and Apple HomeKit.
Read also: Apple HomePod Mini – A Malaysian Review
Effective in cleaning up the bad stuff in the air
The Dyson Pure Cool TP04 is loaded with air quality sensors that monitor the surrounding air. Dyson claims that it is able to capture 99.95% of pollutants and allergens in the air, with the particulates as small as 0.1 micron in size. This means it is able to capture benzene gas, pollens from flowers, volatile organic compounds from cleaning agents, sold, bacteria and allergens from pets.
Read also: Carbon Dioxide Sensors and COVID-19
How effective is it in clearing the bad stuff from the air around? I'd say quite effective. Most of the smell goes off within 20-30 minutes. Sure, there'd be some residue smell sometimes, but this is Asian style of cooking we're talking about here.
It ain't that noisy either
As for the noise, the Dyson Pure Cool TP04 has 10 fan speeds. It is very silent at the number 4 setting and below. That is the setting that I use most as I find it sufficient to circulate the air in the hall where the fan sits.
It usually only ramps up when there's cooking going on. It does get noisy, but when air quality is less than good, it's better to deal with the noise than bad air. It feels like the Dyson is always watching over the air quality, and that's a great feeling.
What I Wished Was Better
Not the best for cooling
Though the Dyson Pure Cool TP04 boasts that it projects 290 litres of smooth and powerful airflow each second, it does not mean that it offers the ability to cool the space. It does not have a built-in air cooling mechanism. The best it does is give you a cool breeze like a fan. It is an air purifier after all.
So, if you require a temperature control as part of the solution, you might need to reconsider getting it.
Verdict –

Pricey but it's worth it!
It is really easy to use, it's one of those things that you can buy, plug in and trust to work well for a long time without the need of human interference.
Read also: ECOVACS DJ35 Review – A Useful Robot Vacuum Cleaner [Malaysia edition]
There are also a few things going well for this air purifier – the low operation noise, intelligent features and it is an air filter that actually seems to work quite well. For us in Malaysia, who go through seasonal haze and also strong smells from our cooking style, this machine, though pricey is quite worth it.
The only caveat is that it's expensive, retailing at a price of RM2,829 a piece (and the air filters ain't cheap either!).
How to get one for yourself?
Get yours at Dyson's official store on Shopee today!