Disclosure: Some of the links in this post are

affiliate links

. If you buy something through one of those links, you won't pay a cent more, but we'll receive a small commission, which helps keep the lights on. I never put anything on the page that I haven't personally verified and used.
For more information, check out our Privacy Policy.
Ever get frustrated when you go out and your phone battery starts dying? And to top it off, you brought your power bank with you, but forgot your cable? This has often happened to me, and thus I decided to hunt for a good wireless power bank for my phone. After doing some research I decided to try the Anker PowerCore Magnetic Wireless Power Bank.
I'm using an iPhone, and one of the best features Apple has introduced for their phones is the MagSafe feature. MagSafe, if you do not know, makes wirelessly charging the iPhone possible, up to 15W of power. Another plus point the ability to attach various accessories onto your phone magnetically. One of these accessories is the Anker PowerCore Magnetic Wireless Power Bank.
Read also: The Apple iOS 15 update is here!
Did you know? Anker is the global leader in charging technology. They have pioneered Power Delivery technology to charge phones, tablets and laptops at unprecedented speeds.
Anker PowerCore Magnetic Wireless Power Bank
Pros
Cons
– Compact and light
– Slip-proof and magnetic
– Magnetic function only works well with MagSafe compatible covers
– The packaging box could be better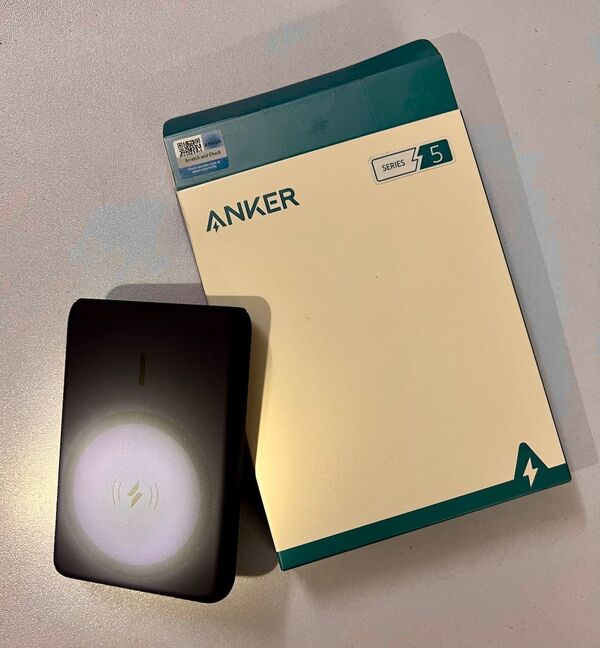 Specifications:
– Battery: 5000 mAh
– Wireless output: 5W
– USB-C output: 10W, 5V=2A
– USB-C input: 11W, 5V=2A
– Total output: 10W Max
Why I like the Anker PowerCore Magnetic Wireless Power Bank?
It's compact and light!
This power bank by Anker is really compact in size! If you are constantly running out of battery juice and are always on the move, a compact power bank makes a world of difference. The Anker Powercore Magnetic Wireless Power Bank is about 9.3 cm x 6.2 cm x 1.6 cm in size. And that makes it compact enough to fit in my pocket. This means your phone can sit in your pocket and charge at the same time.
Those who are always charging their phone when they are on the go will appreciate this ability for a power bank and phone to be in the same pocket while freeing your hands for other things. However, with the iPhone stuck to the power bank, it'll be slightly on the thicker side. Still, it's much smaller than my existing one. So no complaints.
It's also pretty light, weighing about 130 grams. For people who have to carry their laptops, or maybe a book or two and a tumbler of water with them, any trimming of excess weight would be welcomed. This is because when you have to walk a distance or so to catch your transport, any reduction of weight would make a difference. I can make a comparison as my mom has a Qi Energizer power bank which feels like a behemoth to my Anker.
It's slip-proof and magnetic – snap and go!
Another reason why I like this Anker power bank is because it's coated with a rubberised surface that prevents it from slipping easily. It's also magnetic and will stick to your phone / MagSafe compatible phone covers. If you look around, you often see people holding their phones to their power bank.
Sometimes, you might even catch one or two incidents where the battery (or phone) will slip off. It is often becomes a tricky manoeuvre when you have other things to hold. So having a power bank with the ability to somewhat cling to your phone in a way merges 2 items into 1. That makes a lot of difference when you are on the move. This feature makes the Anker Powercore Magnetic Wireless Power Bank a power bank that is worth your consideration by a mile.
The design is well thought out too. It doesn't block the camera, meaning you still can take pictures whilst charging your phone! How often have you seen people, fumbling to keep their power bank just because they wanted to take a shot of something. So, a power bank that sticks to your phone and is lightweight will enable you to shoot away with minimal fuss.
What I wish the Anker PowerCore Magnetic Wireless Power Bank did better at?
Magnetic function only works well with MagSafe compatible covers
The magnetic function does not work well with non-MagSafe phone cases, such as those thick cases like Otterbox defender cases, or UAG cases. So, the power bank limits your choice of phone cases.
If your phone casing is MagSafe compatible, the magnetic hold is fairly strong and requires a bit of force to take it off. I like this because keeps your phone secure and you need not worry about it slipping off just because you got a bit careless.
The packaging box could be better
I'd say the initial impression of the packaging box of this Anker Powercore Magnetic Wireless Power Bank gave a poor impression of the product. It's minimalistic but I don't have an issue with that. However, it looked and felt poorly designed. One cannot tell the features and specifications of the power bank has by just looking at the front box. If you closely to the details on the box's back, you can't even tell the battery capacity! Great product, but real poor design. The manufacturer could do a better job at this.
Inside the box, there's the power bank itself, a USB-C to USB-C cable and a user manual.
Verdict
Other than the poor packaging design, the Anker PowerCore Magnetic Wireless Power Bank ticks my requirements for its compactness and seamless wireless charging features. That said, it is also always more convenient to bring a power bank that doesn't require a cable.
Read also: Logitech K380 Keyboard – The best bluetooth keyboard to-date? [Malaysian edition]
So far, I've not noticed any issues with the wireless charging connection with my phone or the charging efficiency of the battery. Charging the power bank itself doesn't take long, taking approximately 2-3 hours for it to fully charge from zero.
It's also equipped with all the safety precautions including foreign object detection, short circuit protection, and temperature control (which is also not stated on their packaging box). I would highly recommend this power bank if you're looking for something compact and magnetic (assuming your phone and phone case supports MagSafe).
Links to buy it now on Shopee or Lazada!
I got mine from Anker's official store on Shopee. I'm not sure why, but goods always seem to be cheaper on Shopee rather than on Lazada. It's RM162 on Shopee, as compared to RM179 on Lazada.
Alternatively, if you're not a fan of shopping on Shopee, here's the link of Anker's official store on Lazada.