Disclosure: Some of the links in this post are

affiliate links

. If you buy something through one of those links, you won't pay a cent more, but we'll receive a small commission, which helps keep the lights on. I never put anything on the page that I haven't personally verified and used.
For more information, check out our Privacy Policy.
After watching my sister and mom use the Logitech K380 Keyboard for quite some time now, I decided to get one for myself. A great wireless keyboard gives you the mobility to type anywhere you want, plus it helps you type faster and more comfortably.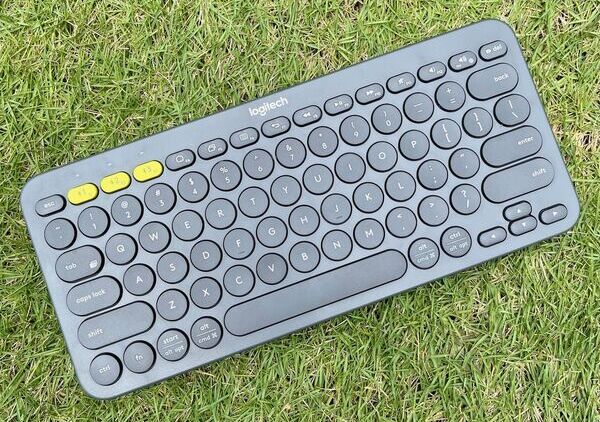 How to get one for yourself?
I got during the 9.9 sale on Logitech's official store on Shopee for RM139 (normal price is RM149), and it arrived yesterday. It's currently on a different sale now (cheaper than what I originally got it for).
You can get it at Logitech's official store on Lazada (in stock for RM149).
The Logitech K380 Keyboard
Pros
Cons
✓ Pair up to 3 devices.
✓ Works well with both Windows, Mac, iOS and Android.
✓ Sturdy, small and lightweight.
✓ Nice to type on.
✖ Arrow keys are small and close together.
✖ No backlighting.
✖ No incline setting.
This is the second Logitech review I have done here. As I have reviewed previously, Logitech keyboards do not disappoint (at least for the models I have purchased thus far).
Read also: Logitech Combo Touch – A near perfect keyboard and trackpad for iPad Pro 11
Specifications:


– Weight: 0.4 kg
– Height: 1.7 cm
– Width: 27.9 cm
– Keycap material: ABS
– Battery: 2 AAA battery
Why I like the Logitech Combo Touch?
Pairs up to 3 devices and works well with nearly any device
This was the feature that was the dealbreaker for me in getting the Logitech K380 keyboard. It can seamlessly connect up to 3 devices at one go. It can be used with nearly any device that's Bluetooth-capable. So far, it works well on my iPhone, MacBook Pro and Lenovo T490. The connection has been stable and reliable as well.
To connect your keyboard to a device, you simply just need to press and hold the yellow button (either 1, 2 or 3) till it blinks. I got the black keyboard. So the bluetooth buttons are yellow. The Logitech K380 keyboard comes in a few colours. There's even a pink one with white bluetooth buttons. Or if you have a penchant for an all white one, there's one too. The bluetooth buttons for the all white Logitech K380 are coloured grey, though.
I have tested the connection feature out across different operating systems (Windows, Mac and iOS), and it is indeed seamless. Currently, it is connected to my office laptop, personal laptop and phone at once. It really does switch devices with ease. There's usually a connecting lag time of about 1-2 secs each time I switch devices, which is okay.
The design – Sturdy, small and lightweight
The Logitech K380 keyboard is sturdy, small and lightweight. The minimalist design of this keyboard allows me to keep my mouse comfortably within reach while I work.
The keycaps are made of ABS (acrylonitrile butadiene styrene). The build quality is decent and typing on the keys are pretty stable. The key legends are however, pad-printed. So it can fade over time. There is also rubber padding on the back of the keyboard to prevent it from slipping around when typing.
There's also an on-off switch by the side, and an auto-sleep power saving mode should you forget to turn it off. Logitech boasts that the batteries can power the keyboard for up to 24 months (this remains to be tested).
It's nice to type on
Typing on the Logitech K380 keyboard is pretty nice. After typing for quite some time on it, the typing feel is stable and consistent. It is responsive and feels light, and isn't fatiguing to type on. The typing noise is on the quieter side, but the round keys will take a little getting used to.
My typing speed on the Logitech K380 keyboard is pretty much the same as the keyboard on my laptop. I'm getting an average word per minute of 109. I'm getting about 115-120 wpm on my laptop. But then again, I've only been using this keyboard for less than a week. I guess my typing speed will improve with time once I have gotten used to it.
Interested to know your typing speed? Try the typing test at monkeytype.com!
A couple of features I'd wish they had considered
I wished they considered having the backlight keyboard feature. It is a bummer, especially typing in a low light setting.
Another bummer is that it does not have any incline setting nor a wrist rest. The latter is not really that important, but an incline setting would have been great. Still, typing on it has been comfortable.
The last improvement feature I wished they considered is making the arrow keys a tad bigger, though it's more of an inconvenience which I can live with.
Verdict –

Recommended!
It's pretty inexpensive as compared to the other wireless keyboards out there. It can be used with almost any device that has Bluetooth, and has the ability to pair up to 3 devices. It's light, sturdy and easy to carry around. Ultimately, what's the most important is that the Logitech K380 Keyboard does the job well.