If you have to describe 2021 in one word, what word would you pick? My pick is… unpredictable. The year started with hope when the vaccines were first announced. But despair soon followed suit when COVID-19 cases began to rise again all over the world, because the vaccines were slow to roll out for the masses.
Personally, 2021 has generally been a dull rollercoaster ride. There was hardly any excitement. I thought the worst would end with 2020, but it didn't. What 2021 has taught me is that life is always unpredictable. It doesn't always turn out the way you expect it to be.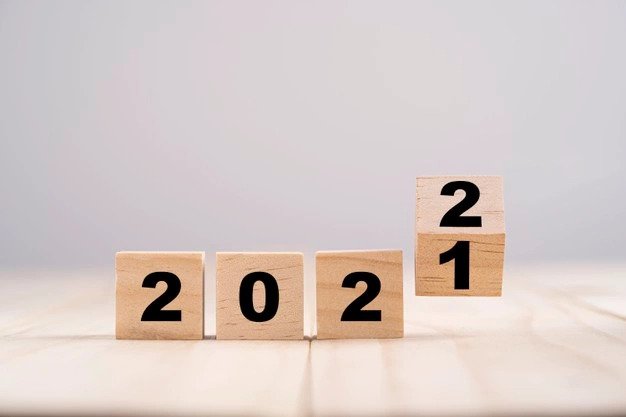 I had things planned for 2021, but the virus halted most of it. But no matter whether you're on the right track with your plans or lightyears away from where you thought you'd be, there are still things you should do before the year ends. Here's my list.
Let's finish 2021 on a high note.
Things You Should Do Before The Year Ends
1. Reflect on 2021, and bring these lessons into the new year.
There's no doubt that 2021 has been a wild ride. Before the year ends, set aside some time and reflect on what you've learned from this extraordinary year and what lessons you can take into the new year. What experiences did you have? Did you grow? Celebrate the things you've accomplished this year.
A lot of activities and events we would typically participate in have been postponed or completely cancelled due to the COVID-19 pandemic. It's a good time to evaluate which are worthy of being added back into your schedule next year. You should be intentional about which activities you add back. Be sure that those you add back are those that bring value to your life.
If you have not taken the time to reflect on 2021, now it's probably a good time to do so.
Ask yourself these questions:
What really matters?
What activities should I add back into my schedule next year?
What are you grateful for?
I personally felt that 2021 has helped me clarify what matters most to me. The pandemic has taught us not to take anything for granted. Count our blessings, and learn to be contented with what we already have. True wealth isn't what money can buy. What money can't buy, love, family, friendship, happiness, and health – are the things that actually matter in life. I was lucky enough to be able to work from home for over a year. It has been a time cherished. We have to hope we will never again take for granted the value of real face-to-face human interaction with our family and friends.
We also need much less than we thought we did. Travel, branded items, meals and fancy cars are aspirational. But what matters in the end are the basics – good health, a roof over our heads, food in our stomach, and love. That's what sustain us and are worth celebrating.
2. Relook into your goals for 2021, and start thinking about goals for the new year.
If you've set goals for yourself early this year, it's time to do a check on whether you've met them. Whatever the goal is, it's time to make time to achieve those goals before 2021 ends. There's a good two more months to go for you to achieve them. If you can't meet those goals you have set earlier this year, create a plan to achieve it next year.
Also, start thinking about goals for the new year. It can be a professional or personal goal.
Do:
Reflect and relook into your existing goals.
Create an action plan.
Make decisions you have been putting off.
Make new goals for the new year.
3. Declutter and cleanse – physically, digitally and mentally.
I found that decluttering and cleansing your physical space, digital space and mentally works wonders for my health and wellbeing.
Physical cleansing
I found that decluttering your space makes you more at ease and functional. Why do we hang on things we don't use or love? It just takes up space and it gets stressful just looking at it. There are many places that you can begin cleansing of your physical possessions – clothes, books, gadgets, etc.
Ways to start physical cleansing:
Spend some time every week going through your home or office, and remove things that you have no use for.
Have a dedicated box for donation of your old usable items.
Read also: Stopping Consumerism – Why is it's time to stop celebrating it?
Digital cleansing
In 2020 and 2021, we probably spent more hours online than we ever did in any previous year. If digital cleansing is new to you, there's a big chance that you've been collecting digital garbage for years now. You wouldn't keep a bag full of trash in the middle of the living room right? If you clean the room you spend all your time in, why don't you do the same on your devices you use daily? Your mobiles, tablets and computers need some love, too!
Ways to start digital cleansing:
Organise your gadgets home page / desktop.
Remove browser cookies.
Uninstall programs / apps you no longer use.
Change old passwords.
Clear your mailbox.
Clear your photo album.
Mental cleansing
When it comes to mental clutter, try starting a journalling habit. Get all your habits on paper and evaluate them. Get rid of thoughts do you no good. Clearing out mental clutter is the first step to allow for more creative thoughts and problem solving.
4. Reevaluate relationships.
After you've cleansed your physical, digital and mental space. It's time reevaluate the people you hang around with.
This year many of us have felt isolated due to COVID-19 restrictions. Working from home can get stressful. Even with those we live with, at times we can get on each other's nerves. Conversations can become particularly heated on social media, where we can't see each other's expressions or hear their tone.
Limit your social media intake
2021 has been an incredibly stressful year. COVID-19 has caused us to be worried about our health, finances, environment and the people around us. All that stress and fear makes it hard to live in a meaningful life. And social media might be a contributing factor to your stress levels. It's time to place more focus on yourself.
Make sure to:
Set time to focus on yourself.
Spend more time with your family and friends in the real world.
Prune toxic relationships
It's time prune relationships that are toxic to you. Reality check – situations with toxic people are unlikely to be resolved by themselves. In fact, therapists recommend cutting contact as one of the most effective ways of separating yourself from the toxicity.
If you're still holding on to someone that is negatively affecting you, it's time to do something about it. Taking care of yourself is a necessary component of a productive life. If we are not physically, emotionally and spiritually strong, we cannot present the best version of ourselves nor can we accomplish the things that matter the most to us.
Make sure to:
Evaluate your relationships.
Be more assertive.
Recognise the red flags.
Seek help from a professional.
5. Invest in yourself.
This year has taught us the self care is important. Try to step up your game and invest your time in something that will improve yourself.
Read also: Book Review: Open to think – Slow down, think creativity, and make better decisions by Dan Pontefract
You can:
Read a book (Check out Kinokuniya Malaysia Online).
Watch a documentary.
Complete an online course.
Pick up a new skill / hobby.
Go somewhere new.
6. Get your finances in order.
It's been a tough year financially for most. But still a little planning can go a long way in managing your financials. Do a check on your current financials, get your receipts in order for tax purposes, and start planning your budget for the new year.
Read also: The Ultimate Guide to Preparing a Monthly Budget (and sticking to it!) [Malaysian Working Adult Edition]
Check your tax deductions and keep the receipts
Here are a some of the more popular expenses that qualify for a personal tax deduction:
a. Domestic Travel Expenditure – RM1,000
Currently a personal tax relief of up to RM1,000 is given to resident individuals for the following qualifying domestic travel expenses incurred between 1 March 2020 and 31 December 2021:
Accommodation expenses at premises registered with the Ministry of Tourism, Arts and Culture (MOTAC), and
Entrance fees to tourist attractions.
Under PEMERKASA, it has been proposed that the scope of tax relief be expanded to include the purchase of tourism packages from travel agents registered with MOTAC.
Remember to follow the SOPs when travelling!
b. Lifestyle allowance – RM2,500 + RM500 + RM2,500
Lifestyle allowance – RM2,500
Expenses for the use / benefit of self, spouse or child in respect of:
(i) Purchase of books journals, magazines, printed newspaper and other similar publications (except banned reading materials);
(ii) Purchase of a personal computer, smartphone or tablet (does not include additional charge for warranty);
(iii) Purchase of sports equipment for any sports activity as defined under the Sports Development Act 1997 (excluding motorized two-wheel bicycles) and gym memberships [excluding club membership which provides gym facilities];
(iv) Payment of monthly bill for internet subscription registered under own name.
Sports allowance – RM500
Expenses for the use / benefit of self, spouse or child in respect of:
(i) The purchase of sports equipment for any sports activity as defined under the Sports Development Act 1997 (excluding motorized two-wheel bicycles);
(ii) Payment of rental or entrance fee to any sports facility; and
(iii) Payment of registration fee for any sports competition where the organiser is approved and licensed by the Commissioner of Sports under the Sports Development Act 1997.
Extension of the Special Tax Relief on the Purchase of Mobile Phones, Computers and Tablets – RM2,500
Under the PERMAI Assistance Package, under Initiative 9, the Government has extended the special tax relief on the purchase of mobile phones, computers and tablets which expired on 31 December 2020 until the end of 2021.
c. Private Retirement Scheme – RM3,000
Have you heard of Private Retirement Schemes? Check out Private Retirement Scheme ("PRS") – To invest or not to invest?
7. Help people out.
Now that you've kept yourself in check, help others.
One thing COVID has taught us is definitely, more kindness is needed around the world. It's in the headlines everywhere – small local businesses barely survive, people losing their jobs and their entire income in a matter of a day. The new reality has forced new problems in society like financial problems and mental health issues.
If, we as a society, help those in need, they will be able to keep going. If we think others will do it instead of us, that's every person thinking the same thing.
A little help by doing these:
Support local businesses
Donate to a local charity
Donate blood
Offer support to family and friends
End it on a high note
Before fireworks light up the sky to announce the end of 2021, and welcome 2022, make sure to do something that will make you feel better and accomplished. It's not about how you start, but how you finish the race.
Soon, it'll be time to toast to a new year, 2022. Live the last 2 months of 2021 the way you want. Don't worry, 2021 is leaving the chat soon.