Preparing a monthly budget that is viable, and sticking to it is most probably the easiest and most difficult to do. But it is the best decision you can make for yourself because if done right, it's probably the most effective way to achieve financial freedom.
However, most of us have trouble creating our budgets, and sticking to them. In 2015, I wrote about the cost of living in KL. Back then, I did prepare a personal monthly budgets of my own, which at times I diligently adhered to, but certain months I simply failed. It is easy to give in to one's carnal desires and living in the city just made it all the harder. Looking back, I wish I had stuck to my budget consistently.
Over the years, I've learnt more about managing finances and life. With disruptions to the way we shop, from physical in-stores to e-commerce, and also the rise of digital subscriptions (like Spotify, Netflix, etc.), the way I budget for expenses have also changed over the years. I expect there will be more of such disruptions.
I've also learnt the importance of knowing how much money you really have, what you are spending on, and how to set aside funds for emergency and also the future. It is important that you you know what you are spending on because it will also enable you to know how much you can put aside. This will allow you to build a nest that will ensure your financial survival even in the toughest of financial storms. And it is also important that you know the role of time in this. The earlier you are able to budget properly, the easier things will be on you when or if hard times hit.
What is a monthly budget?
A monthly budget is a plan on how you spend your money. For me, that is knowing where every ringgit, to the very last cent I earn, goes every month.
When you prepare a monthly budget, you are in control. You allocate where your money goes so you're never again left wondering where it went. I realise that most of us give in to impulse spending and when the month is over, we'd be left wondering where all that money went.
You can create your budget using a spreadsheet, or on a piece of paper. I personally budget my expenses on an Excel spreadsheet. I like this as it enables me keep track of my ringgit and cents.
How to start preparing a monthly budget?
1. Know your money
Before you begin, you need to get an idea of what you have, what you're bringing in and what you are spending on.
Because of banking facilities such as credit cards, many of us spend more than what we earn. A credit card makes spending so easy. A swipe here and a swipe there, and when the bill comes at the end of the month, you find yourself scratching your head why you spent on some of the items on the statement. Then you take a bite of the credit facility and before you know it, you have a loan that is just never ending. Suddenly, you find yourself in the vicious credit cycle.
By then, which might a bit too late, you know for a fact that you have spent too much. If you find yourself in this sort of predicament, cut all the unnecessary spendings and settle the balance you owe as quickly as you can. Then, sit down and work out your spending issues. Identify the causes and quit going to the malls or visiting the online shopping sites unless there is an absolute need. Oh yes! Most of the time, the stuff we buy on impulse are not really needed. Just try to stick to the basics.
Other than the above, do remember to take into consideration the taxes you might have to pay and any other payroll deductions. You can explore more on taxes here.
2. Divide your expenses into 2 separate buckets
After you have identified and listed down your income source(s) and your expenses. It's time to divide your expenses into two buckets:
needs / fixed expenses (e.g. loan repayments for your car or house, internet subscriptions, electricity, etc.); and
wants / variable expenses (e.g. entertainment, etc.)
If you need a benchmark on whether the amount you are spending on your expenses are reasonable, you can refer to Belanjawanku done by the Employees Provident Fund (EPF) in collaboration with University of Malaya and the Social Wellbeing Research Centre (SWRC). Published in 2019, it's a comprehensive expenditure guide for different Malaysian households. The study is part of the Government's effort to improve the people's financial literacy.
It was a study based on the actual spending patterns of the urban folks in Klang Valley to what is considered an acceptable standard of living, with a several basic assumptions.
Assumptions

:
– Public primary and secondary education.
– Public healthcare services.
– Average travel distance to work is 30km.
– People are generally healthy.
– People are able to make informed decisions.
– Couples own a car and a motorcycle.
– Housing for singles is based on room rental.
– Housing for couples is based on monthly mortgage repayment or rental value (whichever is lower).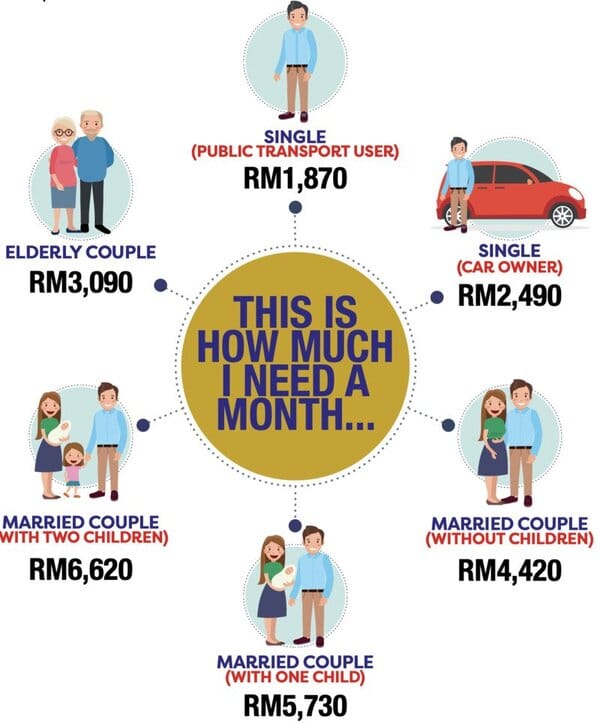 Take a single public transport user for example. The guide estimates that you need a minimum of RM1,870 to have an acceptable standard of living. The guide further breakdowns the amount by category.
Personally, I do not agree that this amount is sufficient. I feel it doesn't really a represent the actual living expenditures in the Klang Valley. To try to get a room for RM300 in some places in the Klang Valley would be quite hard to get, unless you share a room with someone. Hence, RM2,500 for the Klang Valley would be a safer bet. However, it still can serve as a good guide when preparing a monthly budget.
3. Set financial goals
Now that you know how much you have and where exactly your money is going, it's time to start making some financial goals. A good way is to set goals that you hope to achieve in the short-term and long-term.
Short-term goals are those that you hope to achieve within the year (generally a year or less), whilst long-terms goals go further into the future (e.g. housing mortgage, retirement, etc.).
Generally the main schools of thought to budgeting your month income is the 50/30/20 rule. Meaning 50% of your monthly income for needs, 30% for wants, and the remaining 20% for savings.
Do note that this is only meant to serve as a guide to lead you towards the right direction. Your budget should be personalised to your lifestyle and spending habits.
Though this looks easy on paper, it's actually harder carry it out in your monthly budget plan. Then again, things are always easier on paper.
4. Use the best tools to help you achieve your goals
Explore around on the best tools available to help you achieve your financial goals. Some of these tips might be plain obvious, but you'd be surprised how much these little steps can help you accelerate towards achieving your financial goals. Here are some ways that I currently use:
Automate your payments to save on late charges
If you have recurring bills like mortgage payments, car loans, or even mobile subscriptions, arrange for an automatic transfer / payment every month. This helps you save on late charges. Penalty payments for late payments when added up can still be quite substantial.
Have a separate bank account just for savings
Choose to have a separate bank account just for savings, so that you won't be tempted to spend all your money at once.
Invest in low risk investments to increase your income
If you're just starting out and have little to spare, and don't want to risk your capital in risky investments. Check out GO+ and VERSA. They invest in money market instruments that are generally stable, and provides you a little extra pocket money for your expenditures. As you earn more with each passing year, add other investment vehicles into your monthly budget. Always remember this, make saving a necessary expenditure every month.
Spend smarter
Check out credit cards that give you more bang for your ringgit as you spend!
At the end of the day, sticking to your properly planned budget is the best thing you can do
With this article, I hope that I've made preparing a monthly budget a tad easier. This is actually the easy part, the part of sticking to it is the tougher challenge. It requires a lot of discipline to stick to it.
Try to keep it fun. Perhaps gamify the process and reward yourself when you stick to your budget. It will change the way you think about budgeting, from a chore to an activity you can enjoy.