I was feeling a bit restless and in need of a change of scenery, so I decided to go on an impromptu trip to Johor for the weekend. I quickly searched for hotels in the area and came across the St. Giles Southkey Johor Bahru Hotel, which looked like the good place to stay.
St. Giles Southkey Johor Bahru
St. Giles Southkey is a 575-room hotel located in the heart of Johor Bahru, Malaysia. But that's not all – the hotel is part of the impressive Mid Valley Southkey development complex, which includes a retail mall, exhibition center, and commercial towers. The hotel itself only opened in 2022.
The Location of St. Giles Southkey Hotel
If you're driving from Singapore, the hotel is just a short 10-minute drive from the Singapore-Johor Woodlands Causeway, and for those flying in, it's only a 30-minute drive from Senai International Airport.
At St. Giles Southkey, there's quite a number of amenities to keep you entertained and rejuvenated. Take a dip in the outdoor swimming pool, work up a sweat at the gym, or indulge at the bar just by the pool. And when it's time to get down to business, the hotel's business center has got you covered.
But that's not all – with its convenient location right next to Mid Valley Southkey Mall, you'll have access to an array of restaurants and bars, as well as plenty of shopping opportunities. From trendy boutiques to popular department stores, you'll find everything you need right at your fingertips.
Service
The check-in process at St. Giles Southkey was overall smooth and efficient, but there were a few hiccups along the way. While the staff at the front desk were welcoming and polite, I did notice that their explanations about the hotel were inconsistent.
I was directed to another counter that had just opened for faster check-in, but the staff there seemed less knowledgeable than the person who was supposed to serve me. She missed out on important details like the location of the breakfast restaurant on which floor, as well as the locations of the hotel amenities such as the pool and gym. As a first-time guest, I would have appreciated a more comprehensive introduction to the hotel, its facilities, and its services.
Similarly, the check-out process was just as easy. All I had to do was drop the key-card at the counter, and I was good to go. The entire process was quick and straightforward.
The Room
I opted for the Urban Twin Room which cost RM389.88 per night with breakfast included. I booked it from Trip.com. The room was equipped with 2 single beds, a flat-screen TV, a minibar, a coffee maker, and a private bathroom with a walk-in shower. It also had a work desk, a chair, and a luggage rack.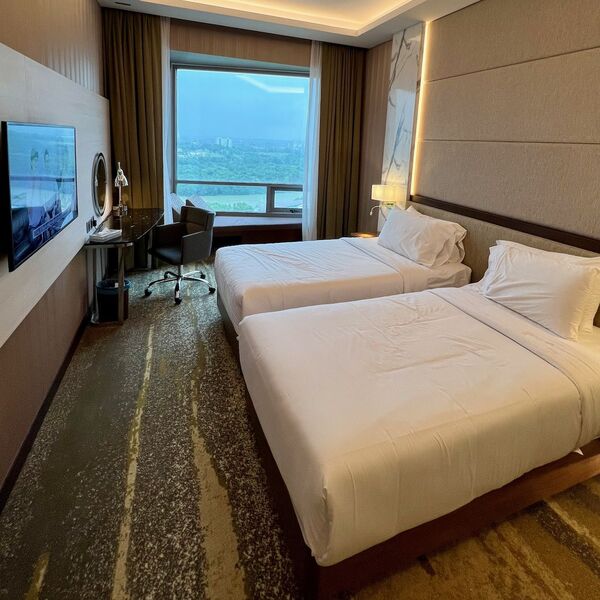 I was pleased to see that the room had a decent view of the city.
A pleasant surprise – an analog weighing scale
I was pleasantly surprised to see a weighing machine sitting in the cupboard. What made it even more surprising was that it wasn't a digital one – a rare sight in this age of technology.
With so many aspects of our lives becoming more and more digitised, it was a refreshing change to see something that wasn't. The simple, mechanical design of the weighing machine was a welcome reminder of a time when things were less complicated and less reliant on technology.
In a way, it was almost like the weighing machine was inviting me to take a step back and disconnect from the digital world, even if just for a moment.
Applauding their move on sustainability but…
One of the things I really appreciated about St. Giles Southkey was their commitment to reducing plastic use and promoting sustainability. Instead of providing guests with plastic water bottles, the hotel switched to a reusable glass flask. The flask could be refilled with water from the dispenser located in the corridor on each floor, which was a convenient and eco-friendly alternative.
However, there was one issue with the flask that bothered me a bit. Each time a guest tore off the sticker on the cap to indicate that the bottle had been sterilised, a small piece of sticky residue was left behind. While I understood that the intention was to let guests know that the bottle had been cleaned, it gave me the sense that the bottle wasn't actually being cleaned properly, despite the hotel's best intentions.
Despite my complaints, I still commend the hotel's initiative to encourage sustainability and reduce the usage of plastic.
In addition to the reusable flask, St. Giles Southkey had also stopped providing small bottles of shampoo and instead installed permanent dispensers in the bathroom. It was a small change, but one that I applaud as every effort counts in preserving our environment.
Room for Improvement: My Critiques
However, I did have a few issues during my stay. Firstly, the cleaner did not do a great job of cleaning the room from the last guest as there were bits of food and plastic still lying on the carpet. It's no wonder why hotels prefer to use carpets to conceal dirt. Moreover, the bathroom wasn't as clean as I would have liked it to be, with stains on the tiles just beside the toilet.
Additionally, I was quite disappointed with the water pressure at the hotel as it was not strong enough.
Breakfast
During my stay, I had breakfast included in my room rate at the Causeway Cafe. However, it turned out to be a rather disappointing experience. The queues to get into the cafe were incredibly long, with guests waiting for what seemed like hours. The queue even snaked all the way to the lift area, making it a chaotic scene. While I understood that the long Raya weekend could have been a factor, I felt that the staff could have been better prepared to handle the large crowd.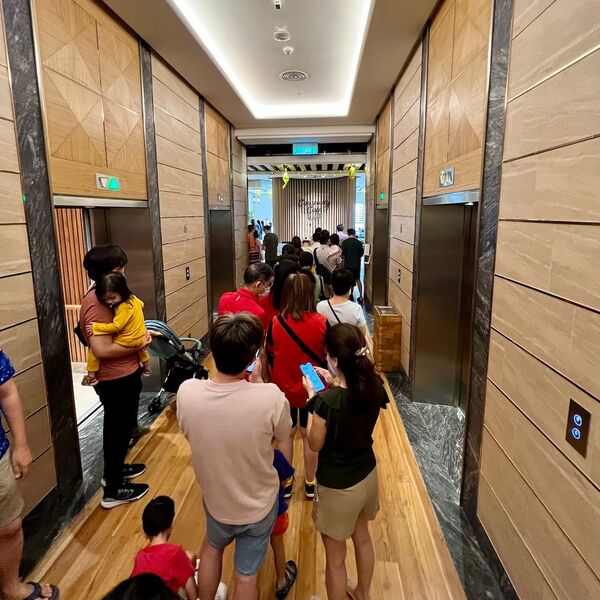 Given that the hotel was at full capacity, the staff could have improved the situation by implementing a more effective queuing system, such as assigning designated time slots for guests to have their breakfast.
In addition, I couldn't help but notice that the design of the restaurant's name display board was poor. The black letters were difficult to read against a striped background of wood and the dark shadow.
Recommendation: ★★★☆☆
Overall, I would say that I still had a positive experience at this hotel. I applaud that the hotel is committed to reducing plastic use, but there were some issues with their implementation, which can be improved. The breakfast experience at Causeway Cafe was a disaster, with long queues of guests waiting to get in. The food was nothing to write home about either.
Despite these issues, I would still recommend St. Giles Southkey for its strategic location and commitment to reducing plastic use. With a few improvements, it could be a top choice for travelers visiting Johor Bahru.
Interested to book a room in St. Giles Southkey? Check out the latest deals on Trip.com!
Looking for food to try in Johor Bahru? Check out these places: