As a dim sum enthusiast, I scoured Google for the best spot in Johor to satisfy my cravings and stumbled upon 茶楼 Cha Lao Dim Sum – a hidden gem that apparently ticked all the boxes. Naturally, I had to see for myself if the hype was real.
茶楼 Cha Lao Dim Sum @ Menara Malpakat, Johor Bahru
茶楼 Cha Lao Dim Sum is located in Menara Malpakat, just behind Holiday Villa Hotel and opposite to KSL Mall. You can also Grab to Holiday Villa Hotel, and cut through the hotel to get to the restaurant. While the area is easily accessible by car, getting to the restaurant can be challenging if you do not own one. The only way to get there is to catch a taxi or a Grab ride.
They offer a unique dining experience with a split-level layout. The entrance and waiting area are located on the ground floor, while the dining area is situated on the first floor, accessible via a staircase or elevator for those with mobility constraints.
Did you know?
茶楼 or Cha lou refers to a type of teahouse or tea house, which is a traditional Chinese establishment where people can enjoy tea and socialise in a relaxed atmosphere. Tea houses have a long history in Chinese culture and are often considered a symbol of Chinese hospitality and social interaction. In a cha lao, customers typically sit around small tables or on floor mats while sipping tea, chatting, and sometimes playing games or engaging in other leisure activities.
Upon arrival, you'll be greeted by a friendly restaurant concierge who will note down your name and inform you when your table is ready. As you wait, you can peek into the kitchen through a circular window to catch a glimpse of the skilled chefs crafting your meal. I had to wait for about 15 minutes to get a table on a Saturday morning, which wasn't that bad.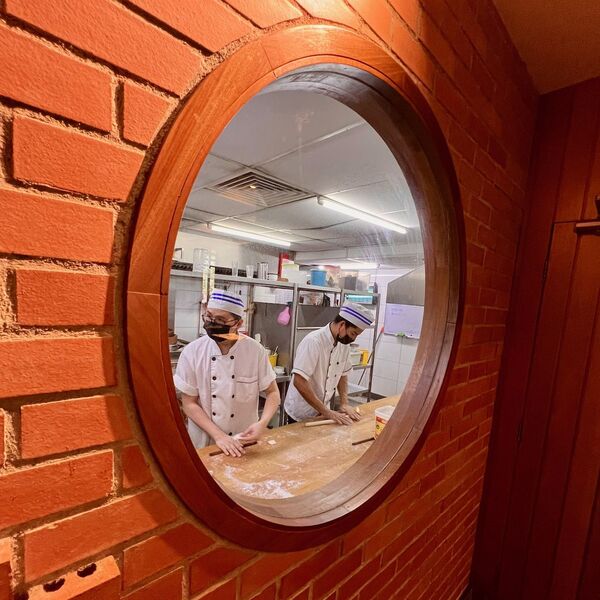 Once your table is ready, you'll be escorted upstairs to the dining area, where you can start ordering your dim sum and savour the ambiance of the cozy space. After finishing your meal, you will settle your bill at the concierge before leaving.
The Food
At 茶楼 Cha Lao Dim Sum, the menu is organised into three categories – Medium (RM8.80), Big (RM9.80), and Speciality (varied pricing). The ordering process is convenient. Diners can expect a traditional dim sum experience, with staff members pushing carts loaded with piping hot dim sum and fried delicacies for customers to choose and pick from.
You'll then have the opportunity to select the dishes you'd like to try, and the servers will place them on your table. The carts will then continue to circulate around the dining area.
Assorted dim sum
To start, I ordered quite a number of items from the cart – steamed prawn crystal dumpling (har gow), steamed fried fish ball, steamed sticky rice and deep-fried dumpling with mayonnaise.
Big – Steamed Prawn Crystal Dumpling – RM9.80
The Steamed Prawn Crystal Dumpling, also known as "Har Gow," is a classic dim sum dish that has been enjoyed by diners for generations. This dish is typically made with a thin, translucent wrapper made from wheat starch and tapioca starch, which is then filled with fresh, succulent prawns and other seasonings.
Medium – Steamed Fried Fish Ball – RM8.80
The Steamed Fried Fish Ball is another classic. It is made from a mixture of fresh fish paste and a variety of other ingredients, such as minced vegetables and seasonings. The fish paste mixture is then shaped into small balls, which are then fried and subsequently steamed.
However, while the dish tasted as expected, it was nothing to shout about.
Speciality – Steamed Sticky Rice – RM11
Steamed Sticky Rice is a dish that I make a point to try at every dim sum restaurant I visit. It usually includes glutinous rice mixed with ingredients such as Chinese sausage, dried shrimp, and mushrooms. Sometimes, it can even have chicken or pork in it. The mixture is then wrapped in lotus leaves and steamed, resulting in a fragrant and flavourful dish.
However, the Steamed Sticky Rice that I had at Cha Lao Dim Sum was not up to par with the ones that I have had back in my hometown. The overall flavour was lacking, and I was disappointed with the dish.
Speciality – Deep-Fried Shrimp Dumpling with Mayonnaise – RM12.80
This dish features succulent shrimp filling wrapped in a thin layer of dumpling skin that is then deep-fried to a golden crisp. Served with a side of mayonnaise dipping, this dish is usually a crowd-pleaser.
However, I found that the dumpling skin was too thick at 茶楼 Cha Lao Dim Sum, making the dish feel excessively heavy and overwhelming. This is a common issue I have encountered at many dim sum shops where the dumpling skin tends to be thicker than necessary.
Medium – Portuguese Egg Tart – RM8.80
The Portuguese egg tart is a delectable treat that's sure to satisfy your sweet tooth. The tart is made with a crispy, flaky pastry crust that provides the perfect contrast to the creamy, sweet egg custard filling.
The standout of this egg tart was its crispy crust, which was perfectly baked to a golden brown. The crust was flaky and provided a satisfying crunch with every bite. The only downside was that it was overly sweet.
Speciality – Steam Rice Roll with Prawn – RM11.50
Steam Rice Roll, or more commonly known as Chee Cheong Fun, is a type of Cantonese rice noodle roll that is often served as a dim sum dish. The rice noodle rolls are typically filled with various ingredients, such as prawns, char siu (barbecued pork), or vegetables, and served with a flavourful sauce and chilli. I tried their version with prawns as the main filling ingredient.
One of the standout features of this dish was the texture of the rice roll wrapper, which was soft and silky, almost melt-in-your-mouth. My only issue with this dish was that it wasn't served warm.
Speciality – Steamed Shanghai Pork – RM11.50
Steamed Shanghai Pork, also known as Xiao Long Bao, is a type of steamed dumpling that originated from Shanghai, China. These dumplings are typically small in size and are filled with a mixture of minced pork, gelatinised broth, and seasonings.
I'd say that 茶楼 Cha Lao Dim Sum's version of Steamed Shanghai Pork (Xiao Long Bao) wasn't as good as the likes of Din Tai Fung.
Verdict
I would advise against choosing Cha Lao Dim Sum Restaurant if you are seeking an affordable dim sum meal for two. During my visit, the total bill came up to RM110.20, inclusive of a 6% service tax and a 10% service charge.
The service at Cha Lao Dim Sum was also not up to par. The staff did not seem to be actively pushing the push carts around the restaurant, which meant that customers had to wait longer to be served. Additionally, there were instances where orders had to be repeated before the food was brought to the table.
It is also worth noting that Cha Lao Dim Sum Restaurant does not open as early as some other dim sum shops, with their doors only opening at 9AM. This might be an inconvenience for those who prefer to have dim sum earlier in the day, as many other dim sum establishments typically open several hours earlier.
Ultimately, despite the comfortable and pleasant dining environment that Cha Lao Dim Sum Restaurant provides, the high cost of the meal and lacklustre service makes it difficult to justify the price tag. I regret to say that I won't be dining at this restaurant again in the future.
Check out also:
My Rating
85%: Ambiance
60%: Price (value for money)
70%: Taste
70%: Location
65%: Service
70%: Overall Rating
Opening Hours
Open daily from 9:00 AM to 5:00 PM
Address / Contact Information
+607 290 3394
茶楼 Cha Lao Dim Sum
Jalan Dato Sulaiman
Taman Abad
80250 Johor Bahru
Johor, Malaysia