Chicken Claypot House is supposed to be a chicken oriented chain of restaurants. The style of cooking bends towards Szechuan cooking, which means that savoury offerings feature prominently in their menu. Alor Setar has a branch of Chicken Claypot House located right in the area where Aman Central is.
Location of 鸡煲之家 Chicken Claypot House
Chicken Claypot House occupies 2 shop lots and is sandwiched between the most happening mall in Alor Setar and the Fuller Hotel. It is not a difficult place to find. If you check its main website here, Chicken Claypot House claims to be the pioneer of contemporary claypot cuisines and also the first restaurant specialising in chicken claypot.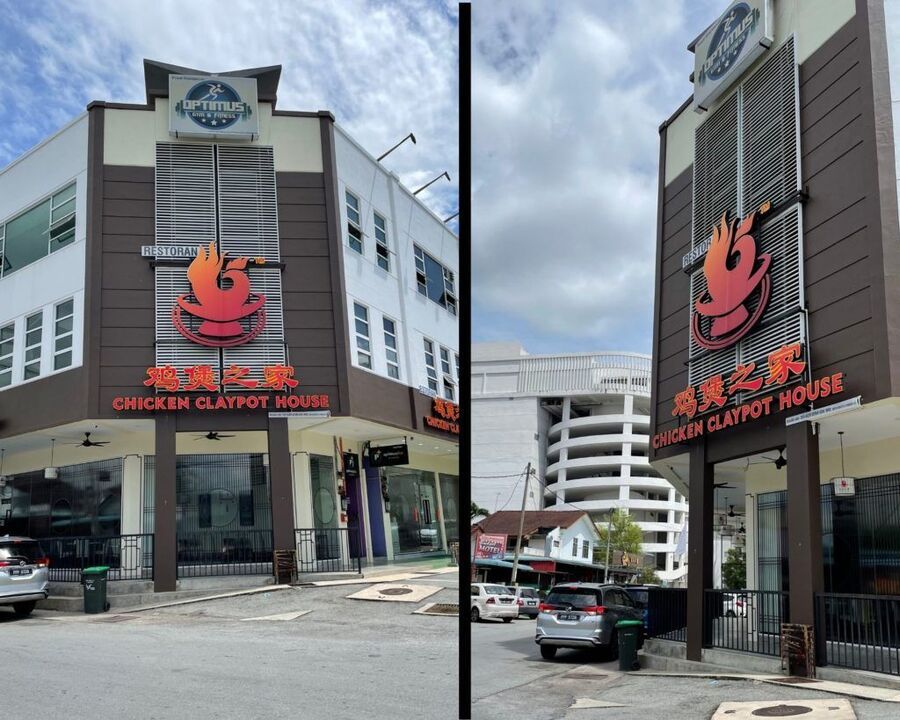 Basically, this restaurant offers steamboat or hotpot experience but in a cuisine style, similar to other hotpot chains which have been sprouting up a lot. Read about my review about Beauty in the Pot here, but with a different experience, because instead of metal pots, this one offers hotpot in a claypot.
We ended up here because old friend wanted to meet and we opted to give Chicken Claypot House a try as none of us has been there before. It was past 12 noon when we arrived and we were the first customers there. Customers started trickling in by 1.00 p.m.
The decor was bright and pleasing. The tables were spaciously distanced and everything looked and felt classy. Due to the ongoing pandemic, the restaurant has even cling-wrapped the saucer and plate for each diner. However, I thought this was a bit unnecessary as a lot of plastic is required.
We didn't really know what to expect and asked the waitress to help us decide. It's interesting to note that our Indian waitress spoke fluent Mandarin and was most at ease with recommending us what to order.
Our order
We decided to go with her suggestions to try the signature dishes of Chicken Claypot House, which was the Special Taste Chicken Claypot (medium spicy) and Pork Stomach Soup as the main soup bases. Instead of rice to go with the soups, we opted for the Spinach Noodles. We were also recommended the Lotus Root Slices, Broccoli and Fried Yuba or dried tofu skin.
Dried tofu skin is often found in Chinese dishes. You usually can't go very wrong with dried tofu skin with a soup dish because the skin would soak up the soup and take after the flavour of the soup. After our initial orders came, I decided to add on their Premium Pork Belly Slices and Potato Noodles for good measure.
Verdict
The bill for the 3 of us came up to RM140.15. Food was nice enough. I didn't get the usual thirsty feeling one usually feels from food with too much artificial flavourings.
The chicken used was the kampung chicken. It's easy to tell because the meat was leaner and chewier. Also, kampung chicken often tastes better when stir fried with sauces. However, medium spicy was a bit too spicy for me. The chilli really left a sting on the tongue. If I do ever go for the Special Taste Chicken Pot again, I will go easier on the chilli.
The Pork Stomach Soup was creamy and had a smooth texture. It has a rich flavour in a very soothing way, something which I think I would enjoy taking on a cool rainy day. Everything that we threw in simply soaked in the soup and tasted nice.
Hotpot is mostly about the soups and I think the Pork Stomach Soup did not disappoint. Can't say the same about the Special Taste Chicken Pot because it was just too spicy, the sort of spiciness that makes your tongue burn. You can't really be enjoying your food when you have to keep trying to cool the burning sensation that you experience with each mouthful of soup.
Will I go back there? The answer is yes. A meal over a hot pot has this communal feel which bring people together. When you go for hot pot, it is always with people you are comfortable with and would enjoy hanging out too. Hot pot is often times not just about food. It's about kindred spirit and so much more. So, to be able to have this sort of experience in a nice and real surrounding is a nice plus point.
Private Room(s)
Chicken Claypot House also offers rooms for private functions. There are 2 rooms which can merged into a bigger room which can accommodate about 20-30 people comfortably.
Check out also:
My Rating
80%: Ambiance
75%: Price (value for money)
80%: Taste
80%: Location (ease of parking)
90%: Service
81%: Overall Rating
Opening Hours
Open daily from 11.30 AM to 3 PM; 5.30 PM – 10 PM
Address / Contact Information
016 556 5538
No. 21 Ground Floor
Kompleks Perniagaan
10, Jalan Pintu Sepuluh
05100 Alor Setar
Kedah