Apparently Snitch by The Thieves is the brainchild of their main outlet, Breakfast Thieves, located in Bangsar. My ex-intern wanted to meet up before I left and suggested that we have dinner at this place. He had just come back from scaling Mount Kinabalu in Sabah.
Snitch by The Thieves
Snitch by The Thieves is located in The Gardens Mall itself, just beside ABC Cooking Studio. The restaurant is brightly lit, featuring both indoor and outdoor alfresco dining areas. The outdoor dining area comes with a third-floor view overlooking the mall's boulevard.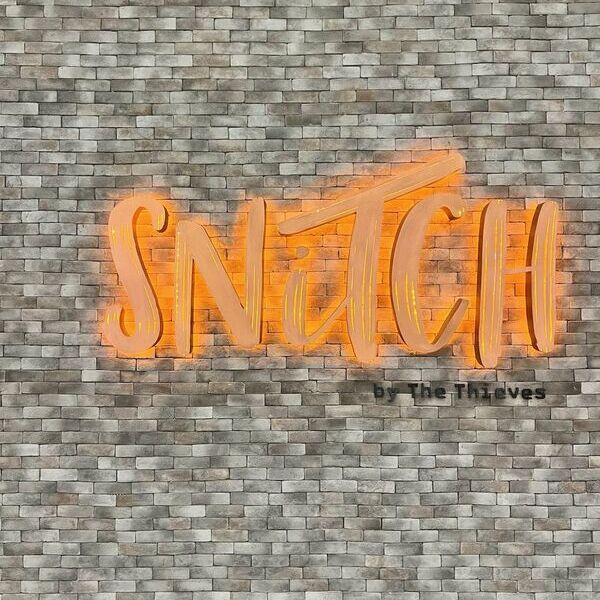 Food-wise, they serve a variety of local and western cuisine with a touch of Australian influence. They also boast of a wide variety of cakes, pancakes and waffles for dessert. You can see their full menu here.
I was told by my friend that this place was really popular, especially during lunch time. We were there for dinner on a weekday and he seemed right cos the place was pretty full when we got there. All the indoor spots were taken, hence my friend and I were shown a table at the alfresco area. I expected the outdoor area to be warm, but it turned out to be surprisingly cool and airy. The alfresco area also has a mini stage where a live band could perform. Sadly, there wasn't any that night.
Snitch by The Thieves also has a secret, and perhaps that's why it's called Snitch. They have a hidden sports bar within the restaurant itself, called the After Dark Social Club. It's equipped with beer pong and private karaoke rooms. We happened to stumble upon this hidden spot while looking for a place to wash our hands.
Yakuza – RM38
I ordered their Yakuza burger. If there's beef burger on the menu, I'm definitely game for it.
Their Yakuza burger is a chilli cheese burger, with wagyu beef as its patty, between two sesame milk buns. It comes with chilli con carne, gherkin, cheddar, tomato, jalapeño, and lettuce for toppings. The burger is topped with two onion rings, and served with fries as sides.
Fun fact: A gherkin is a pickled baby cucumber. The name "gherkin" comes from the Dutch word "gurken", which means small pickled cucumber.
Overall, this was a phenomenal burger! It's one of the better beef burgers I've had in a long time. It's one I would definitely be back again for. The wagyu beef patty was soft, moist and really well seasoned.
The Hungry Hunter – RM38
My friend had their rendition of a big breakfast.
The Hungry Hunter comes with garlic mixed mushrooms, chicken sausages, chicken bacon, charred cherry tomatoes, avocado, cheddar potato rosti, toast and eggs to your choice.
Taste-wise it was alright cos you basically can't go very wrong with what were on the platter. However, I felt it had a pretty steep price though.
American Southern Style Fried 1/2 Kampung Chicken – RM49
My friend highly recommended their fried chicken. Since we were both quite hungry, I agreed to order this to share.
Turned out that these chicken pieces were really good. I really enjoyed them very much. When the raw ingredients are fresh enough, you will always be able to enjoy the freshness of the food when you bite into it. They were piping hot when they landed on our table. KFC has always been something of a fried chicken yardstick and this tasted better hands down! Price-wise, it's on the high side for half a chicken. But these days, with inflation and chicken shortage, I guess I can't complain much.
Verdict
The service here at Snitch by The Thieves is really good. The waiters here are real attentive to your requests and needs. The food quality overall was also pretty good, albeit on the pricier side. Then again, what can one expect when dining in a cafe in an atas mall? Do note that they charge a tax of 6% and service charge of 10% here.
Overall, Snitch by The Thieves is quite a nice place to hang out and gather with your friends over a meal. The restaurant is spacious enough and well designed. I always like space cos when tables are too near each other, you sometimes get really conscious of the diners nearby. Snitch by The Thieves makes you feel that you are hanging out in your own space within their comfy lair. And that makes it a highly recommended place for a catch-up session.
Check out also:
My Rating
90%: Ambiance
70%: Price (value for money)
80%: Taste
90%: Location (ease of parking)
80%: Service
82%: Overall Rating
Opening Hours
Open from 11 AM to 10 PM (Sun – Thu)
Open from 11 AM to 12 AM (Fri – Sat)
Address / Contact Information
03 2201 9699
T-225A&B
Third Floor, The Gardens Mall
Lingkaran Syed Putra
Mid Valley City
59200 Kuala Lumpur