OHO Mookata & Bar has been making rounds on my social media, with raving reviews of good food and highly instagram-worthy photo spots.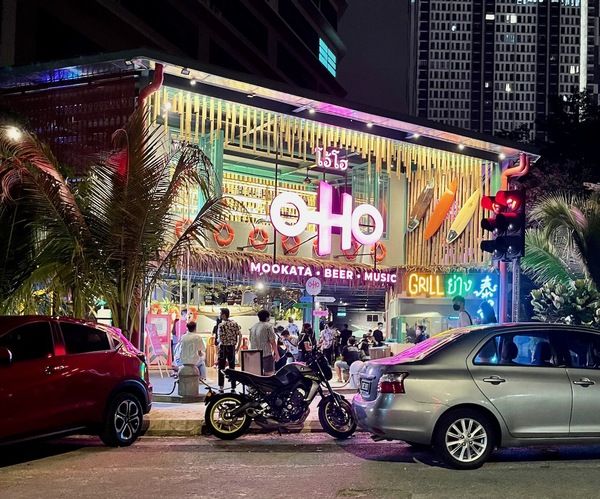 OHO Mookata & Bar
Located in the industrial area along Jalan Chan Sow Lin is OHO Mookata & Bar. They just recently officially opened their doors to the public on the 15th April 2022.
To get to OHO Mookota & Bar, you will need to drive. The place where the restaurant is located is not served by any public transportation. And the roads leading to the restaurant are pretty bad. Parking is also scarce. The only free parking available is along the road. Otherwise, you may opt to park in Wisma Trax itself, which is RM5 per entry after 6PM. Do note that the parking design in that building is a little queer, and the parking machines are only available at the ground floor and Level 2 of the building. So you might feel a little lost if you are unfamiliar with the place.
OHO Mookata & Bar boasts of the most authentic Thai cuisines that comes along with multiple dining experiences inclusive of open-aired outdoor dining area, a Lifestyle Beach-themed bar, cozy indoor premium dining and private dining rooms with complete karaoke sound system to boot. I guess you can say that they have gone quite all out to be that one ultimate dining place.
As I did not make a reservation prior to dining at OHO Mookata & Bar, I was given a table at the outdoor dining area.
OHO Mookata & Bar has sets and alacarte items on their menu, as well as Thai snacks and desserts. To start your mookata experience, you'd need to choose a starter set, your soup base and any add-on items you might want to have with your mookata.
The Food
C01 Mookata Set for 2 – RM39.90 (Opening promo – RM29.90)
I tried their Mookata Set for 2. It comes with 2 free soup choices, smoky BBQ Pork Belly, black pepper pork belly, fragrance sesame pork belly, crab stick, fishball, Japanese soft tofu, fresh kangkung, fresh cabbage and glass noodles. You get unlimited refill of vegetables and glass noodles. For those who frequent mookata dining, the free refills are pretty standard feature.
For soup choices, you are spoilt for choices. OHO Mookata & Bar offers 5 types to pick from – Traditional Pork Soup, Thai Green Curry Soup (+RM7), Japanese Miso Soup, Signature Tom Yum Soup (+RM7) and Spicy Mala Soup (+RM7). I tried their Signature Tom Yum Soup and Traditional Pork Soup. I picked the latter because I wanted something to balance out the spiciness from the tomyum soup. Both soups tasted okay, but weren't outstanding.
The dedicated steamboat area in the pot is also rather small. It was hard to put the kangkung in. They gave long strips of kangkung rather than have them cut it into smaller pieces. That would have made dining way more pleasant. And oh, they use gas stove to warm the BBQ and steamboat pot, similar to Bar.B.Q Plaza.
The meats that came with the set were also heavily seasoned. They served the meats in long thin cuts. It gave the illusion that you are getting a big portion of meat, but in reality it's just a really small portion for the price. If you're a meat lover, the meats that come with the set are definitely not enough.
Did you know?
'Mu krata' or 'Mookata', is a Southeast Asian cooking method, originating from Thailand. The word "mu" means 'pig' or 'pork' and krata is 'pan' or 'skillet' in Thai. Mu krata resembles a combination of a Korean barbecue and a Chinese hot pot, just that the Thai version uses charcoal.
The meats were also on the sweeter side. If you're going to serve marinated meat, be sure that the meat pairs well with the soup bases. I personally feel that unseasoned or lightly seasoned meats are best when eating mookata.
There is also a sauce bar where you can mix and match various sauces to pair with your meal. There were unique Thai sauces like Thai Spicy Shrimp sauce, Thai Green Chilli sauce and more.
Currently they have an opening promo, the set that normally cost RM39.90 is going for RM29.90.
G09 Teriyaki Lamb Skewer (2 pcs) – RM19.90 (Opening Promo – RM13.90)
The grill menu was also on promo – they were offering 30% off every item in their grill menu. Hence, I decided to try their Teriyaki Lamb Skewer (2 pcs).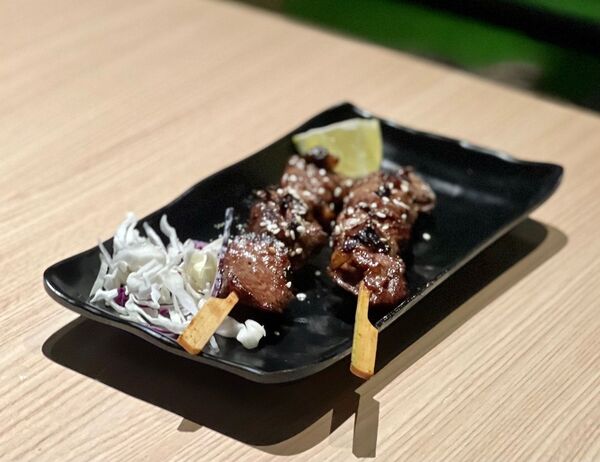 Unfortunately, I felt that the skewers were not worth the price. To begin, it wasn't fully cooked on the inside. It was also rather chewy. I had to cook it again over the BBQ. If you're going to charge RM19.90 for two pieces of lamb skewer, why not use a slightly higher grade mutton?
Verdict
My first impression was that it was too warm and stuffy in the dining area. BBQ and steamboat without proper ventilation / air cond is just a recipe for disaster. By the time the BBQ got going, I was already sweating in my seat. When I finished my meal, I was already very uncomfortable – sticky from sweating and the oil from the BBQ.
Prices of the food were generally on the pricey side at OHO Mookata & Bar, if not for the opening promo. Drinks served here are also on the pricier side – watermelon juice (RM13.90) and Asam Boi (RM8.90). A meal for two ended up costing RM81, inclusive of 10% service tax.
The only thing going for them is the ambience. It is tastefully decorated. There are a lot of spots that are instagram-worthy.
I am sad to say that this place is overrated and I won't be back for more.
Oh ya! If you want decent Mookata, there are many places in Selangor / Kuala Lumpur with far better mookata and way cheaper too.
Check out also:
My Rating
90%: Ambiance
60%: Price (value for money)
65%: Taste
65%: Location (ease of parking)
75%: Service
71%: Overall Rating
Opening Hours
Open daily from 4 PM to 2 AM
Address / Contact Information
018 668 0850
G1, Ground Floor
Wisma Trax
Jalan Chan Sow Lin
1, Jalan Lima
55200 Kuala Lumpur