Dim sum is something which many of us enjoy simply because of the variety that small plates of many different types of food that are available. They range from all kinds of dumplings to an array of dishes that are heavier on the stomach like porridge and wat tan hor.
See also: Instagram (@lifeofaworkingadult) Gallery of Hwa Poh Lou
I have always liked dim sum for breakfast because of the variety. It is a meal which caters to everyone's fancy because there is always something for each person. Whether you are a fan of fried or steamed stuff, you will be spoilt for choices because there is always something for everyone.
Dim sum places are usually aplenty but good ones are hard to come by, what with rising costs of ingredients these days. There many dim sum places in Alor Setar but many of them serve so-so offerings. This place is an exception.
Where is Hwa Poh Lou Restaurant located?
This dim sum place is known as Hwa Poh Lou Restaurant. It is tucked in a rather disorganised part of the city, in Seberang Jalan Putra. I always think of this area as the cowboy town section of Alor Setar. The easiest landmark to pin its location would be the wet market in Jalan Putra. Taman Mahawangsa, the location of the restaurant is located in an area behind this wet market.
To get to the restaurant, you will have to go through small roads that make you feel that you are going to a new village. Yet, a short distance into it, you will come to 2 rows of of shop houses, and that's where this restaurant is located at.
What strikes first is the decor
The entrance to the restaurant has doors which are embedded with steel balls. In ancient China, these would be doors that graced the Imperial Court and instead of steel (they did not have steel then), it would be copper balls. The porch had a clean and inviting feel.
When you enter, this greets you. I like restaurants with a clean look and feel. And when you walk in, the ambience that greets you makes you feel comfortable and welcomed. The interior is nicely done up with decorations that remind you of ancient Chinese culture. Also, since the pandemic SOPs are still in place, you have a machine that is constantly spraying a fine mist of disinfectant all over the guests as they take their temperature upon entering.
This is a nice place to yak over a cuppa and some snacks. The restaurant feels warm and inviting enough and there is enough decorations to soak in the noise. One can actually have an enjoyable breakfast or brunch and catch up with friends.
The food
Dim sum at Hwa Poh Lou Restaurant is self-service. There aren't as many choices as I had anticipated at one glance but we were in for a pleasant experience. The usual loh mai kai, dumplings, har kow, sui kow were at the service area when we went to take a peek.
When we sat down, I noticed that every table had a menu of cooked-to-order dishes like steamed kway teow with garoupa and others.
Dim Sum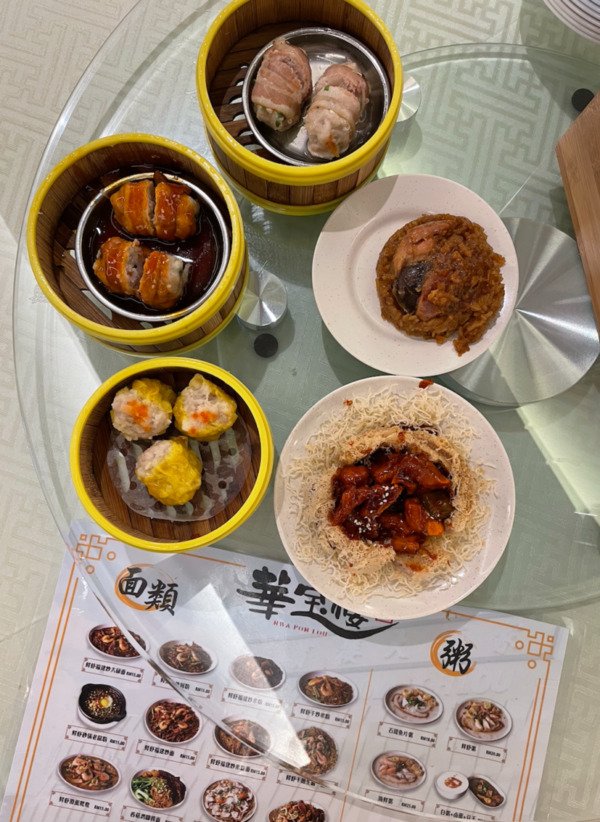 We took the usual favourites and tucked in. What makes these dim sum snacks stand out is the taste. They actually tasted quite authentic. These days, it is easy to get frozen over the counter dim sum snacks. Very often many dim sum places we go serve such dim sum. They even have a mini version of yam ring! The sweet sour pork that came with it was tender and tasty. I wouldn't mind going back for this because I can just order without having to find enough people to share the usual portion that is served at a restaurant.
What stood out most about the dim sum experience at Hwa Poh Lou is that it didn't give me the manufactured dim sum feel. Most of the snacks had a generous portion of meat and prawns in them. I like har kow or dim sum shrimp dumplings. Good har kow not only has a tasty filling but also a translucent wrap or skin that is not too chewy.
Bak-Kut-Teh Dumplings
We had this too, bak-kut-teh dumplings. For those who like the smell of Chinese celery, this dumpling is actually quite nice. It looks like cookies but they are actually dumplings.
Wat Tan Hor
Apart from that, we ordered their wat tan hor. You get the aroma of the wok hei in every mouthful which makes tucking into this dish a flavourful experience. The prawns are quite sizeable too and fresh as well. All in all, I would go back for this again.
Kway Teow with garoupa fillet
Next is the steamed kway teow with garoupa fillet. This is a sour and spicy dish and leaves you wanting for more. The kway teow is very smooth and the pickled vegetables adds a twang of saltiness and sourness that makes a perfect blend of taste.
Membership Card
One final thing. Hwa Poh Lou has a membership card too. A 10 percent discount is given to the card holder. Membership is free but comes with a caveat. One needs to deposit RM1,000 for this benefit. Each time you dine there, the bill with the discount will be deducted from the card.
There is more to it also. Discounts are not given on Public Holidays. And for Chinese New Year, no discounts as well until after the 7th day. On such days you can't even use the card.
I think they should just allow customers to pay for their meals from the card even during public holidays. After all, the deposit is quite a hefty one. These deposits actually serves as a running capital for them too, the way I see it. The least they can do is just to reward their regular customers by allowing them to use the deposit or even just continue with the giving of discounts albeit on a smaller scale.
Verdict –

Recommended!
Overall, the food is nicer as compared to other dim sum shops in Alor Setar though the choices are rather limited. There are many other cooked-to-order dishes which I have yet to try. However, as I sat there and looked around, I noticed that many patrons ordered their congee too.
Hwa Poh Lou Restaurant is a dim sum place by day and Chinese restaurant by night. They also have halls and rooms for functions like wedding and gatherings up there.
My Rating
85%: Ambiance
70%: Price (value for money)
75%: Taste
80%: Location (ease of parking)
85%: Service
79%: Overall Rating
Opening Hours
Open daily from 8 AM to 8 PM.
Address / Contact Information
04 734 4328
No. 97C, D&E
Taman Thean Peng
SBG Jalan Putra
05150 Alor Setar
Kedah