美滋锅 Beauty in the Pot – When a restaurant name has the word 'beauty' in it, you'll have to wonder why the word is there. Because most of the time, where Chinese restaurants are concerned, words associated with delicious, fragrant or the method of cooking will feature very prominently. This restaurant promises more… beauty that comes with eating their beautifully prepared food.
See also: Instagram (@lifeofaworkingadult) Gallery of Beauty in the Pot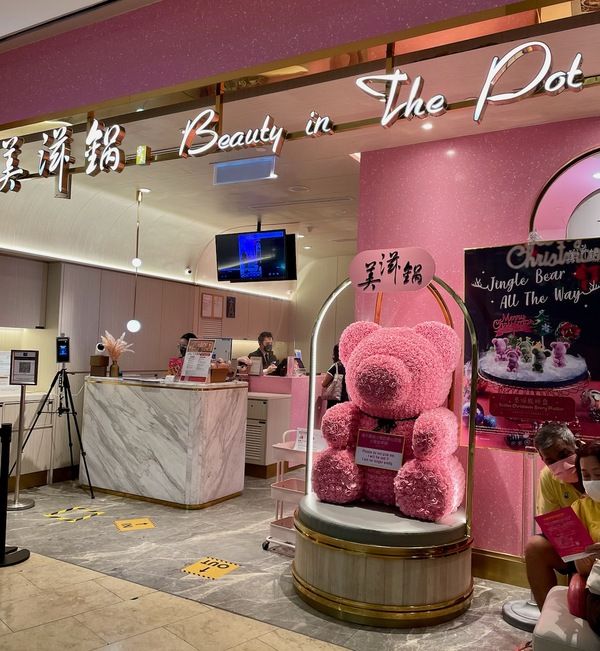 There are currently two Beauty in the Pot outlets in Malaysia. The first outlet opened in the Genting Highlands and like everything novel, it was a rave. People actually purposely travelled there to try it. The second is here at The Garden Mall, Kuala Lumpur. A third outlet is on the way, set to open in Tropicana Gardens Mall, Petaling Jaya in Selangor.
So what is hotpot?
Hotpot is a rave these days. Hotpot is a trending word among my generation. My parents generation will simply refer to such dining as steamboat. Many Chinese families have steamboat for the Chinese New Year reunion dinner. The round pot is supposed to symbolise the coming together of family members for that one dinner where everyone sits around and dig in. However, not all Chinese families do that as there are many Chinese ethnics with different cultural practices.
Steamboat wins big on preparation, though. Unlike other reunion dinners which involve elaborate preparation and cooking styles, steamboat is relatively easy to prepare. You only need to prepare the broth and other raw ingredients which you want to boil in it. These days, these raw ingredients can be easily bought from the supermarkets or shops specialising in frozen stuff. As you throw in more stuff, the soup tastes nicer because that's how delicious soups are made, thought the essence of the ingredients boiled in them.
Getting a table at Beauty in the Pot
I took my mom there because I really like broth. She took quite a bit of convincing because she felt it was just steamboat. How different could a steamboat be? So after a first reservation which I had to cancel, I tried again nights later. This time, we had to wait, because as usual, the restaurant was packed when we arrived even though it was on a weekday night and already 8 p.m..
We were told that there were 8 tables ahead of us when we enquired and made our reservations. The staff also told us that we might not get a table as the last order is at 9.00 p.m. But we decided to try just the same. This is where the waiting becomes quite a bearable experience because they use technology to make things transparent.
Beauty In The Pot will send you a link via a message for you to check your queue for the table. This is nice feature, as it allows you to do browse around in the mall rather than just stand outside the restaurant aimlessly. And being in the know I think helps to give waiting patrons a calming effect.
The staff told my sister that they will call once a table becomes available and we had to be there within 10 minutes of the call. As it was already 8 p.m. when we did that, I thought dinner there might not materialise. Mom didn't seem to mind because she was eyeing the oyster bar which was nearby. However, when I clicked the link and got onto the website, there were only 2 tables ahead of us. Thankfully, we got a table and were in the restaurant by 8.15 p.m. As last order was at 9.00 p.m., we were told that we had to finish our dinner by 9.45 p.m.
Which soup base is nice at Beauty in the Pot?
Mom wasn't too impressed, I think, when we were seated, which is understandable because hotpot is, after all, just a meal of boiling your food. To make things more challenging, a friend who came along with us had tried this restaurant previously and she said she didn't find the food something to shout about.
I was tasked to order the food. You can have combination of up to 4 different types of broth to be in your hotpot, or the quart pot. I went for the twin pot order of Beauty Collagen Broth and Vitamin C Tomato Sweet Corn Broth. If you look at the names of the broths, the names of the broth in itself already promises soups that will beautify you. Collagen and Vitamin C are both fountains of youth on their own.
There are a total of 6 soup broths to choose from – Beauty Collagen Broth (Dried Scallop and Pork Bone Soup), Longevity Wild Pine Mushroom Broth (Vegetarian), Vitamin C Tomato Sweet Corn Broth, Spicy Nourishing Broth (Pork Bone Soup), Herbal Drunken Chicken Broth and Cooling Coconut Broth.
The Beauty Collagen Broth is my favourite among the 6.
What is nice in Beauty in the Pot?
A quick look at the broths as were they were set, wasn't sufficient to take my mom's breath away. I ordered the sliced beef, sliced lamb, sliced pork, prawn dumplings, vegetables, mushrooms, la mian and century egg fish paste. Everything was fresh.
A quick look in their menu shows that there is no processed food served in Beauty In The Pot. Wa la! Makes sense why Beauty In The Pot, right? Processed food can never be good for us. And the broths came loaded with gooseberries, red dates and some other herbs, all very good food for the external and internal beauty.
Everyone tried the broths as soon as they boiled. And everyone liked it. As dinner went on and more of the fresh stuff made their way into the broths, the food became nicer. And like what hotpots are supposed to do, the food itself became fodder for conversation as dinner went on. Add that to the fact that, the broths complimented the meats and vegetables well, everyone was quite won over before long. Guess that's why hotpot is a feature meal for reunion dinners.
La Mian – RM4.90 / piece
The la mian was a hit with everyone. When boiled soft in the broth, the la mien had a very smooth texture which the both the Beauty Collagen Broth and Vitamin C Tomato Sweet Corn Broth complimented very well. Suffice to say we made repeat orders for the la mian.
Prawn Dumplings (4/8 pieces) – RM16 / RM32
Another order that was worth mentioning was the prawn dumplings. The prawns in the dumplings had a springy texture. The dumpling has a fragrant taste when you bite into it. The skin was smooth and holds very nicely, as in it didn't break into small pieces easily.
Century Egg Fish Paste – RM18.90
The century fish egg paste was the last item to be cooked. The waiter used a wooden spatula and formed elongated balls to be boiled. These century egg fish balls had a soft texture with a pleasant natural flavour to it.
There were also complimentary fruits at the start of the meal and an iced drink at the end of the meal.
Verdict –

Mom was impressed!
Overall, the dining experience at Beauty In The Pot was a nice for a couple of reasons. Nice food which made nice conversation in every sense of the word. Beauty In The Pot, a pot that contains not just food that nourishes the self but also provides food for conversation, food for moments and memories. All because, when you have a hotpot, everyone can sit around and regale about everything.
My Rating
85%: Ambiance
70%: Price (value for money)
85%: Taste
90%: Location (ease of parking)
85%: Service
83%: Overall Rating
Opening Hours
Open daily from 11 AM to 10 PM.
Address / Contact Information
03 2202 1599
Lot T-201B
The Gardens Mall
Lingkaran Syed Putra
Mid Valley City
59200 Kuala Lumpur