As the name suggests, SK Kim 合莎驰名菜脯魚 is famous for their steamed fish. However, if you come in the mornings, there's a stall famous for its Hokkien Mee. After trying other stalls that sells Hokkien Mee in Alor Setar, this is for me is the best I've tasted, hands down. It's tucked in an unobtrusive shop, hidden away from the city centre. But looking for it is easy enough because the shop is located opposite SJKC Keat Hwa (H) and squeezed between the Sentosa Plaza and Hotel Grand Crystal.
SK Kim Hokkien Mee
You will find the usual char siu, eggs, fishcakes, kangkung (Ipomoea aquatica) and dried shrimp that is deep fried in onion oil to enhance its flavour in their bowl of Hokkien Mee. You have the option of rice vermicelli and thick yellow egg noodles, or have a combo of both in one bowl, which is how most people would order their Hokkien Mee here.
What makes this Hokkien Mee stand out is the way everything comes together well enough to give you the 'oomph' when you tuck in. If you prefer it spicier, there is always the extra chilli which you can add in. Or if you prefer a mildly spicy taste, the bowl is good enough as it is. As for me, I usually will have the extra chilli, a tardy bit more than the usual portion. Somehow, a slightly spicier Hokkien Mee always seems to make the whole eating experience more complete.
Watching the stall operator prepare the Hokkien Mee gives one the impression that the dish is simple to prepare. Yet, though this seems simple, there's actually quite a bit of work that goes into making this dish, especially in making the broth. Hokkien Mee stock consists of hours of boiling pork bones and prawns in their skins. And the rest of the ingredients have to come together to compliment each other to give it that perfect taste often associated with it.
You need, of course the soup to be flavourful enough. The meat has to be just chewy enough so that when you bite into them, you get a nice blend of soup flavour in. And the prawns have to be slightly tasty on their own, so that when you take them with the noodles or vermicelli, you get an extra small punch of thicker flavours of the chilli taste that actually gives the Hokkien Mee its identity. The rest like the eggs and kangkung and taugeh make the whole experience complete. Eggs, especially the yolk always lends its creamy taste to whatever flavour that is taken with it and always enhances the eating experience.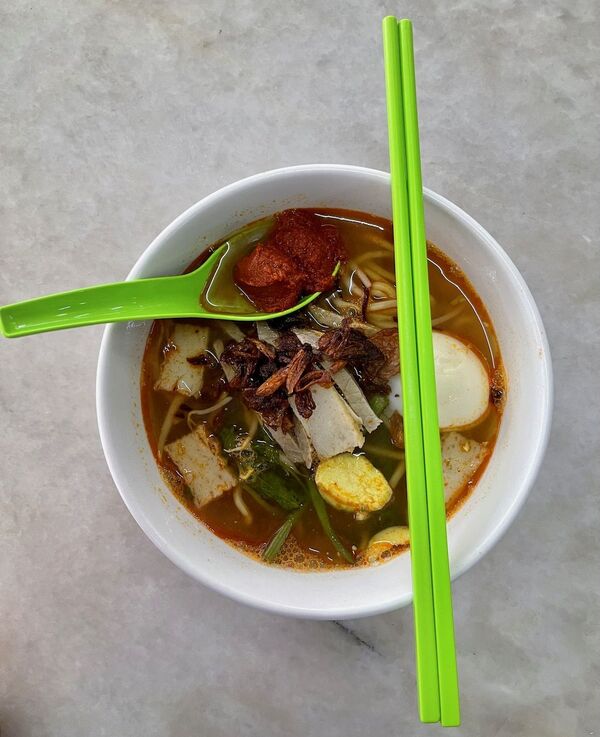 They serve Hokkien Mee in two sizes – small (RM4.50) or big (RM5.50).
Verdict
Overall, this is no doubt the best Hokkien Mee in town. The key highlight to this dish is the tastiness of the soup and sambal. It's slightly sweet, aromatic and very spicy (according to how much sambal you put in) which gives the overall dish a kick. They are quite generous with the condiments they put in too.
Other than Hokkien Mee, the stall also serves Lor Mee (though I'm not a big fan of it). I prefer spicy to salty sweet any day! It also comes in two sizes – small (RM4) or big (RM4.50). You can always mix the lor into the Hokkien Mee for another sort of flavour. Lots of her customers do just that.
The store opens from 7.30AM in the morning and usually sells out by 10-11 AM (on weekends they sell out faster). You will usually see a steady stream of customers making a beeline for it. Service is quick enough but do note to head there early. Else you might end up disappointed, because sometimes by 9.30 a.m., she'd be out of Hokkien Mee.
Check out also:
My Rating
70%: Ambiance
80%: Price (value for money)
85%: Taste
80%: Location (ease of parking)
85%: Service
80%: Overall Rating
Opening Hours
Only open for breakfast (usually finish by 10 AM)
Closed on Mondays
Address / Contact Information
168e
Jalan Kampung Perak
Bandar Alor Setar
05100 Alor Setar
Kedah