From the name – Naughty Babe Dirty Duck, you more or less can guess that the restaurant specialises in. They are a casual European fusion restaurant with a menu that's very specialises in – you guessed it – duck and pork!
I don't usually frequent Desa Sri Hartamas area, but as some friends of mine from my previous company were going to visit my friend's new condo in that area, we decided to try out Naughty Babe Dirty Duck (which was also in that area).
Naughty Babe Dirty Duck
Located in Desa Sri Hartamas, the restaurant interior gives out a ranch-style vibe – brick walls, pendant lights, distressed wood and wooden tables. They have two floors for indoor dining, and an outdoor dining area overlooking the park at Desa Parkcity.
We went on a weekend for lunch, but didn't make a reservation. It was crowded, and we were told that we would need to wait for a table for around 40 minutes, which we did.
Almost every table had a slab of pork ribs, which is their speciality – and also the main reason why we wanted to visit.
The Food
Duckie Burger – RM36
I had obviously, a burger for my main. It was a special duck meat burger with bacon, cheese, blueberry mayo and a potato confit for a side.
I have never had a duck burger before, so I decided to give it a try. Overall, it was okay, but it isn't something I would order again. I prefer my burger patty to be made up of pork or beef.
Dirty Duck – RM40
This was another signature dish at Naughty Babe Dirty Duck. It is a confit of duck leg with a side of yam puree, prunes, bacon jam and 4 minutes duck egg.
Growing up, I must say that duck is one of those protein that we rarely had at home. Once in a while, a roast duck would find its way to our dining table. Then there would be the occasional Peking Duck dish too which would mainly be about the skin.
This "dirty duck" has fairly crispy skin. Crispy duck skin is always delicious because duck skin is super fatty. You need to get it to cook in a temperature high enough. Nice crispy duck skin is one that is not burnt and does not have fat clinging to it. This one meets the criteria. Also, the meat was tender and tasty. But still for me, it obviously still couldn't beat the pork ribs.
I think the only duck egg I've eaten is the salted egg. The duck egg that came with this dish was fried crispy on the outside while the inside was kept gooey. Duck eggs are like chicken eggs, except that they have more of everything compared to the chicken egg, and also why some people say duck eggs have this creamy taste to it. The reason is easy to see. Duck eggs have bigger egg yolks. So you get a double dose of the creamy stuff with a duck egg.
I've been wondering about the use of Dirty Duck in the name of the restaurant – Naughty Babe Dirty Duck. Ducks need water, and lots of it and where you find water, chances are that you get muddy areas, in other words, dirty. They are also very messy and also very loud. So, maybe all these attributes contribute to the name of the restaurant.
Salmon & Serrano – RM48
My friend tried their salmon and serrano, because she wanted food that her toddler could eat too. This dish consisted of a pan fried salmon, crispy serrano, baby carrot served in buerre blanc sauce.
She said that the salmon skin was crisp, and was overall nice. I personally felt that the price tag of this dish was too hefty though.
Did you know?
The serrano pepper is a type of chilli pepper that originated in the mountainous regions of the Mexican states of Puebla and Hidalgo. The name of the pepper is a reference to the mountains of these regions.
Dirty Duck Linguine – RM29
Another basic friend of mine tried their pasta. The Dirty Duck Linguine is a linguine sautéed with onion, garlic, basil, smoked duck breast slices and truffle oil. Linguine is a flat noodle, by the way. What makes this dish is basically the sauce that goes with it. You usually can't go very wrong with a combination of onion and garlic. Truffle oil has a distinct aroma which brings out subtle and earthy flavours from your dish. It is something like a 'magic potion' that brings out the umami taste in any dish that it is added to.
The dish was simple but the duck meat went well with the linguine.
NBDD BBQ Pork Ribs (half slab) – RM42 / Crazy Rib (Promo) – RM15
This is one of their signature dishes at Naughty Babe Dirty Duck! Their signature pork ribs are lacquered with their homemade barbecue sauce and grilled to perfection. It is served with tomatoes salsa and hot stuff sauce.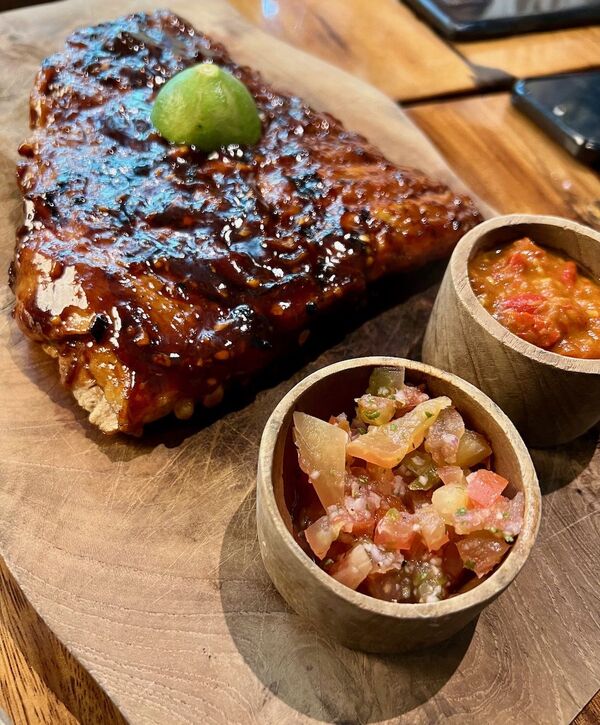 The ribs were tender and the meat peeled off easily from the bone. Good pork ribs are supposed to melt in your mouth and this one passes this litmus test. However, the tomato salsa and hot stuff sauce weren't too my liking though. I felt that they did not go well with the ribs. The ribs actually were good enough on their own.
Verdict
Naughty Babe Dirty Duck gives off a friendly neighbourhood vibe, ideal for the carnivore types. It has a great outdoor dining area overlooking the park which is suitable for families with kids, and pets. The Waterfront at Desa ParkCity, where the restaurant is located, is a pet friendly retail centre by the way.
Food-wise, all the dishes we had were decent, though none were really outstanding. The only dish I felt worth the price were the ribs, because it was on promo.
The service could be way better though, given the price tag attached to the food here. With the 10% service charge factored in, service should be top-notch I feel. Yet it wasn't so.
Would I be back again for more at Naughty Babe Dirty Duck? Probably not.
Check out also:
My Rating
80%: Ambiance
70%: Price (value for money)
70%: Taste
80%: Location (ease of parking)
70%: Service
74%: Overall Rating
Opening Hours
Open daily from 11 AM to 10 PM
Address / Contact Information
03 6280 6655
FF-21, First Floor
The Waterfront @ Parkcity
Desa Parkcity
52200 Kuala Lumpur