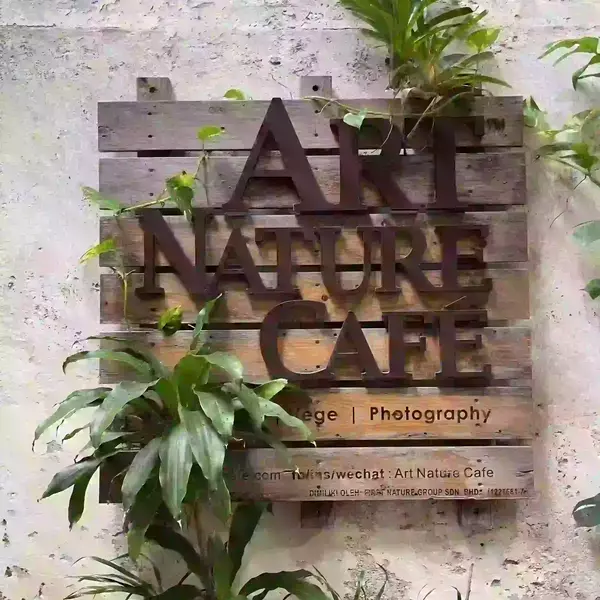 Located in the heart of Pekan Melayu, Art Nature Cafe serves instagrammable healthy vegetarian food.
The Food
Mushroom Brown Rice – RM15.90
This is my friend's mushroom brown rice. It came with brown rice topped with broccoli stir-fried with garlic, shimeji mushroom and some vegetarian 'meat'. According to my friend, the mushrooms were a bit on the saltier side, which made the dish a little disappointing. Healthy food is supposed to get its flavours from the sides that the dish comes with but unfortunately, this one might raise some questions about how healthy it actually is. The sunny-side up egg makes a nice complement to the rice as the gooey yolk adds a nice creamy flavour to the dish.
Feign Recipe Carbonara – RM16.90
It was quite tasty. The use of feign to describe a food I think demeans a supposedly healthy food. After all, that is like equating 'fake' with healthy. However, I was pleasantly surprised by the creaminess of the spaghetti. Cooked with broccoli, green bell pepper and served with a sunny-side up egg, this turned out to be quite a nice dish . There were 4 of us and 2 ordered this. One observation though – both portions were not consistently same.
Mac 'N' Cheese – RM16.90
I am obsessed with cheese, so naturally this was the first thing that caught my eye. I originally thought that the mug that it came in would be quite small but looks can be deceiving, the portion actually made decent for a meal.
The taste however was so-so. Why? It wasn't as cheesy as I would have hoped it would be and the macaroni tasted quite dry. The presentation for this order was the most pleasing to the eye but in terms of taste, it didn't stand out.
Matcha Lava Croissant – RM10.90
I'm not much of a matcha fan but this Matcha Lava Croissant is fantastic. This is like a chocolate lava cake except that you get matcha oozing out instead of chocolate. It comes sprinkled with corn flakes. The croissant was just nice and the matcha filling went rather well.
Should you pay a visit to this cafe, I highly recommend that you try this! This was probably our best order for the day there.
Verdict – A good place to hang out but be prepared to wait for your food
Art Nature Cafe checks most of the boxes for a good hang out place. However, the service is quite poor. We had to wait for over an hour until all of our food came. This despite the fact that the place was not busy as we were among the earliest customers there. It was past 11.00 when we went in. So, can you imagine if the place is busier? You might have to wait eons for your food.
Also, as I have mentioned above, when you have 2 people ordering the same food and noticing that their portions are not same, it points towards inconsistencies of the restaurant. Portions should always be consistent for any similar servings.
I would not recommend going to Art Nature Cafe to grab a bite if you're in a hurry. There are other better places with better service as well as comparable food for you to try in Alor Setar.
Check out the restaurants nearby:
My Rating
90%: Ambiance
80%: Price (value for money)
75%: Taste
70%: Location (ease of parking)
60%: Service
75%: Overall Rating
Opening Hours
11 AM – 8 PM (Thursday to Sunday)
2 PM – 8 PM (Monday to Tuesday)
Closed on Wednesdays
Address / Contact Information
Pekan Melayu
46
Jalan Sultan Muhammad Jiwa
Alor Malai
05000 Alor Setar
Kedah