Little Yellow Breadstry is a quaint little place in Pekan Cina. And Pekan Cina is also a place of interest in Alor Setar. Places of interest in Alor Setar generally are found in the city centre, in the Pekan Cina / Pekan Melayu area. That's where the Sungai Kedah flows through and winds its way right into the hinterlands. That alone will tell you that, this area is where all the history is.
The trade followed the river. Villages and cities sprung where the river flows. Hence, it is not surprising that not too far away from Pekan Cina, you will find sites of historical interest such as the Istana Kuning, Balai Nobat, Clock Tower, Masjid Zahir, and Balai Seni are. They are all within walking distance and form part of the Alor Setar Heritage Trail.
From the south, this pintu gerbang reminds you that you are entering into an era past. Over the years, Pekan Cina have been seeing a decline due to other more modern commercial hubs like Tuanku Haminah Business Centre and Pekan Simpang Kuala. However, recent years has seen a revival of this once thriving 'pekan'.
Did you know? The arch, erected by the Kedah Chinese Chamber of Commerce, was to celebrate the solidarity between the Chinese and Malay communities in Alor Setar.
Restaurants, coffee houses, bistros and other eateries are sprouting here, bringing with them a sort of renaissance to the otherwise run down area. I have not been going to this area because of the multiple lockdowns in the past 2 years. Hence, I was pleasantly surprised when I saw the changes during one of my drives there to find some glass bottles for my kombucha project.
And so that was how I discovered this little quaint place on the morning I decided to take a walk around Pekan Cina after that search. Early mornings are perhaps the only time of the day that the place is not jammed up with vehicles.
Little Yellow Breadstry
A staff was sweeping the floor when we walked past. We struck up a conversation with her and asked her what they were serving and she replied, sandwiches. We were about to walk away when we made a u-turn to give the place a try because the facade piqued our interest. The matter of interest? Well, what would a Chinese looking restaurant be serving western sandwiches?
When we entered, we definitely did not expect to see this. I like the floor design. and the wall that separated the dining area from the kitchen. The place was a bit narrow but there is a nice quaint feel. And it felt rather cultural, if I might say. We were very early and had the whole place to ourselves.
I have both ordered and tapao-ed their sandwiches. During my initial visit there, this is what we ordered – fish sandwich and Riches Wealth Blooming Tea and Peach Green Sencha. I've also tapao-ed and tried their tuna sandwich, BBQ chicken sandwich and mushroom sandwich.
Generally, all their sandwiches are prepared in charcoal bread, with egg, salad with different kind of fillings (i.e. tuna, BBQ chicken, fish, mushroom, etc.), and is served with fruits at the side.
The Food
Fish sandwich – RM15
Their fish sandwich consists of wild catch Barramundi fillet, eggs, lettuce and tartar sauce. The proprietor told us that one sandwich would suffice for 2 persons. So we ordered one and he was right.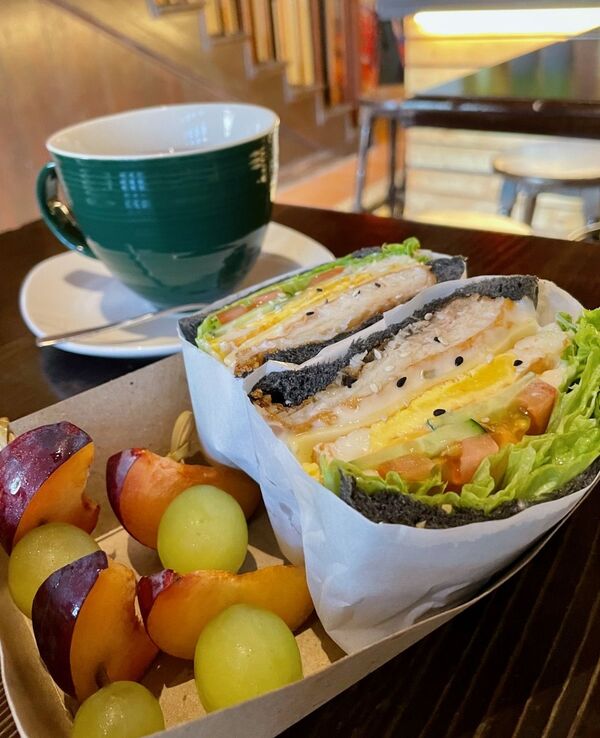 The sandwich was overall quite nice.
Teas – Riches Wealth Blooming Tea (RM8) and Peach Green Sencha (RM6)
We asked his recommendations for tea and these are the teas: Riches Wealth Blooming Tea which is the tea with the pretty flowers and Peach Green Sencha. The latter, even though is not as pretty as the tea with the pretty flower was nicer, though.
After a recent health scare, I am beginning to appreciate food that is prepared with real ingredients instead of the processed stuff. I like the servings of plum and green grapes that came with the sandwich. Felt it gave it a nice complete feel and taste to the breakfast. And it adds a premium to the breakfast too.
Riches Wealth Blooming Tea – Green tea, jasmine petals, globe amaranth. Foral aroma, pure and smooth taste.

Peach Green Sencha – Sweet Japanese peach green sencha with fruity and peachy flavour, the true taste of summer. Mild stimulant, without causing insomnia or nervousness. Refreshes and quiets.
Little Yellow Breadstry – 1st Floor
We took a peek of the upper section on our way to wash our hands. The decor up there was quite tastefully done. Tables were laid with nice cutlery. It seems like the place is set up for fine-dining. On our way down, we talked to the proprietor and discovered yet, they have not yet opened for the place for night dining yet. I guess that leaves room for another visit and perhaps another post on this place.
Verdict
I think I will be giving this place a repeat visit for breakfast and also for their night dining when they do start. It would be nice to dine in a place with decor like this.
A place like this in an old part of the town is a nice thing to have for Alor Setar, and it is something that will add value to the tourism sector once we put Covid-19 behind us.
Little Yellow Breadstry is also available on Foodpanda, should you be lazy to take a drive down to Pekan Cina.
Check out their full menu here!
Check out other restaurants in the area:
My Rating
85%: Ambiance
70%: Price (value for money)
70%: Taste
65%: Location (ease of parking)
80%: Service
74%: Overall Rating
Opening Hours
Open daily from 8 AM to 2 PM (Closed on Mondays)
Address / Contact Information
012 603 8759
Little Yellow Breadstry
Jalan Penjara Lama
Bandar Alor Setar
05000 Alor Setar
Kedah