Perched on the top of Wisma Profit Land, is Sky Garden Restro Bar. Usually when we think of a rooftop bar, we think of a bar with an outdoor terrace, with good views, twinkling lights and a place to chill. Sky Garden Restro delivers just that. Located on the fourth floor, it gives a pretty good view of the neighbourhood and Alor Setar.
Sky Garden Restro Bar & Coffee
Sky Garden is probably the only rooftop bar I know of in Alor Setar. There aren't many places to hang till late in Alor Setar. It's also one of the rare places that is open till late for the night owls to hang out.
Sky Garden boasts an outdoor deck, a bar and an indoor karaoke lounge where you can sing to your heart's content. They also have a special floor on the roof just for events. It's located high enough for a splendid night city view of Alor Setar. During football season, they also stream the live games on their TVs.
They serve mainly western food – chicken chops, lamb chops, steaks, burgers, fish and chips, pastas, pizzas and finger food. They do also have a few oriental dishes available.
Grilled Beef Burger – RM18.90 (after tax RM21.17)
I love burgers. Naturally this was the first thing that caught my eye. They only have 2 burger items on menu – Salted Egg Chicken Burger or the one I had, the Grilled Beef Burger. Their grilled beef burger comes with a side of salad, sweet potato fries and dipping sauce.
I found Sky Garden's grilled beef burger to be surprisingly not bad. The beef patty was tender and the sauce complemented the burger really well. It was one of the better beef burgers I have had so far.
Another interesting I found interesting was that they placed a piece of lychee to go with their salad, which gave a refreshing sweet taste to the salad.
Check out my other burger reviews:
Salted Egg Chicken Chop – RM19.90 (after tax RM22.29)
Their salted egg chicken chop was so-so. It came with a side of salad, mash and salted egg dipping sauce.
Chicken Aglio Olio Pasta – RM17.90 (after tax RM20.05)
Their Chicken Aglio Olio Pasta was also only so-so.
Kahlua Coffee (S) – RM12.00 (after tax RM13.44)
My friend loves their Kahlua Coffee with coke, served in a glass with a big cube of ice. Kahlua Coffee is actually a type of coffee liqueur (20% alcohol), which I unfortunately forgot to take a picture of.
Did you know? Kahlúa is a brand of coffee liquor owned by the Pernod Ricard company and is produced in Veracruz, Mexico. The drink contains rum, sugar and arabica coffee.
Verdict – A good place to hang at night, but not so for the food
Sky Garden checks most boxes for a great place to hang out. It's has great views, great ambiance, a bar, it's open till late and decent entertainment. It's a great place to hang out with friends at night in Alor Setar, given that Alor Setar has only a few decent spots to hangout.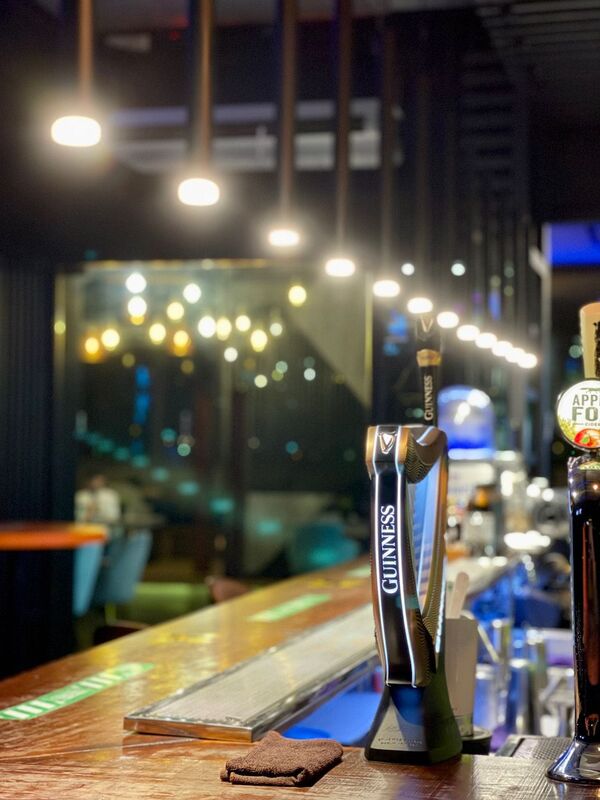 However, it's not a place I'd recommend if you just want to go for the food, maybe except for their grilled beef burger. There are plenty of better food available for you to try in Alor Setar.
Just to note that Sky Garden charges both service charge of 6% and service tax of 6%.
Check out other restaurants in the area that are available for dinner:
My Rating
80%: Ambiance
60%: Price (value for money)
70%: Taste
80%: Location (ease of parking)
65%: Service
71%: Overall Rating
Opening Hours
Open daily from 3 PM to 12 AM
Address / Contact Information
016 477 0070
100
Rooftop
Wisma Profit Land
Jalan Kuala Kedah
05050 Alor Setar
Kedah