Disclosure: Some of the links in this post are

affiliate links

. If you buy something through one of those links, you won't pay a cent more, but we'll receive a small commission, which helps keep the lights on. I never put anything on the page that I haven't personally verified and used.
For more information, check out our Privacy Policy.
Meet the G-Minnie EZ Portable Kneading Massager by Gintell. Despite not much reviews on the web, other than on Shopee and Lazada, I decided to get this for my mom when she complained that she had been experiencing tension headaches.
These days, I too, seem to be experiencing more tight shoulders and back aches. Usually, the aches stem from sitting in front of the laptop all day, but occasionally also from sleeping in the wrong position. But no matter the cause, it's always nice to have a portable massager when you can't make it to a professional massage therapist or chiropractor.
Read also: Xiaomi PMA Electric Hand Massager Palm Finger Acupoint Wireless Massage with Air Pressure and Heat Compression – A Malaysian Review
There are all kinds of portable massagers in the market right now. It's important to ensure that the massager you pick is of high quality, has a quiet motor, and versatile enough to work just about on any area of your body that needs a quick relief. I also prefer a model that is portable, so you can use it anywhere without it being connected to a wire.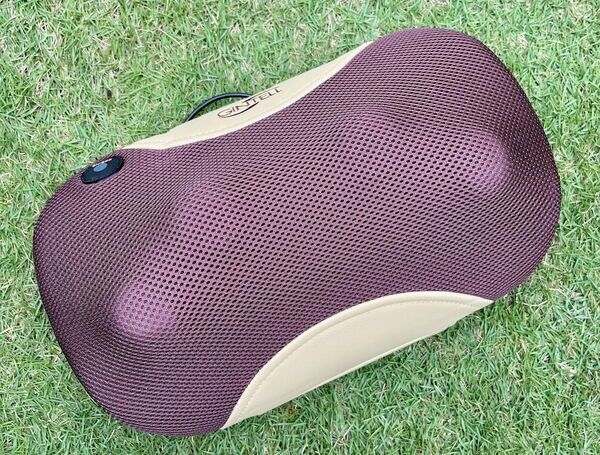 G-Minnie EZ Portable Kneading Massager by Gintell
Pros
Cons
✓ Portable.
✓ Has heating function.
✖ Pricey if not on promotion.
✖ No mode to control speed.
✖ The charger wire cannot be kept during use.
Key features


– 4 Kneading massage heads with 3D Shiatsu.
– 4T heating function.
– Adjustable rear strap.
– Rechargeable.
– Automatic dual rotation massage function.
Out of the box, my first impression was it felt sturdy. It's always nice to get a waft of factory smell of a new product when you unbox it. Anyway, this is what you will get. In the box together with the massager were two cables – a wall plug charger and a car charger, and a user manual.
Top Reasons Why I Like the G-Minnie EZ Portable Kneading Massager
Portable
The G-Minnie EZ Portable Kneading Massager is sure to give you a strong massage anywhere anytime. It also comes with a car charger, in case you need a quick massage when driving long distances.
The massage knobs are, however really hard. So if you don't have proper padding (fats), you might feel that the massage that the G-Minnie provides is on the stronger (or harder) side.
Heating
You can feel the heating function, which is nice to use during cold days and nights.
What Gintell could do better?
Pricey if not on promotion
On the downside, the original price of this G-Minnie EZ Portable Kneading Massager is very pricey, retailing at RM688 apiece. Had it not be on promotion, I wouldn't have considered getting it altogether.
No mode to control speeds
The G-Minnie EZ Portable Kneading Massager has only two modes – one with heat and the other without heat. Both operate at the same speed. I wish they had considered a slow kneading mode and fast kneading mode as well.
Verdict –

On the fence
The G-Minnie EZ Portable Kneading Massager delivers what it promises. However, I wish that it did more. Nonetheless, I will still use it when I need a massage after a long day on the screen.
Interested to get it?
Get it at Gintell's official store on Shopee or Lazada. Why is there a price difference between the two? Beats me! I bought mine from Lazada.
The Gintell G-Minnie EZ Portable Kneading Massager is selling at RM298 on Shopee:
The Gintell G-Minnie EZ Portable Kneading Massager is selling at RM268 on Lazada: