Disclosure: Some of the links in this post are

affiliate links

. If you buy something through one of those links, you won't pay a cent more, but we'll receive a small commission, which helps keep the lights on. I never put anything on the page that I haven't personally verified and used.
For more information, check out our Privacy Policy.
My mom's friend got this 'Xiaomi PMA Electric Hand Massager Palm Finger Acupoint Wireless Massage with Air Pressure and Heat Compression' for her a couple of months back and she has been using it regularly. My mom has arthritis and in recent years, her Hebeden nodes have become apparent. While they have not affected her major motor movements, their presence is a constant reminder of other effects.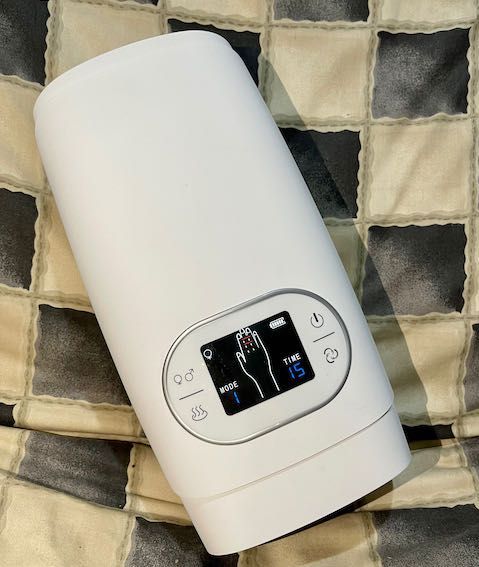 Heberden's nodes
Of late, she sometimes complains of discomfort due to the inflammation in her joints. Her finger joints are not spared as well. It is said that massaging your own fingers helps, but doing it regularly takes a lot of discipline and willpower. Plus, it is often tiring. Another option is to apply heat and cold pads to manage the pain and inflammation. So, enter this – PMA Electric Hand Massager Palm Finger Acupoint Wireless Massage with Air Pressure and Heat Compression.
Fun facts:
Heberden's nodes are hard bony lumps in the joints of your fingers. They are typically a symptom of osteoarthritis. The lumps grow on the joint closest to the tip of your finger, called the distal interphalangeal, or DIP joint.
Bouchard's nodes are bony bumps on the middle joint of the finger. Bony bumps are also common at the base of the thumb. These bumps do not have a nickname, but the joint is called the CMC or carpometacarpal joint.
PMA Electric Hand Massager Palm Finger Acupoint Wireless Massage with Air Pressure and Heat Compression
We were amused by the contraption when she showed us. It was because it sort of turns your hand into a cyborg hand like those in sci-fi movies when you slide your hand into it. If only it shoots real lasers like Iron Man.
Anyway, she has been using it as regularly as she could, and the feedback has been positive. She says her fingers generally feel better of late, despite the cooler weather. There has been significantly less discomfort. Furthermore, she feels that her nodes don't seem to be protruding as much as before.
How does it work?
How this contraption work is basically quite simple. It has airbags which will balloon up and compress on your lower arm and fingers, alternately and together at times. There are 3 settings for the compression strength, with 3 being the strongest. She usually sets it to 1 or 2 because the squeeze that comes with those 2 settings are strong enough for her.
Within the chamber itself, there are massage rollers that presses on the hand when there is air pressure. Together with the heat, they squeeze your hand in a rhythmic manner. She thinks that helps improve blood circulation, hence perhaps that's why her fingers don't seem to hurt so much after using it.
Apart from the above settings, you also get to choose massage for male or female. But for her, those 2 modes felt quite similar.
I've personally tried it myself on the strongest setting, and it does indeed pack a punch. It was so strong till it caused petechiae. So, take it easy on your first go. But the after effect was pleasant.
Fun fact: Petechiae are tiny red, flat spots that appear on your skin. They're caused by bleeding. They sometimes appear in clusters and may look like a rash. If you have tiny red, purple, or brown spots on your skin, they could be petechiae. They're not a disease, but a symptom.
Price – RM255.10
You can buy it from Shopee (ships from Mainland China) for RM255.10. Here's the link of the shop that has the most sales thus far.
If you're planning to get it, I recommend you to get it from Shopee because the price on Lazada starts from RM396 for a similar model, though it ships from Malaysia. Do note that although the brand is Xiaomi, it has no Xiami logo on it, because it's a Xiaomi Eco-Chain product.
It's not too expensive, considering OSIM has a similar model – uSqueez Hand: Hand Massager that goes for RM618 on Lazada's LazMall.
Recommendation –

A Good Investment
My mom seems to like this contraption because she uses it almost every night. I guess that should attest to this… it actually works for her. The compression together with the heat do seem to improve blood circulation, hence leading to a better feeling of well-being where the finger joints are concerned.
Read also: Apple HomePod Mini – A Malaysian Review
It remains to be seen how long the airbags can last. One of the problems with equipment that comes with airbags is that once there is a compromise, the airbags will fail. This contraption depends a lot on that. And oh yes! One absolutely pro for this is it's wireless and portable. It's only 980 grams in weight and one charge is good for many rounds of heat compression.