Disclosure: Some of the links in this post are

affiliate links

. If you buy something through one of those links, you won't pay a cent more, but we'll receive a small commission, which helps keep the lights on. I never put anything on the page that I haven't personally verified and used.
For more information, check out our Privacy Policy.
TLTR – Apple HomePod Mini Verdict
For
Sleek design
Seamless integration into Apple's ecosystem
Integrates well with family devices (yes, multiple iPhones!)
Pretty loud for something so small
Against
Apple ecosystem required
Sound quality – not the best
Does not support Spotify – needs Apple Music
Siri is not the smartest… yet
It's not portable – it's wired
The Apple HomePod Mini
HomePod Mini anyone? My sister and I got this space gray HomePod Mini for our mom for her birthday. We thought the HomePod would be a good addition to her already quite 'well-grown' Apple family. The seamless integration, we hoped would enable her to find entertainment and other uses for her first smart speaker… and to be honest, I was pretty excited to see it for myself too!
Price? Prepare to burn a hole in your pocket by RM479
This speaker has yet to be launched in Malaysia. I bought it on Shopee from a seller who got it from Hong Kong. Price? RM479.
I guess due to currency fluctuations, the current price from the seller I bought from is now at RM464. I have attached the product shop link of which I bought my Apple HomePod Mini here. The seller has sold quite a number of units and has a very good rating and service.
Alternatively, if you prefer shopping on Lazada, here's an alternate link. Do note that I have not personally bought from that seller before.
What I like about Apple HomePod Mini?
✓ Apple HomePod Mini's Design
Form wise, the Apple HomePod Mini is unlike any speakers she has owned or any other speakers that we have used previously at home. And there are quite a few that both my parents have been using.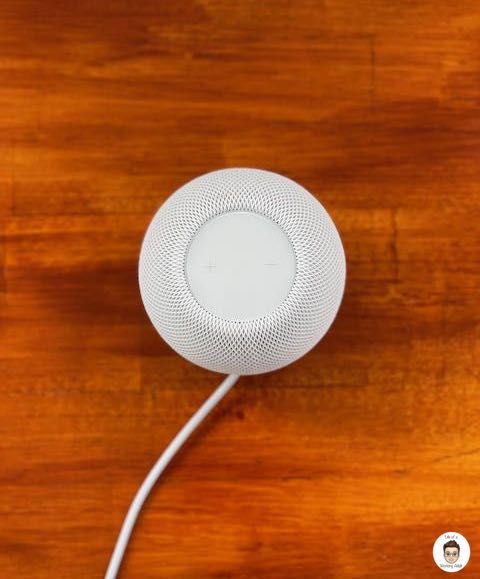 The spherical design with its backlit touch flat top was quite pleasing to look and it seems to sit nicely on her work table. The colour is also a perfect match with the table top colour. There is a nice feel to it to when you hold it.
The design of the flat top actually enables it to better showcase as a table decor, something like a pen holder container on a table, but this one is a tardy bit classier. Also, when the top lights up, that sort of cheers the place up a bit. Lights are always mesmerising and to have that bit of colours occasionally being reflected on the ceiling is a nice touch.
I think my mom, who has been using a few different models of JBL Bluetooth speakers, needed some readjustment to a speaker that has to be plugged into the power socket for it to work. But she soon took to the speaker and was 'interacting' with Siri via the HomePod Mini.
Anyway, I got the chance to try it out for myself too, since this little smart speaker could accommodate us too.
✓ Incredibly simple process to set up the Apple HomePod Mini
Setting up the Apple HomePod Mini is incredibly simple. There's no need to press any buttons, or enable the bluetooth. Once you take it out of the box and plug it in, you'll be greeted with a small light that glows at the top of the speaker. I find them quite pretty actually. Hold your iPhone near to the HomePod Mini, and you'll get a notification that asks if you'd like to connect – tapping this will activate the camera, which you can use to find the light on top. With that, you are good to go.
What's not so nice about Apple HomePod Mini?
✘ Like everything Apple, Apple ecosystem required
There's one snag though. Like everything Apple, this operates best in the Apple ecosystem. The biggest disappointment for me is that you can't ask the HomePod Mini to play anything through Spotify. That can only be enabled through AirPlay, which requires a manual manoeuvre rather than just asking Siri.
But if you are the sort who enjoys listening to podcasts (or music – specifically Apple Music) and already own an iPhone, having the HomePod Mini is like you are completing the missing piece (Lol! I think that is what Apple wants us to feel).
Click here to see the official video of Apple HomePod Mini on Youtube.
One thing certain is, you will experience the seamless integration between your iPhone and HomePod Mini in a pretty cool way. How it works? Well, if you have something playing on your iPhone, in the vicinity of the HomePod Mini, the audio of whatever you're playing on your phone will transfer itself to the speaker. The first time my mom used it, she was visibly impressed.
Another nice thing you get is this. Just say "Hey Siri! Play some music.", and Siri will play music from your playlist or Apple Music. You can be specific and ask Siri to play you some Chinese or Indian numbers, and they'll be played. But if you play from the free service, you don't get to listen to those popular titles. But the beauty of this product is you get audio played without having to unlock your iPhone.
Read also: Carbon Dioxide (CO2) Sensors and COVID-19
One disappointment for my mom is Siri cannot read news for her because news is not yet available in the Malaysian iTunes Store (probably till Apple releases HomePod Mini in Malaysia). I think that will be a nice feature, to have someone read the news to you when you plonk yourself on the sofa after a long day.
✘ Sound Quality – Good but not great
The sound from the HomePod Mini is crisp enough but not overly spectacular compared to the other Bluetooth JBL speakers my mom has. Still, playing music on the HomePod Mini has a nice touch of "smartness". We are into smart everything now and the HomePod Mini certainly feels smart to it because you can verbally tell it to turn the volume up or down from the comfort of your couch. No need to get your fingers moving to press those buttons.
One more thing, the 360 degrees sound does fill up the room as claimed. For a small speaker that it is, there isn't much that you can complain, except for it's pricier tag. But then again, this is Apple, and there is always a slight premium attached to it.
Verdict – Nice to have? Or actually useful?
I won't be detailing the technical specifications here, because I think a lot of those don't really matter to most of us. What matters is that it sounds ok and works for you. And this little fella does that to a satisfactory extent for now.
It also have smart home integration abilities (the HomeKit) which I haven't fully explored yet. I plan to get a smart light that can be paired with it so that I can tell the light to go on or off at whim, which would be another nice add-on.
The tiny smart speaker packs many other functions which I have yet to utilise. Every now and then we would find something new that the speaker can do. But it has its own usefulness and is indeed quite an entertaining toy to have.