Disney+ Hotstar has finally officially launched in Malaysia on Tuesday, 1st June 2021, making it the latest subscription-based streaming platform to watch TV shows and movies for the Malaysia market. Malaysians finally have aggregated access to Disney shows.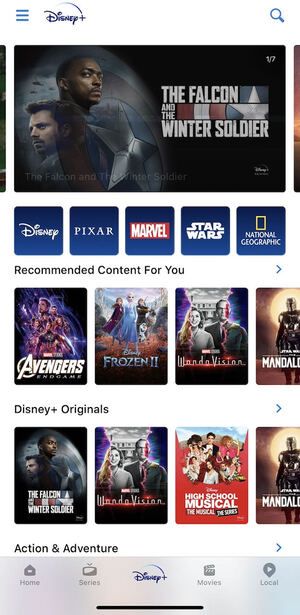 Titles on Disney+ Hotstar
The platform includes the full suite of Disney's iconic brands. Notable ones are, of course their Disney titles, the entire Marvel Cinematic Universe collection, Star Wars, National Geographic documentaries and Pixar films.
For the international titles, I was pleasantly surprised to find original Disney classics like Snow White and the Seven Dwarfs (1937), Dumbo (1941), Cinderella (1950) and more included in Disney+ Hotstar. The complete collection of the Marvel Cinematic Universe is also available. I'm a huge Marvel fan. So I'm happy to not be left behind in the Marvel Cinematic Universe. Yay! Also, no more waiting as the shows will be hitting the market at the same time as the U.S.
Read also: Luca – What The World Needs Now
For those documentary buffs, NatGeo documentaries are available. One of the first documentaries I have watched so far was Free Solo – the conquest of the El Capitan's 900-metre vertical rock face at the Yosemite National Park by Alex Honnold. I'd recommend this to anyone. Even though it is a documentary, you'll get goosebumps!
Other than these titles, Disney+ Hotstar has also partnered with Astro Malaysia and other Malaysian studios. Hence, local movies and series are also available, including Ejen Ali, KL Special Force, Zombitopia and more.
Price
Disney+ Hotstar costs RM54.90 for 3 months, that's RM18.30 per month. It has only one pricing plan currently. All content are commercials free and there is a dedicated kid-friendly section along with the option to download for offline viewing. The plan allows two concurrent streams at the same time.
If are subscribed to Astro, and subscribed to the pricier Super Pack plans (i.e. Super Pack Lite Movies, Super Pack, Super Pack Plus), it will be included free-of-charge. For other Astro plans (i.e. Starter Pack, Value Pack, Super Pack Lite Sports), there would be an additional charge from RM6 to RM28.80 on top of your normal Astro subscription fee. For more details, you can look at Astro TV Packs at Astro's website.
Disney+ Hotstar
Netflix
HBO GO Asia
Price
RM18.30/month – billed quarterly at RM54.90
RM17/month on mobile;
RM35-55/month on all type of devices
RM34.90/month
Unlike Netflix, which costs RM35 per month for their Basic plan, or HBO GO which costs RM34.90 a month, Disney+ Hotstar is a much cheaper alternative. I myself was a Netflix subscriber until Disney+ Hotstar entered the picture.
Device Compatibility
Disney+ Hotstar is available on the Google Play Store as well as the Apple App Store. It is also available on limited models of compatible Smart TVs too.
If your Smart TV is not compatible, there are still other options available for you. But some of the options are kind of pricey though! What you can do is to hook up a streaming device like a Roku, Amazon Fire TV, Apple TV (4th gen or later) or Chromecast. You can connect these devices to your TV through the HDMI port to enable access of Disney Plus through the apps in these devices. If you are a gamer and have a PlayStation 4 or Xbox One connected to your TV, you can also use the dedicated Disney Plus app from those gaming consoles.
The Cons
Disney+ Hotstar is not compatible for all Smart TVs, a big downer. In addition to subscribing for the streaming service, if your Smart TV is not compatible, you have to fork out another few hundred to buy an external streaming device. For example, Apple TV will set you back approximately RM850 while Chromecast will set you back approximately RM200.
Malaysian censorship applies to it. Take both Deadpool movies for instance, I was quite disappointed to see that those movies were subjected to censorship. This is quite confusing to me, really. Violent and gory scenes are okay, but sex and nudity is a big fat NO.
Next grouse is the limited options. Disney+ Hotstar should take a page out from Netflix and offer family plans and personalised accounts for its users. This is so that we can manage our own individual watch lists as well as create a kids' profile for greater parental control.
Recommendation – Yay or Nay?
I'd say yay. Putting aside its lack of options for its users, I would still recommend subscribing to Disney+ Hotstar. I mean, this is Disney. Most of us grew up watching Disney cartoons and movies. So, I think I am going to be sitting down every now and down to relive my childhood with Dumbo, Snow White and the countless Disney characters which have been with me over the years. With this subscription, there Will be endless of that.