Alor Setar has changed quite a bit since my last trip home. Even with the ongoing pandemic, Alor Setar is flourishing. New cafes have been mushrooming all over town, and Mansion 28 is one of them.
See also: Instagram (@lifeofaworkingadult) Gallery of Mansion 28
Mansion 28
Recently soft launched on 15 August 2020, Mansion 28 is located in the 'old' heart of Alor Setar town. Once a bustling place, it is now a pale shadow of that former self. These days, the roads only busies up when the trains come into the new station further down the road. Then all is quiet again.
Highly Instagrammable Place
Styled in the colonial architecture, Mansion 28 is one of the few bungalows that dotted Jalan Station. The grand old mansion was built in the 1950s era, and which a fresh coat of paint and some minor renovations, it has been refurbished into a modern cafe, with its traditional elements intact. Once you step into the place, you get a sense of nostalgia – the high ceilings and the old switches. They also have instagrammable spots in the cafe itself. There's ample parking outside the building.
Though located in a secluded part of town, it was packed on a Sunday afternoon (Note: It's a working day on Sunday in Kedah. Kedah's weekends are on Friday and Saturday), and the crowds kept on coming. The staff were particularly friendly and attentive, greeting us and taking our temperatures when entered the premise.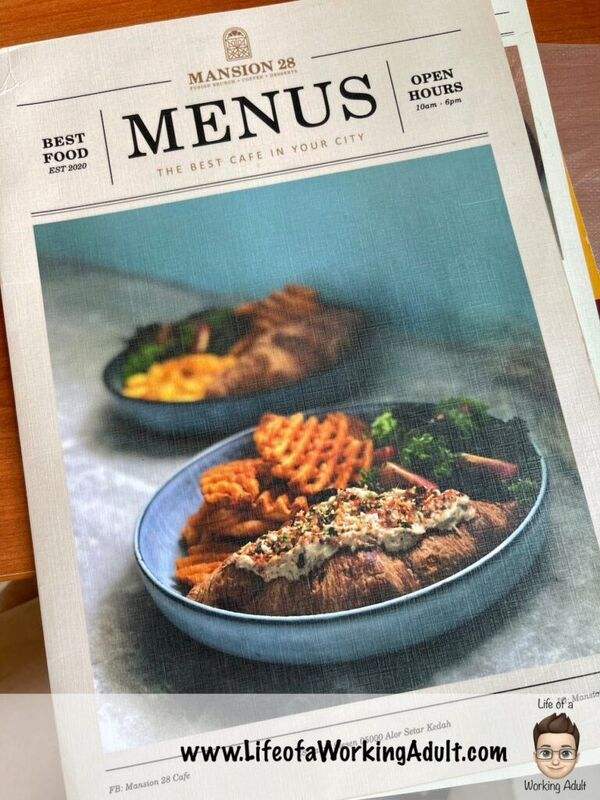 A quick glance at the menu told me that this wasn't your ordinary priced cafe. Food prices were exorbitant for Alor Setar standards – basically charging KL prices. Their menu choices were also rather limited. I wanted to try their Mansion Big Breakfast, but was told that it was only served till 12 noon. Instead, I tried their Alfredo Pasta (RM20), while my friend had their Salmon Eggs Benedict (RM26) and Hot Earl Grey Latte (RM13). We ordered Muscat Grape Cake (RM14) as dessert, and my friend also took away a watermelon 4′ Fruit Cake (RM40).
Alfredo Pasta – RM20
I felt that their Alfredo Pasta portion was too small and too dry. The duck that came with the pasta was on point though.
Salmon Eggs Benedict – RM26
The plating of their Salmon Eggs Benedict was aesthetically pleasing. I'm not a fan of raw salmon, or smoked salmon. I could also not taste the smokey taste from the salmon. My friend liked it, but I felt the dish to be just meh. Compared to the Alfredo Pasta, the portion was big enough for two.
Muscat Grape Cake – RM14
The grape cake was a novelty for me. It isn't everyday that you see a grape cake. It's unique and it's something to try, but not something I would order again. It's tasted like grapes with cream, on a tad bit of sponge cake.
Fun Facts:
– Muscat grape is the world's oldest known grape family in the world. The clear origin of the grape is unclear, but many believe it to have originated from the Middle East.
– Muscat also happens to be the capital of Oman.
Verdict – Good place to hang out!
Overall, I would say this place offers a suitable place to chill and catch up with friends, given that Alor Setar has only a few good hang-out spots. Other than the instagrammable ambiance and aesthetic plating of their dishes, the food served here is nothing to shout about, and prices are on the higher side.
But if you take in all the other considerations, generally I feel it is always good to go off the 'well beaten track" once in a while and chill out in a place which can get your imagination to run a bit, with century-old trees standing majestically around while you do that. That is if you are game to take a walk and talk to the ever friendly folks around. You will learn quite a bit about the rich heritage of this place too.
Read also: Mansion 28 @ Alor Setar, Kedah [Part 2]
My Rating
90%: Ambiance
60%: Price (value for money)
70%: Taste
80%: Location (ease of parking)
90%: Service
78%: Overall Rating
Opening Hours
10 AM – 6 PM (Monday to Thursday)
10 AM – 8 PM (Friday to Sunday)
Address / Contact Information
011 2611 0608