So far, I've not written a food review for a particular restaurant twice. But since Mansion 28 has updated their menu, and I have now tried more of their dishes since my last review in Dec 2020, I decided to dedicate another post on Mansion 28.
Signature Aburi Salmon Rice Bowl – RM24
This dish features flame torched slices of smoked salmon on the bed of Taiwanese-style fong lye rice, glazed with their secret sauce and topped with Hokkaido Ikura (salmon roe) and some seaweed strips.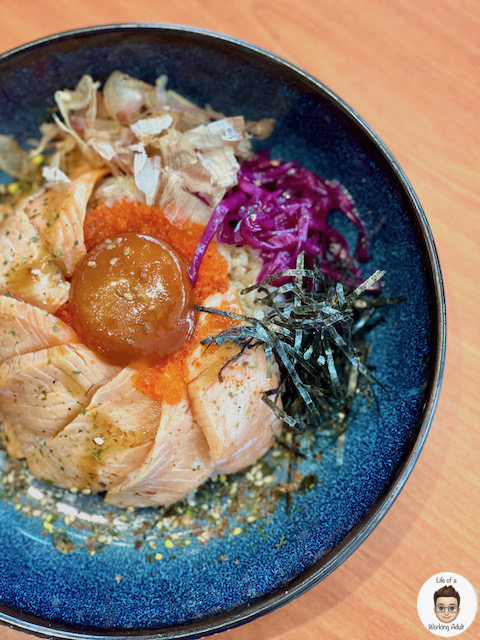 It was okay, mainly because I don't really have a liking for smoked salmon.
Smoked Duck Rice Bowl – RM20
This dish features grilled smoked duck breast and Onsen egg on the bed of Taiwanese-style fong lye rice, glazed with their homemade Japanese BBQ sauce.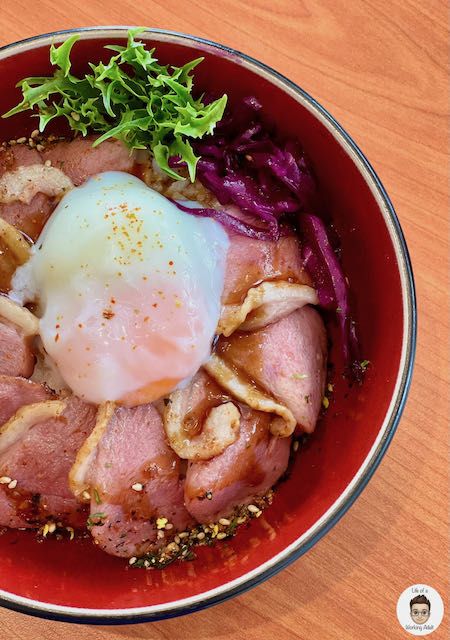 Onsen egg – Onsen tamago is a traditional Japanese low temperature egg which is slow cooked in the hot waters of onsen in Japan. The egg has a unique texture in that the white tastes like a delicate custard and the yolk comes out firm, but retains the colour and creamy texture of an uncooked yolk.

Onsen tamago – Wikipedia
This establishment has never failed to amaze me with their skills of cooking the different styles of egg. Their Onsen egg was perfect! The saltiness of the smoked duck is balanced out with the sweetness of their sauce, while the egg draws every element together to make it a truly enjoyable dish.
Between the two rice bowls I've sampled, I'd say this one wins hands down (also because I prefer smoked duck to salmon any day).
Mansion Signature Baked Chicken Chop (with creamy mushroom sauce) – RM22
This is a rather straightforward dish – basically baked chicken chop with creamy mushroom sauce, and veggies and cross-cut fries for sides.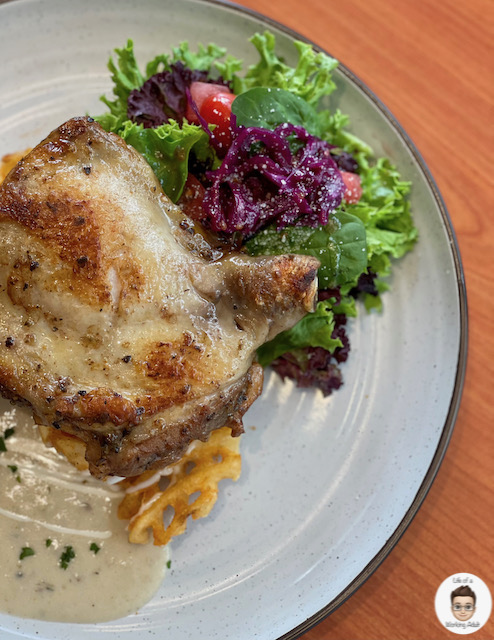 Their mushroom sauce is creamy enough. And they provide enough cross-cut fries to balance out the creamy mushroom sauce, because it can pretty jelak after awhile.
Mansion28 Big Breakfast – RM28
Big breakfast is something I truly enjoy as it has a little bit of everything. At Mansion 28, their big breakfast features ham, beans, sausages, egg, cross-cut fries (should be hash – but they always seem to out of those) bread and veggies – the usual fare of a typical big breakfast set.
The portions are generous, but I do find this dish to be on the pricier side.
Cakes – Ondeh Ondeh Cake, Melon Cake, Chocolate Tabur Cake (RM14 each)
Ondeh-Ondeh is one of the most popular traditional Nyonya kuih in Malaysia, with roots to the Baba Nyonya culture. It is a snack of sweet rice cake balls filled with molten palm sugar and coated in grated coconut.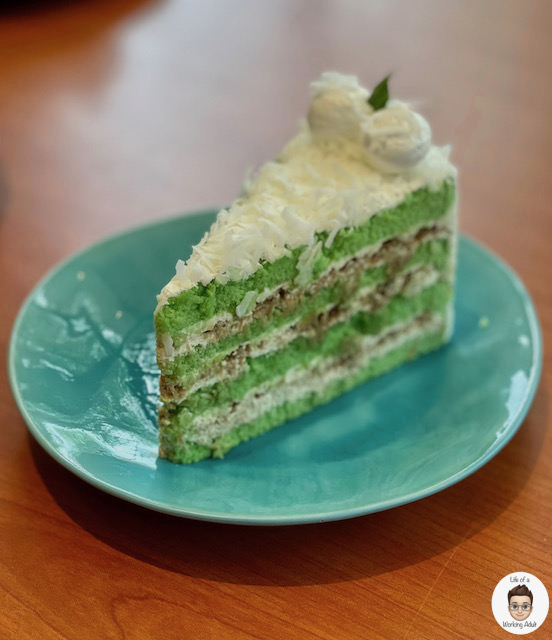 Mansion 28 has done a good job innovating it into a cake. The Ondeh Ondeh cake consists of multiple stacked sheets of pandan cake, with layers of palm sugar frosting in between the cake layers. The cake is coated in grated coconut. This cake can be seen literally on almost all the diners' table. And I don't fault them, because it is indeed unique and nice.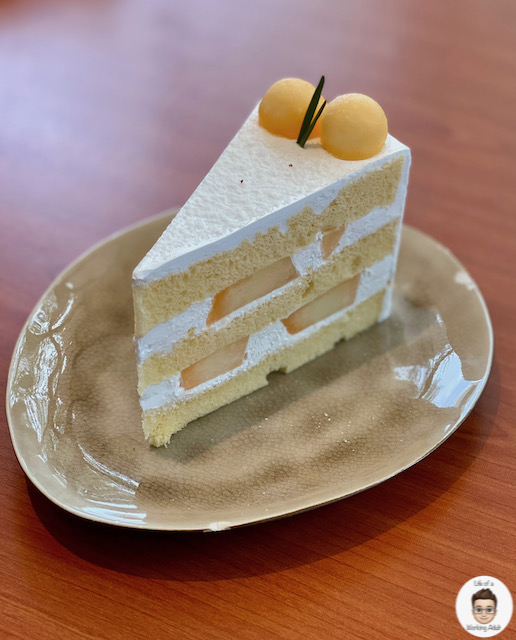 The melon cake was so-so. The cake consisted of multiple sheets of vanilla (or mild melon vanilla) cake, with slices of melon and cream in between the cake layers. The cake itself overall tasted pretty light, but I thought it lacked the melon flavor.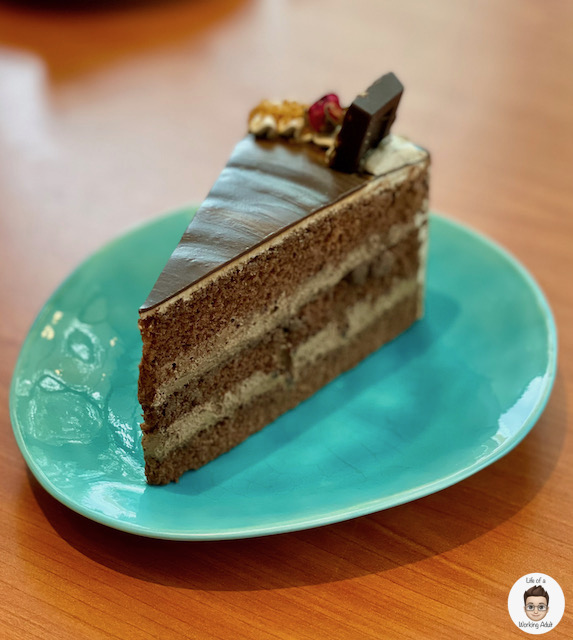 The Chocolate Tabur cake was rich in flavor, though I'd say you could probably get similar quality from Secret Recipe for a cheaper price.
Overall, I still stand by my previous review that this place offers a suitable place to chill and catch up with friends, given that Alor Setar has only a few good hang-out spots. Other than the instagrammable ambiance and aesthetic plating of their dishes, the food other than the cakes served here is nothing to shout about, and prices are generally on the higher side.
My Rating
90%: Ambiance
60%: Price (value for money)
70%: Taste
80%: Location (ease of parking)
90%: Service
78%: Overall Rating
Opening Hours
10 AM – 6 PM (Monday to Thursday)
10 AM – 8 PM (Friday to Sunday)
Address / Contact Information
011 2611 0608
28, Jalan Stesen, Bandar Alor Setar, 05000 Alor Setar, Kedah