Amidst the monotony of the pandemic, I found solace in binge-watching Gordon Ramsay's fiery culinary battles on Netflix's Hell's Kitchen during the pandemic. So, you can imagine my elation when I heard the announcement of Gordon Ramsay Bar & Grill's opening in Malaysia.
For those unfamiliar with "Hell's Kitchen", this show is a popular reality television cooking competition that has been enthralling audiences worldwide since 2005. The show's premise is simple: talented and ambitious chefs duking it out for a shot at the prestigious head chef position in a top-notch restaurant. Picture the most intense cooking boot camp you can imagine, where contestants are pushed to their limits, battling it out with their culinary prowess, creativity, and resilience in a professional kitchen setting.
And let's not forget the real star of the show – the formidable Gordon Ramsay himself. With his sharp tongue, no-nonsense attitude, and unwavering pursuit of culinary perfection, Ramsay has become an icon in the world of gastronomy. His fiery and sometimes aggressive demeanour when critiquing the contestants adds a dramatic flair to the whole experience. You can always count on him to spice things up with strong language and unfiltered expressions of disappointment or satisfaction with their work.
As I watched these talented chefs take on one challenge after another, I couldn't help but wonder about the iconic dishes that served as the battleground for their culinary struggles. Dishes like the elegant Beef Wellington or the Pan Seared Scallops were always in the spotlight, and they became emblematic of the show's intense culinary battles. The thought of experiencing the very dishes that had been at the center of Hell's Kitchen drama, crafted by the man himself, was enough to set my taste buds dancing with anticipation.
Gordon Ramsay Bar & Grill Restaurant
For the first time outside of the UK, Gordon Ramsay Bar & Grill makes its grand debut at Sunway Resort Hotel in Sunway City Kuala Lumpur. The hotel is conveniently linked to both the iconic Sunway Pyramid and Sunway Lagoon Theme Park. Fun fact, you might think that Sunway City Kuala Lumpur because it has "Kuala Lumpur" in its name, but actually it's located in Subang Jaya, Selangor.
As you approach the entrance of the restaurant, be prepared to be transported to a realm of elegance and sophistication. A regal portrait of the renowned chef himself, Gordon Ramsay, warmly welcomes you.
Stepping through those doors, you'll be greeted by an opulent interior that feels nothing short of a palace. The establishment boasts a dedicated bar and wine cellar, perfect for those looking to savour a carefully curated selection of beverages. For those seeking a more intimate setting, the restaurant also offers private dining spaces where you can relish your meal in utmost privacy.
There are three (3) private dining rooms are available for corporate, leisure or private events:
– 12 Chelsea – seats from 10 to 12 guests
– 10 Soho – seats 10 guests (a private lounge adjacent to the bar)
– 8 Mayfair – seats 8 guests
Dressed in a simple shirt, shorts, and crocs, I felt severely underdressed. The other patrons, dressed to the nines, seemed to be couples and families joyously celebrating special occasions.
The Food
As an Hell Kitchen avid fan, I couldn't pass up the opportunity to try the culinary masterpieces that had been showcased on Hell's Kitchen. Hence, I tried Seared Scallops (RM135), Duo of Lamb Saddle (RM188), and Classic Beef Wellington (RM290).
Complimentary Bread
Before the main courses arrived, the restaurant offered a delightful selection of complementary bread that perfectly complemented the meal.
As I took my first bite, I was pleasantly surprised by the butter that accompanied the bread. It was soft, creamy, and had a delightful hint of garlic. The butter melted effortlessly on the warm bread, enhancing each bite with its savoury goodness.
Seared Scallops – RM135
As an avid fan of Hell's Kitchen, I couldn't resist trying one of the dishes that is often featured on the show – the Seared Scallops. The menu described it as a combination of spring pea puree, morels, pickled shallots, green peas, and asparagus. I was eager to see if it lived up to the culinary excellence showcased on the screen.
When the plate arrived, the presentation was undeniably elegant, a work of art on a canvas of fine china. However, upon the first bite, my sister remarked that the scallops had a fishy taste, almost reminiscent of the ocean itself. This unexpected observation was a disappointment, given the price charged.
Duo of Lamb Saddle – RM188
Next, came the mains. First off was the Duo of Lamb Saddle. On the menu, it was described as a combination of aubergine, smoked sheep yoghurt, peas, and black olive. It also came with what seemed to be chimichurri sauce. However, I couldn't help but feel a tinge of disappointment that they didn't offer the Herb Crusted Rack of Lamb that I had seen numerous times on the Hell's Kitchen.
When the dish arrived, the first thing that caught my attention was the relatively small portion. Nevertheless, I remained hopeful that the flavours would more than make up for it. As I took my first bite, I was relieved to find that the lamb was perfectly cooked, tender, and not at all chewy.
Yet, despite the promising elements, I couldn't shake off the feeling that something was missing. The lamb was good, but it didn't quite have that wow factor. For the price tag of RM188, I couldn't help but expect a more remarkable gastronomic experience.
Classic Beef Wellington – RM290
The moment of truth had arrived as the Classic Beef Wellington, the main reason for my visit, graced the table. This iconic dish, known for being a true test of culinary skill on Hell's Kitchen, had been elevated to an art form at Gordon Ramsay Bar & Grill. With its tender beef fillet enveloped in a layer of mushroom duxelles and prosciutto, all wrapped in flaky, golden puff pastry and cooked to a perfect medium-rare, it promised to be a succulent and flavourful delicacy.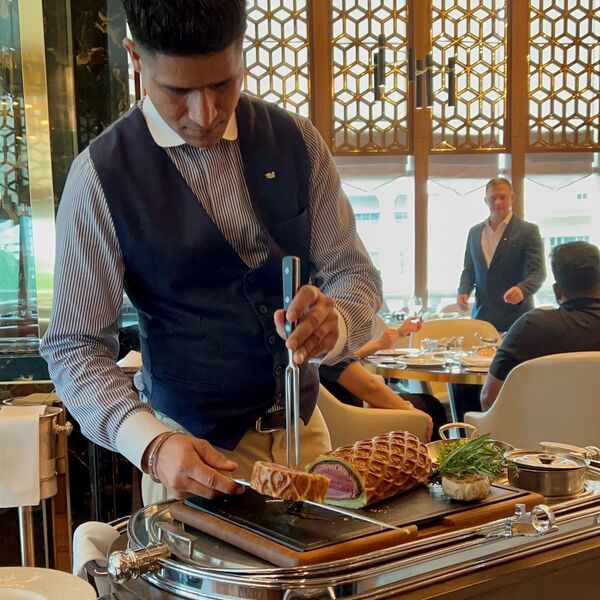 The complexity involved in preparing Beef Wellington to perfection was truly impressive. It required getting the beef fillet just right – tender on the inside while maintaining a decent firmness on the outside to preserve its integrity.
The dish was served table-side, and we watched in anticipation as the waiter skilfully cut a piece from the long Beef Wellington. Accompanied by sides of pomme puree, red wine jus, and a fine salad, the presentation was impeccable. According to Ramsay's website, the red wine jus is made of shallots, peppercorns, bay leaf and red wine vinegar. The pomme puree stood out with its divine taste and smooth texture.
As I took my first bite, my senses were indeed delighted. The pastry crumbled and melted in my mouth, releasing its buttery goodness. The savoury mushroom layer provided a burst of umami, leading the way to the star of the show – the tender, juicy beef fillet. The contrast of textures was a symphony of pleasure, with the crispy pastry complementing the succulent beef.
My sister felt that the beef was too undercooked for her liking, humorously remarking that it was "raw till you could hear the cows moo." I agreed that the beef was indeed on the rare side, and slightly chewy, especially when compared to the melt-in-your-mouth experience of Kobe beef in Japanese cuisine.
Nevertheless, it was evident that the Classic Beef Wellington was a favourite among diners that afternoon, as I noticed several other tables ordering the same dish.
Verdict
In conclusion, my visit to Gordon Ramsay Bar & Grill in Sunway City Kuala Lumpur was a memorable journey that satisfied my curiosity stemming from watching Hell's Kitchen on Netflix during the pandemic. The food was different, the ambiance grand, and the service impeccable. If you're seeking an exquisite dining experience for a special occasion, this restaurant should undoubtedly be on your list.
However, it's worth noting that unlike many other places, water was not complimentary here. They charged me RM37 for a bottle of Acqua Panna 750ml. While the restaurant's service was undoubtedly top-notch, with attentive and courteous staff attending to every need, a minor amusing observation was the slight malfunction of their salt and pepper shakers. This hiccup didn't dampen our overall experience, but it was a small quirk worth mentioning.
One aspect that might be a consideration for some is the higher price range. Given the culinary expertise and reputation of the restaurant, it was somewhat expected. This entire experience set me back by RM650. Menu prices are inclusive of service tax. This makes Gordon Ramsay Bar & Grill more of a one-time, indulgent experience, suitable for significant occasions rather than a regular dining spot.
In essence, Gordon Ramsay Bar & Grill offered an unforgettable culinary adventure that brought the flavours of Hell's Kitchen to life. While it may not be an everyday dining destination for most, it certainly delivers on its promise of an upscale and delightful experience, making it a wonderful choice for a special treat.
Check out fun activities in/nearby Sunway Pyramid:
Check out other food nearby Sunway Pyramid:
My Rating
90%: Ambiance
60%: Price (value for money)
75%: Taste
90%: Location
90%: Service
81%: Overall Rating
Opening Hours
Open daily from 11:00 AM to 11:00 PM
Address / Contact Information
+603 7492 8000
Gordon Ramsay Bar & Grill
Lobby Level Sunway Resort
Persiaran Lagoon
Bandar Sunway
47500 Subang Jaya
Selangor, Malaysia