I've got to admit, Japanese food isn't one of my favourites. But if I would need to choose my favourite Japanese restaurant in town, it would be Jyu Raku. Located in SS15, directly opposite Subang Jaya Medical Centre, Jyu Raku stands out in the concentration of Japanese restaurants in that area.
See also: Instagram (@lifeofaworkingadult) Gallery of Jyu Raku
Jyu Raku
Jyu Raku stands out from the others. You'll always see a queue waiting outside the restaurant during peak hours to get a table. On the brighter note, Jyu Raku accepts reservations. So to avoid the queue, I would suggest calling in advance to reserve a table.
Parking can be rather hard to find during lunch / dinner time. However, they do have free car valet service so you can dine without waiting to find a parking. I on the other hand, chose to make a few rounds to find a proper parking on my own as I was not really comfortable letting someone else handle my car.
I dropped by for lunch. They offer both set menus and a la carte. It is definitely better value for money to order from their set menu. Not only you get have more options, Jyu Raku allows you to customise your set experience with three different combination of sides – with rice; with sashimi rice; or with sushi.
Their service was prompt (I arrived when they just opened for lunch), though I noticed as I was eating that their handling of customers during peak hours could be improved.
I tried their Teriyaki Salmon set with sushi (RM51) and Beef Teppanyaki set with rice (RM47) , with an add on of Hotate Mayoyaki (RM20).
Beef Teppanyaki set with rice – RM47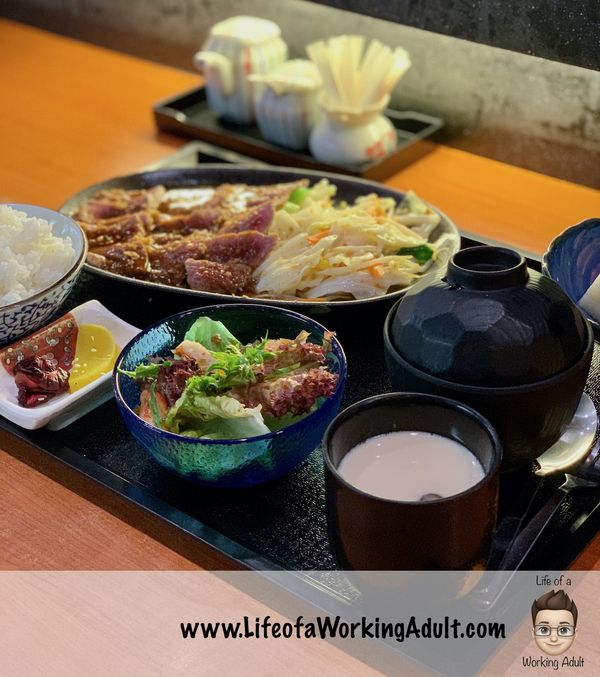 The teppanyaki beef was amazing. It was medium rare done. You can see the reddish spots in the evenly cut beef slices. This is a dish that I will definitely order again.
Teriyaki Salmon set with sushi – RM51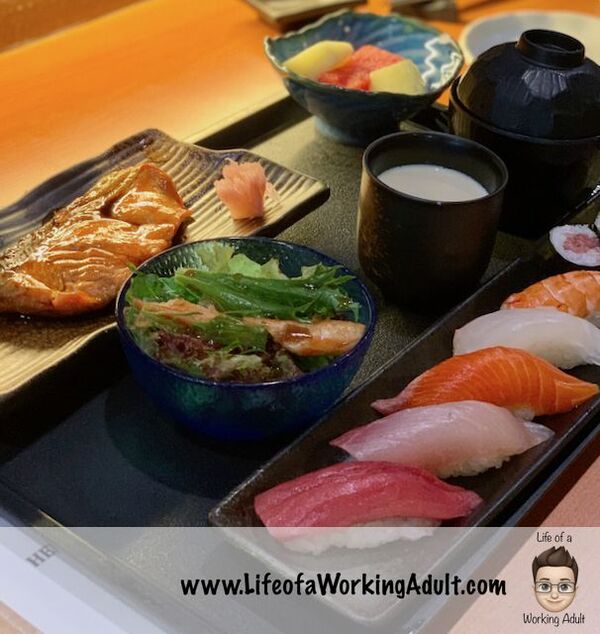 If you are a sashimi fan, it's definitely worth to take your lunch set with sushi or sashimi rice. It's definitely more bang for your buck if you compare it against the sashimi's a la carte price. Though I'm not a sashimi fan, Jyu Raku certainly is certainly not stingy with their portions. Their sashimi (even on their sushi) given are in thick and juicy cuts, and fresh.
Hotate Mayoyaki – RM20
I must say I thoroughly enjoyed the Hotate Mayoyaki. It comes in a set of two pieces. In case the picture wasn't self explanatory, Hotate means scallops, and Mayoyaki is a Japanese mayonnaise sauce. It would be awesome if they had a set of it with rice.
Verdict – Pricey but worth it!
Japanese food is always pricer as compared to the other cuisines. Total meal for two came up to RM136.90. But given the freshness of their food, generous portions, I'd say this place is not excessively expensive for a Japanese restaurant. I'll definitely be back again to try their other sets when I have a hankering for Japanese food again.
After Jyu Raku, perhaps you'd be interested in one of the best waffles I've had in Subang Jaya, Fatbaby.
Read also: Fatbaby Ice Cream @ SS15, Subang Jaya
My Rating
80% : Ambiance
70% : Price (value for money)
85% : Taste
70% : Location (ease of parking)
70% : Service
75% : Overall Rating
Opening Hours
Open daily from 11:30 AM – 3:00 PM; 5:30 PM – 10:00 PM
Address / Contact Information
03 5633 3819