I made the decision to visit Aquaria Phuket as an escape from the scorching heat that enveloped Phuket. With the sun blazing outside, seeking refuge in an indoor activity seemed like the perfect choice to stay cool and comfortable.
Aquaria Phuket, Thailand
As you step into Central Phuket Floresta, you'll immediately notice the grandeur of the mall. Central Phuket Floresta spans a considerable area, and it impressed me with its modern design and a wide array of retail outlets. It's hard not to be reminded of the IOI City Mall in Malaysia, as Central Phuket Floresta shares a similar scale and sense of grandeur.
One of the standout features of Central Phuket Floresta is its seamless connection to another shopping haven, Central Festival Phuket. These two malls are interconnected, creating an extensive shopping complex that offers an abundance of options for visitors.
Getting Tickets
Aquaria Phuket offers the convenience of purchasing tickets directly from their official website. These tickets are priced at 981 THB per adult and 531 THB per child. However, if you're looking for even greater savings, alternative platforms like Klook.com provide further discounted rates for Aquaria Phuket tickets.
By opting to purchase tickets through Klook.com, I was able to secure the tickets at an even cheaper rate. The tickets were sold at a discounted rate of 820 THB per adult and 480 THB per child. This option allowed me to enjoy the same immersive experience at Aquaria Phuket while saving some money.
Furthermore, Klook.com also offers combo tickets that include access to the Trickeye Museum, which is also located within Aquaria Phuket. These combo tickets provide a fantastic opportunity to explore both attractions in one visit. I didn't opt for the latter though.
Now, let's delve into the main highlight – Aquaria Phuket.
The Experience
Aquaria Phuket offers an immersive experience with its nine zones, each offering a unique perspective on the aquatic world.
List of the 9 zones in Aquaria Phuket:
Zone 1 – Mystic Forest
Zone 2 – Canopy Walk
Zone 3 – Jewels of the Jungle
Zone 4 – The River Caves
Zone 5 – Coastal Haven
Zone 6 – Stingray Bay
Zone 7 – Largato
Zone 8 – South China Sea
Zone 9 – Station Aquarius
There wasn't much to see at the first zone. Basically it was just a tank of various fishes, and you can see the trees at the canopy walk zone.
Zone 2 – Canopy Walk
Upon entering, you have two options, turn left and climb the stairs to access the Canopy Walk zone or head straight to The River Caves zone. I recommend that you visit the Canopy Walk first to save time and avoid backtracking.
In this zone, elevated platforms provide a captivating view of the underwater world below. As you stroll along the walkway, you can observe fishes swimming below. The Canopy Walk zone is rather small, and doesn't really imitate a canopy walk among the branches experience.
Zone 3 – Jewels of the Jungle
The Canopy Walk zone leads you towards the Jewels of the Jungle zone. Here, you can encounter an array of reptiles, from snakes and spiders to iguanas. This zone allows you to appreciate the unique beauty of these creatures up close.
Surprisingly, you can even find two rabbits in this zone, adding an unexpected touch of cuteness.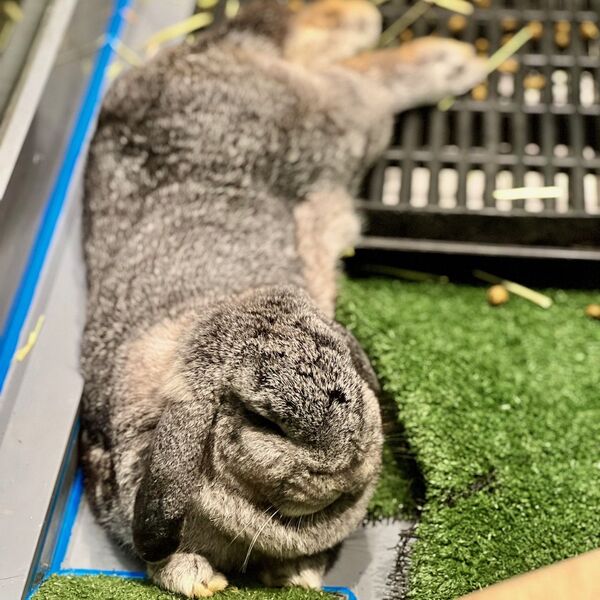 The rabbits provide a delightful contrast among the reptiles.
Zone 4 – The River Caves
Once you have explored the Jewels of the Jungle zone, you can head back to the Canopy Walk area and descend the stairs to proceed to the next zone, the River Caves. In the River Caves zone, Aquaria Phuket aims to recreate the ambiance of a cave environment with flowing streams that support a thriving ecosystem.
The main highlight of this zone is the mischievous small-clawed otters, stealing the hearts of visitors. These playful creatures bring a sense of joy and charm to the atmosphere, reminiscent of the otter character from the popular movie Guardians of the Galaxy Vol. 3.
You'd also get to see turtles in the tank adjacent to it.
Zone 5 – Coastal Haven
Continuing the journey, you will then reach the Coastal Haven zone. This zone showcases a landscape resembling rocks and shores, trying to mimic a coastal experience. Here, visitors can encounter penguins just chilling or gracefully swimming in their habitat.
In an opposite tank, you have the opportunity to observe sharks. For an additional fee, you can choose to participate in shark feeding.
Aquaria Phuket offers a unique opportunity for certified scuba divers with their Dive with Shark activity, held every Sunday morning. For a fee of 5,000 THB per person, you can safely explore the underwater world and encounter ragged-tooth sharks, leopard sharks, and guitar sharks.
Zone 6 – Stingray Bay
Moving on to Stingray Bay, you are greeted with vibrant coral habitats and a variety of stingray species. The zone offers a chance to witness the graceful movements of these captivating creatures.
For a more interactive encounter, you can choose to participate in stingray feeding for a small fee. Keep an eye out for one particularly playful stingray that loves to splash water to attract attention. Perhaps it has learn to beacon visitors to participate in the stingray feeding.
Zone 7 – Largato
Continuing the exploration at Aquaria Phuket, visitors will encounter the Largato zone. At first, I was wondering what Largato stood for. Turns out, it's a sunken ship – the U.S.S. Largato, which once met its fate in the Gulf of Thailand. The tanks here showcases the remnants of the sunken ship U.S.S. Largato and creates a unique environment within the aquarium. Various fish species populate the tanks, offering a captivating scene that pays homage to the shipwreck and its marine inhabitants.
Zone 8 – South China Sea
Moving forward, you will reach the South China Sea zone, the largest and most prominent exhibit at Aquaria Phuket. This expansive exhibit holds an impressive volume of seawater, approximately 3.5 million litres, and houses a diverse array of marine life from over 500 species.
Walking through a tunnel, you have the opportunity to observe the abundant marine life swimming around, accompanied by carefully placed statues that enhance the immersive experience.
Zone 9 – Station Aquarius
Lastly, before concluding the visit, visitors will come across the Station Aquarius zone. This zone offers an interactive and educational experience, allowing visitors to learn more about marine life. You can engage with an interactive touch pool, where they can interact with marine creatures up close.
Additionally, the zone features displays of different species of jellyfish, housed in round clear containers with constantly filtered water. Apparently, maintaining jellyfish in captivity can be rather challenging, making their display in the exhibit even more fascinating.
Verdict
While the aquaria itself may be relatively small in size, it still manages to provide an interesting and engaging experience. The journey through Aquaria Phuket takes you through nine distinct zones, each offering a unique perspective on marine life.
Aquaria Phuket aims to promote awareness and contribute to the conservation of marine life. While there are differing perspectives on the role of aquariums in conservation, many modern aquariums, including Aquaria Phuket, strive to prioritise the well-being of animals and actively participate in conservation efforts.
For those seeking a break from the scorching heat of Phuket, Aquaria Phuket is a perfect activity as it provides a comfortable indoor activity that offers a glimpse into the enchanting world beneath the waves.
Check out also:
Opening Hours
Open daily from 10:30 AM to 6:00 PM
Address / Contact Information
+66 76 629 800
ฟรอเรสต้า ตั้งอยู่ชั้น B1 ศูนย์การค้า เซ็นทรัล ภูเก็ต
199 Vichitsongkram Rd, Wichit
Mueang Phuket District
Phuket 83000
Thailand