During my recent visit to Phuket, Thailand, I had the incredible opportunity to stay at Anantara Vacation Club Mai Khao-Phuket. As a first-time visitor to Phuket, I was thrilled to experience the renowned beauty and charm of this tropical paradise firsthand.
Phuket, Thailand
Phuket, Thailand, has gained international acclaim for its unrivalled coastal wonders, beckoning travelers with its stunning beaches that redefine natural beauty. It's home to some of the most beautiful beaches in Thailand, like Patong beach, Kata beach and Karon beach.
But the allure doesn't end there – Phuket boasts a rich archipelago, hosting a collection of picturesque islands, including Phi Phi Islands, the legendary James Bond Island, Similan Islands, and Racha Islands. As such, it is a veritable paradise for island hoppers, water sports enthusiasts and avid divers.
If you're into historical and cultural stuff, there's Phuket Old Town. This area features colourful Sino-Portuguese buildings, quaint streets, art galleries, trendy cafes, and local markets. Phuket Old Town offers a glimpse into the island's rich history and architectural heritage.
Anantara Vacation Club Mai Khao-Phuket
Arriving at Phuket International Airport
Anantara Vacation Club Mai Khao Phuket is a luxurious resort located on the northwest coast of Phuket, Thailand. The resort is just a 20-minute drive from Phuket International Airport and is situated in the pristine shores of Mai Khao Beach.
Upon arrival at Phuket International Airport, I was surprised to find that Anantara Vacation Club has a dedicated store within the airport. This dedicated store is to ensure guests arriving at Phuket International Airport enjoy a seamless transition from the airport to the resort.
Greeted by friendly and knowledgeable staff members who spoke English, I immediately felt welcomed and at ease, knowing that any inquiries or arrangements I needed would be handled with utmost care.
While my complimentary stay unfortunately did not include free airport transfer services, the attentive staff at Anantara Vacation Club went above and beyond to arrange transportation for us. They helped us engage the airport taxi counter to arrange a ride for us to the hotel. It was a short 15-minute drive from Phuket International Airport, which is offered at a fixed fare of 600 Thai Baht.
Arriving at Anantara Vacation Club Mai Khao-Phuket
Upon our arrival at Anantara Vacation Club Mai Khao-Phuket, we were warmly welcomed by the attentive staff at the reception counter. As we checked in, we were pleasantly surprised to be offered Butterfly Pea Flower Tea, a local specialty that added a delightful touch to our arrival experience. We were also told that we had our reservations upgraded from a One Bedroom Pool Villa to a Two Bedroom Pool Villa. While we appreciated the gesture, it was not necessary as we were just a party of two.
The receptionist here is like no other, truly exceptional. They took the time to provide us with a detailed overview of the hotel's extensive amenities, activities, and the wide range of nearby attractions. The variety of activities available within Anantara Vacation Club Mai Khao-Phuket for both kids and adults was also truly impressive, from invigorating yoga sessions and scenic lake bike tours to engaging coffee painting workshops and dive-in movie experiences at the pool. It was fascinating to see how Anantara Vacation Club Mai Khao-Phuket catered to diverse interests, ensuring that guests could find something enjoyable to participate in throughout the day.
Since we arrived early in the morning at around 10 AM, our room was not yet ready for check-in, as the standard check-in time is at 3 PM. However, the hotel staff went the extra mile to accommodate us by promising to have the room ready by 11 AM, allowing us to make the most of our time.
While we had a little over an hour to spare, we were brought to a comfortable waiting lounge. The cozy space was furnished with plush sofas, books, board games and even had two massage chairs! Additionally, the lounge offered complimentary drinks, biscuits, and even two computers connected to the internet for guests to surf the web while waiting for their villa to be ready.
True to their word, right at 11 AM, the receptionist came to the waiting room to notify us that our villa was ready. The punctuality displayed by the staff was truly impressive.
The villa – Two Bedroom Pool Villa
The Two Bedroom Pool Villa at Anantara Vacation Club Mai Khao-Phuket is a luxurious retreat that offers an unmatched level of comfort. It is truly spacious with a total size of 2,658 sqft / 247 sqm. The villa comprises of a personal door, an outdoor deck, a spacious living room, two bedrooms – one king and one twin, and two bathrooms.
As you step into the villa, your eyes are immediately drawn to the pool. Surrounded by lush greenery, the pool beckons you to take a dip to escape the tropical heat. Adjacent to the pool, you'll find comfortable deck chairs where you can recline and bask in the sun's warm embrace.
Stepping further into the villa, you'll discover an open-plan layout that seamlessly integrates the living room, dining area, and a fully equipped kitchenette. This thoughtfully designed space maximizes both functionality and aesthetics, fostering a sense of openness and allowing for easy interaction and flow between the different areas.
The kitchenette in the villa is truly exceptional. It's the first time I've seen such amenities being provided. Whether you're a seasoned chef or simply enjoy preparing your own meals, you'll find everything you need to satisfy your culinary desires. From a toaster for your morning cravings to a rice cooker for your culinary adventures, the kitchenette is fully equipped with modern amenities. In addition, the villa provides pots, a complete set of cutlery, plates, and cups, ensuring that you have all the necessary tools at your disposal.
The bedrooms in the villa are tastefully decorated, exuding a sense of tranquility and style. The master bedroom features a spacious and comfortable king-sized bed, while the second bedroom offers twin beds, making it ideal for families or groups of friends.
Only the master bedroom has an en-suite bathroom, with rain showers providing a refreshing and invigorating bathing experience. In the master bathroom, you'll also find an additional bathtub, allowing you to indulge in a soothing soak at your leisure. A unique feature of the master bedroom is its direct access to the pool, allowing you to take a dip right from the comfort of your own bedroom.
One of the most captivating aspects of the Two Bedroom Pool Villa is its seamless integration of indoor and outdoor living spaces. The villa is designed with floor-to-ceiling glass doors that flood the interior with abundant natural light, creating a bright and airy atmosphere.
As the evening sets in, the outdoor space takes on a magical quality, allowing you to immerse yourself in the tranquility and serenity of your private sanctuary. It's the perfect setting to unwind and appreciate the beauty of the night.
Verdict: ★★★★★
Anantara Vacation Club Mai Khao-Phuket is a luxurious haven that offers an unparalleled level of comfort and relaxation. From the warm welcome at the reception counter to the seamless integration of indoor and outdoor living spaces, every aspect of this resort is designed to provide an exceptional experience for guests.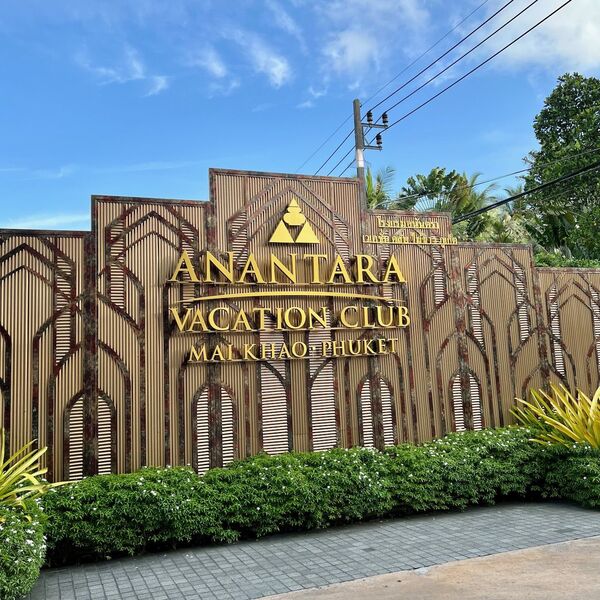 The attentive and friendly staff ensure that every need is met, from the moment you arrive until the time of departure. The resort offers a wide range of activities and amenities to keep guests entertained, including yoga, lake bike tours, and dive-in movies at the pool.
With its ideal location on the northwest coast of Phuket, just a short drive from the airport and situated in the pristine Mai Khao Beach area, Anantara Vacation Club Mai Khao-Phuket offers a perfect blend of tranquility and convenience.
Furthermore, during my stay at Anantara Vacation Club Mai Khao-Phuket, I was pleasantly surprised by the service provided by the staff. In the middle of the day, a friendly hotel staff came by with a tray of complimentary tropical fruits. There was also complementary breakfast, but I'll write that in a separate review as I also had lunch there.
During my stay at Anantara Vacation Club Mai Khao-Phuket, I must mention that I encountered a minor inconvenience that affected my overall experience. I woke up in the morning to find some ants crawling around on the bed, despite not having had any food in that area. Although it was a disappointing discovery, I acknowledge that being in close proximity to nature can occasionally result in such occurrences.
Check out also: Taurus @ Anantara Vacation Club, Mai Khao, Phuket
Overall, Anantara Vacation Club Mai Khao-Phuket exceeds expectations with its luxurious accommodations, attentive service, and stunning surroundings. Whether you're seeking a romantic getaway, a family vacation, or a retreat with friends, this resort provides an unforgettable experience that will leave you feeling refreshed and rejuvenated.
Interested to stay at Anantara Vacation Club Mai Khao-Phuket? Check out these deals!
At time of writing, prices for the Two-Bedroom Pool Suite generally cost about SGD761/night at Trip.com. If you book at their official website, you'll see that the price per night starts from SGD3,108.