Taurus, the casual all-day dining restaurant located at the heart of Anantara Vacation Club Mai Khao Phuket, offers a delightful culinary experience that blends Thai and international cuisine. With a focus on using fresh, local ingredients, Taurus ensures that guests can indulge in a variety of international favourites.
Taurus – Steak & Thai Tapas
Taurus, the all-day dining restaurant at Anantara Vacation Club Mai Khao-Phuket, is not only known for serving breakfast for hotel guests, but also offers a diverse menu that caters to a variety of tastes. It is located right beside the pool area.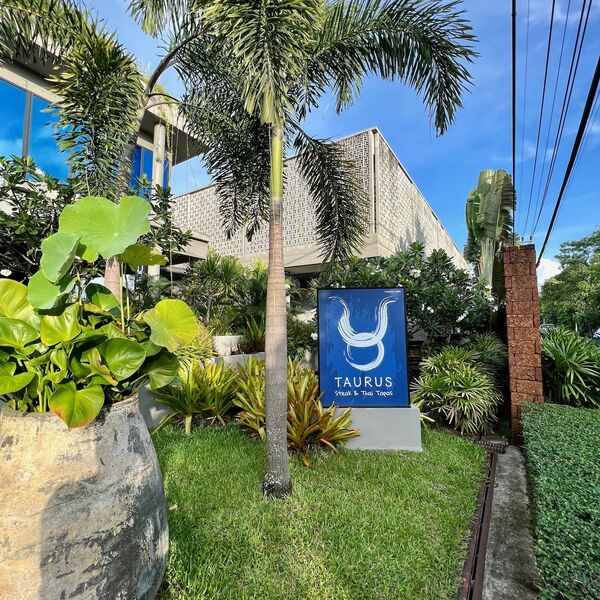 When I saw the sign for Taurus Steak & Thai Tapas, I was intrigued by the concept of fusion cuisine. The combination of steak, a classic Western dish, with Thai tapas, which are typically small and flavourful dishes, suggested an exciting fusion of culinary traditions.
The menu at Taurus reflects this fusion concept, offering a wide range of dishes that showcase the best of both worlds. From succulent steaks cooked to perfection, to tantalising Thai tapas bursting with local flavours. The restaurant prides itself on offering a fusion of international and Thai cuisines, catering to a wide range of tastes and preferences. Whether you're in the mood for traditional Thai flavours or international classics, Taurus has something to satisfy every palate.
The Food
At Taurus Steak & Thai Tapas, not only do they offer an à la carte menu, but they also provide a tapas set priced at THB1,500. Opting for the tapas set allows you to experience a wider variety of dishes for almost the same price, making it an enticing option for those who want to explore and sample different flavours.
By choosing the tapas set, you can indulge in a selection of 5 dishes accompanied by rice. This option allows you to try a range of culinary creations from their tapas menu.
Tapas Set – THB1,500
We opted to try their Som Tam, Yam Nue, pork ribs, Gaeng Ped Yang and Khao Niew Ma Maung.
Som Tam
To kick off our dining experience at Taurus Steak & Thai Tapas, we decided to try their Som Tam, also known as green papaya salad. This traditional Thai dish is renowned for its refreshing and vibrant flavours. Taurus's version of Som Tam features shredded green papaya combined with a tangy dressing composed of lime juice, fish sauce, chili, peanuts, palm sugar, and chicken.
The first bite of the Som Tam revealed its zesty and spicy nature, offering an explosion of flavours. The combination of sweet, sour, and spicy notes created a harmonious balance that awakened our taste buds. While the addition of a protein is uncommon, it added textual contrast to the dish.
While we thoroughly enjoyed Taurus's Som Tam, I would have preferred the Thai green mango salad version (Som Tam Mamuang), which was not available on their menu. Nonetheless, the Som Tam provided a delicious introduction to our meal, showcasing the vibrant and authentic flavors of Thai cuisine.
Yam Nue
Intrigued by its unique description on the menu, I couldn't resist ordering the Yam Nue, a traditional Thai beef salad, at Taurus Steak & Thai Tapas. The dish features tender slices of beef combined with a medley of fresh herbs, chili, lime juice, and a hint of fish sauce. This combination creates a harmonious balance of spicy, sour, and savoury elements that are characteristic of Thai cuisine.
Upon tasting the Yam Nue, I found it to be an interesting and somewhat unconventional flavour profile. The boldness of the herbs, coupled with the tanginess of the lime juice and the subtle heat from the chili, provided a distinctive taste experience. While it was slightly unusual, I appreciated the unique blend of flavours that the dish offered.
Pork Ribs
We couldn't resist trying the pork ribs at Taurus Steak & Thai Tapas, as indulging in tender and succulent ribs is always a delightful experience.
Upon tasting the pork ribs, it was immediately evident that the meat was incredibly tender and effortlessly pulled off the bone. The level of tenderness was truly exceptional, making each bite a pleasure.
The ribs were accompanied by a tangy barbecue sauce that added flavour and depth to the dish. However, it is worth noting that the sauce leaned towards the sweeter side, which might be a characteristic of Thai cuisine's flavour profile.
Gaeng Ped Yang
Another main dish that we ordered was the Gaeng Ped Yang, or Thai red curry with roasted duck.
The Gaeng Ped Yang features tender pieces of succulent roasted duck on a rich and creamy red curry broth. The curry itself is a harmonious blend of spices, herbs, and chili. It is best eaten with rice. However, I still prefer Indian curry over Thai curry any day.
Khao Niew Ma Maung
To end the meal on a sweet note, we couldn't resist trying Khao Niew Ma Maung, which is sticky rice served with fresh mango. This classic Thai dessert is a delightful combination of fragrant sticky rice, juicy mango slices, and a drizzle of sweet coconut milk.
Thai mangoes are renowned for their exceptionally sweet and juicy flavour, making them the perfect pairing for the sticky rice. The sticky rice, which was warm, absorbed the fragrant coconut milk that is poured over it, adding a creamy element to the dish.
It was a delightful way to end the meal with a touch of sweetness.
Verdict
Overall, the dining experience at Taurus Steak & Thai Tapas was a delightful and satisfying one. The tapas set allowed us to sample a variety of dishes from their menu, offering a fusion of flavours and culinary creations. While some dishes may have had slightly unusual elements, they were still enjoyable, and the quality of ingredients and presentation were commendable.
After factoring in the 10% service charge and 7% VAT, the total cost of our meal at Taurus Steak & Thai Tapas came to THB1,906.74. The pricing was reasonable considering the quality of the dishes, and the overall dining experience. So, if you're looking to try a variety of dishes without breaking the bank, the tapas set at Taurus Steak & Thai Tapas is definitely worth considering.
And also, Taurus Steak & Thai Tapas serves the hotel's breakfast in the morning. It however, wasn't particularly outstanding. The breakfast options provided the usual choices found in many hotels, with some Thai dishes added to the selection. However, the breakfast wasn't something to shout about.
Interested to stay at Anantara Vacation Club Mai Khao-Phuket? Check out these deals!
At time of writing, prices for the Two-Bedroom Pool Suite generally cost about SGD761/night at Trip.com. If you book at their official website, you'll see that the price per night starts from SGD3,108.
Check out also:
My Rating
80%: Ambiance
80%: Price (value for money)
80%: Taste
80%: Location
90%: Service
82%: Overall Rating
Opening Hours
Open daily from 6:30 AM to 11:00 PM
Address / Contact Information
+66 76 337 200
Taurus
Anantara Vacation Club Mai Khao Phuket
Mai Khao
Thalang District
Phuket 83110
Thailand