Fancy having your dinner in a hut on a pond and overlooking it? Krua Rean Narm in Changlun offers you just that and more.
And if that is not enough, in a restaurant that is made up of huts which sit on a pond and at the same time, flanked by rubber trees on one side, paddy fields on the other side. All these for you to soak in as you dig into your meal.
Krua Reang Narm's Location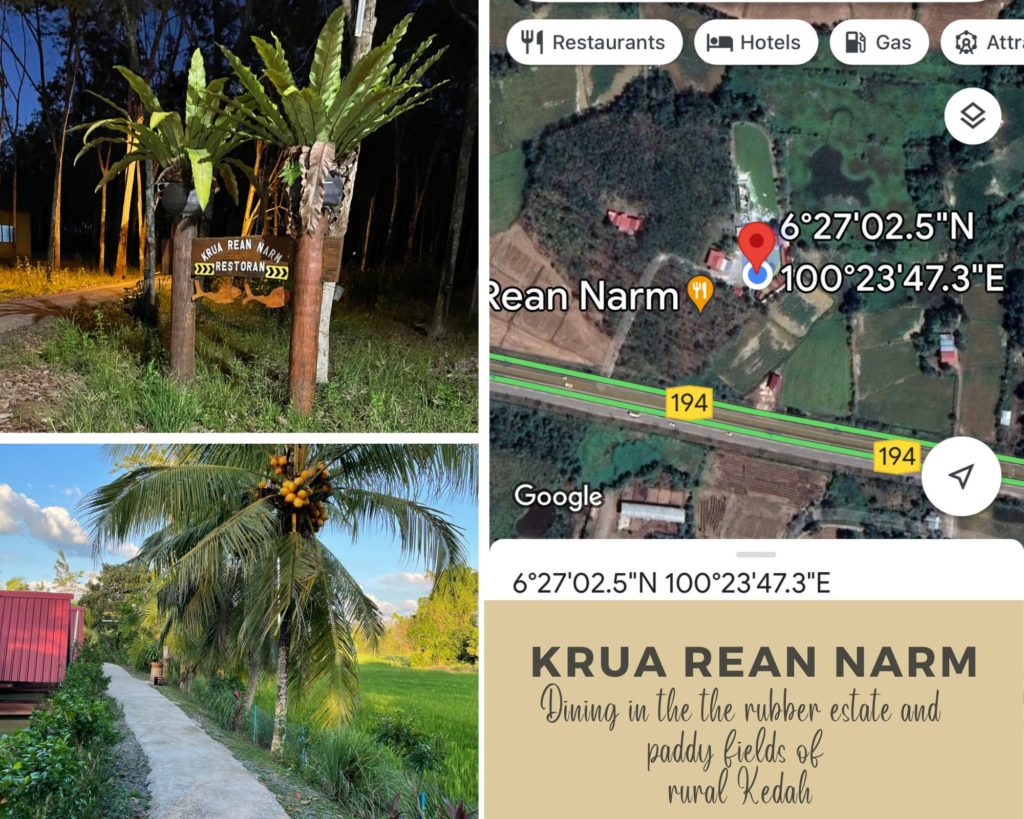 Well, Krua Rean Narm might just be the place for you. Located along the Changlun – Kuala Perlis Highway, not too far away from Universiti Malaysia Perlis, Krua Rean Narm can be considered a restaurant off the beaten track because it is tucked in a very rustic surrounding that is as countryside as you can get. But still, it is very accessible because it's located just off the highway.
You have to look out for the sign beside the highway (heading towards Changlun) which will direct you to turn into this small road with rubber trees on both sides. You will then need to drive in a short distance into the rubber estate to get to the restaurant. During the day, it might be quite difficult to spot the restaurant from the highway, but at night, the bright lights from the restaurant make it easy to see from the road.
The name, Krua Rean Narm is a giveaway, that this is a Thai restaurant. A little sign is all that tells you you are in the right place. A little further away, from this sign is the restaurant, Krua Rean Narm. When we arrived, we were quite taken away by the layout of the restaurant. Diners could pick a private dining hut that built above the pond. A table that can accommodate about 8 people easily sits in the hut. Shoes are not allowed in the hut. Even though it was in an open space, the floor was very clean.
The first thing we did when we got there was to walk around the pond where all the huts were located. I didn't really count them but I think there were about 10 of them. In all except one, diners have to sit on the floor for their dinner, just like how the traditional kampung folks would eat their meals but on a short table.
The table is big enough to easily sit 6 but it should be able to accommodate up to 8. The floor was well kept and it was gleaming. For those who want to sit on chairs instead of the floor for their dinner, there are 4 tables available right near the kitchen. These tables are placed together, so privacy isn't available for this form of dining here.
All Thai dishes
Satay Danok – RM1.50 per stick
I ordered the Satay Danok which came quite promptly, basically because we were practically the first customer. Though the satay was a bit sweet but it was grilled to perfection. The meat was juicy and had an appetising smell. You can't go very wrong with satay usually and these were no exception. Each stick was RM1.50.
Our main order came just after we finished our satay. Waiters were polite and friendly. I had the chance of peeking into the washroom which was in a small building of its own. It was well clean and well-maintained.
Seafood Tomyam – RM25
We ordered the Seafood Tomyam. This tomyam is white in colour unlike the usual red ones that I am used to taking. I was told that white tomyam is as authentic as you can get for tomyam. I actually like this version of tomyam as it wasn't too heavy to the stomach. There was even a light sourish taste which seems to tease one's palate. For RM25, I'd say it's very reasonable because there was a generous amount of prawns and squids. Everyone had a generous portion of it.
Fried Sotong – RM20
We had this too – the fried sotong. This dish was so-so. The squids did not retain their crispiness for long. I'd give this a pass if I were to go again. This was RM20.
3-Flavour Fish – RM51
The 3-flavour fish was everyone's favourite for the night. This is one of Krua Rean Narm's signature dish. The fish was fried just right, leaving it quite juicy. Also, the sauce that accompanied it was a little strong but goes well with rice. There was a generous amount of diced vegetables in it as well. The sauce is appetising enough just on its own. This is a dish that is good enough to stand on its own. The fish was big enough for 5 or more people. This was our priciest dish for the night at RM51 but everyone agreed that it was nice enough.
Lala Krapow – RM15
We had their lala krapow but this one was a tad too spicy for me. I just learned that krapow is actually Thai for Thai holy basil which spicy and peppery, which explains the spiciness of the dish. The holy basil that is normally used, on the other hand is sweeter. This was a little sweet and you need to take it with rice. This price for this dish was RM15.
Prawn Suhun
We also had the prawn suhun. I am a fan of this dish and will try this whenever I have a chance. This particular dish here is quite different from the others that I have taken. It is steamed with the prawns instead of the usual fry in the pan version which I often take. This one has a distinct taste of its own. I think it's because of the fish sauce that is used as a base to cook it. Overall, it is still quite nice, though the prawns didn't feel as springy as I'd like them to be.
The total for the meal came up to RM144.50 for the night, which is very reasonable considering that we ordered mostly seafood. The price tag is inclusive of drinks which was just mineral water. Add that to the RM15 for the satay, the whole meal came to RM159.50 for seafood for a group of 5. We got to sit in a hut built on a pond in the middle of a rubber estate, in rural Kedah and watch ripples caused by fish in the pond. I think that's a pretty cool dinner experience.
Verdict
Would I go to Krua Rean Narm again? Probably. It is nice and tranquil place to have your meal at your own leisurely pace, away from the hustle and bustle of life. The restaurant is not as busy now because of the pandemic. Krua Rean Narm opened up 3 years ago but with the last 2 years being disrupted by the pandemic, the going has been rather slow. When it first opened, guests had to book in advance to get a place. In time to come, the pace should pick up because it is a rather unique place to go makan dinner.
Incidentally, if you are a fishing enthusiast, you can always go there earlier to go fishing. There is a fishing pond just beside the restaurant. For a fee, you can actually sit in the idyllic rubber estate and try your luck. If you land one or more, they can be your dinner.
II you are game for a little adventure that goes along with Thai food, this is a place to consider. It's not often that we find restaurants like this. The experience at Krua Rean Narm alone will be something that is different from the usual restaurant in a shop in a city or town.
But beware though, the mozzies are common in a rubber estate when dusk falls. So, it might be wise to bring some insect repellant if you are one of those unfortunate people who seem to have a penchant to attract them.
Read also:
My Rating
80%: Ambiance
75%: Price (value for money)
75%: Taste
80%: Location (ease of parking)
80%: Service
78%: Overall Rating
Opening Hours
Open daily 5 PM – 11 PM.
Address / Contact Information
012 502 4174