I was driving by Jalan Gangsa in Alor Setar the other day, and this restaurant – Meat Freak BBQ & Steak, caught my attention. Up till then, I didn't know steakhouses existed in Alor Setar. It was intriguing to see that a steakhouse could actually survive here.
See also: Instagram (@lifeofaworkingadult) Gallery of Meat Freak BBQ & Steak
So, I did a little research before deciding to pay the restaurant a visit. It was rated 4.4 stars on Google and had 125 reviews, which were mostly positive. Their menu boasts a wide variety of choices – lamb, salmon, pasta, steaks, briskets, etc. It's located in a rather quiet street, away from the main road with ample parking.
Wagyu Striploin (RM138) and Wagyu Rib Eye (RM148)
I decided to try their steak – Who goes to a steakhouse and not try their steak? I tried their Wagyu Striploin (RM138) – medium rare, while my friend tried their Wagyu Rib Eye (RM148) – medium well done, with a drink each to boot – Berry Peach and Asam Boi Fuzz (RM7 each).
Just to highlight that their meats are sold according to weight. For example, my Wagyu Striploin is RM60/100g. Plus, you'd get to choose your choice of meats in the refrigerator in the restaurant itself. The meats are packed and sealed in individual plastic wraps with the price sticker attached. I find this a good arrangement because it won't surprise your wallet later on.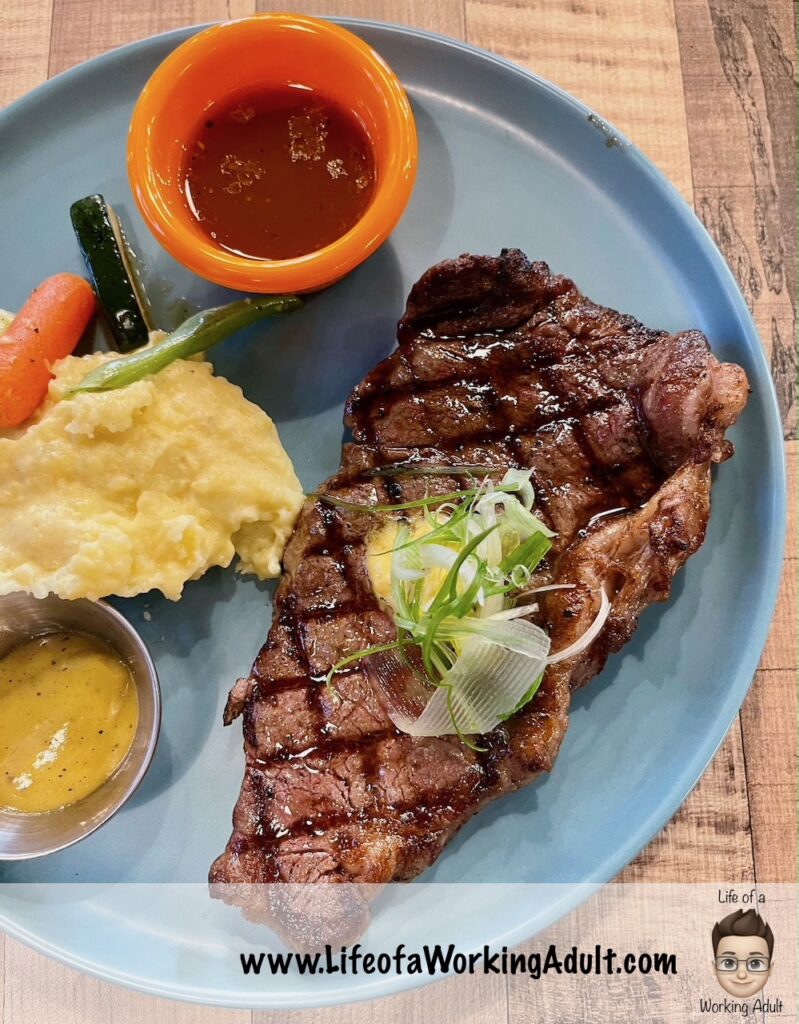 Meat Freak BBQ & Steak Verdict –

Decent
The meats were tender and soft. They managed to sear the meat perfectly on both sides, with the middle still reddish, and a bit of juice flowing – just how a steak should be prepared! The sauce – nicoise dressing and espagnole sauce (beef juice) that came with mains paired well with the meats. All steaks (other than tomahawk steaks) are served with homemade creamy mashed potatoes and sauteed vegetables.
However, if I were to decide which cut was nicer – I'd say that the rib eye wins hands down.
Read also: [Food Review] Kaede Japanese Restaurant @ Alor Setar, Kedah
Portions are fair, given the price. However, I do have a bone to pick with the mains. Afterwards, my friend and I were both very thirsty after the meal. Perhaps their seasoning consisted a little bit too much salt / salt-seasonings rather than natural herbs?
Would I come back again? Maybe. The last bit – feeling thirsty afterwards – has put me on the fence. It'll always make me think twice before visiting this restaurant again. But, this restaurant is no doubt the best steakhouse in Alor Setar.
My Rating
85%: Ambiance
70%: Price (value for money)
70%: Taste
85%: Location (ease of parking)
80%: Service
78%: Overall Rating
Opening Hours
Open daily from 3 PM – 8 PM (Closed on Mondays)
Address / Contact Information
012 576 8869
No A/1 Tingkat Bawah
Taman Desa Baiduri
Jalan Gangsa
05150 Alor Setar
Kedah