After having tried Bar.B.Q Plaza, I was excited to try the local unfranchised version – Zheng Zong Mookata BBQ House in Alor Setar.
The Menu
The menu is simple – there are 2 options – the big set (RM42) or the small set (RM32). Each set consists of slices of pork and beef, various vegetables, mushroom, fish balls, egg tofu and crab stick. The difference between the sets is the quantity of meat given. The big set has 4 pork plates and 1 beef plate, whereas the small set has 2 pork plates and 1 beef plate.
See also: Instagram (@lifeofaworkingadult) Gallery of Zheng Zong Mookata BBQ
Subsequently, you could also purchase extra ingredients (meats and various processed foods) from the fridge (with prices per plate ranging from RM1 – RM10). Similar to Bar.B.Q Plaza, vegetables are provided free flow. Just that Zheng Zong Mookata provides additional free flow of glass noodles.
The Way to Eat Mu Krata
To eat mu krata, you first need to lather the pork lard to grease the metal skillet, on which you subsequently grill the meat on. Soup is poured into the moat surrounding the metal skillet, of which you can boil vegetables and other foods.
Did you know?
'Mu krata' or 'Mookata', is a Southeast Asian cooking method, originating from Thailand. The word "mu" means 'pig' or 'pork' and krata is 'pan' or 'skillet' in Thai. Mu krata resembles a combination of a Korean barbecue and a Chinese hot pot, just that the Thai version uses charcoal.
Over time, the soup takes up the essence of the grilled meat juices that flow down as you grill the meat on the metal skillet. The combination of both the boiled vegetables essence and meat juices creates a flavourful and rich soup.
Taste Verdict –

Decent
Food-wise, it was decent, but I wouldn't rate it fantastic. The meats' quality were decent, but not premium (nor do they provide such options). The veggies were good, and their processed food was, well… standard processed food. They do provide their version of Thai nam chim suki dipping sauce, but while eating here I was thinking how much I missed the BBQ sauce that Bar.B.Q Plaza provides.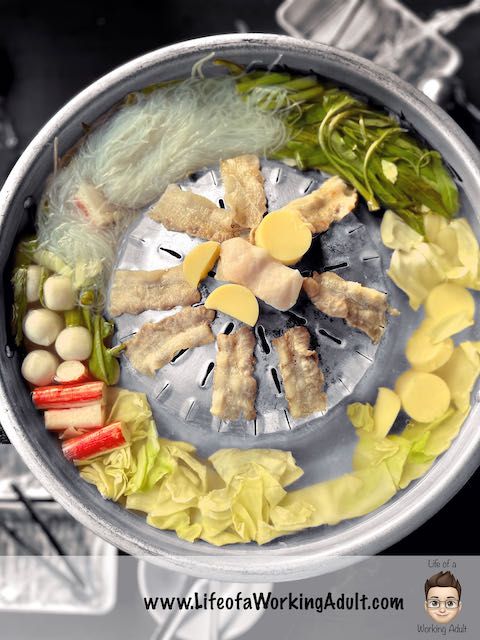 One thing I dislike about this place is that they use styrofoam plates as plates to pre-pack the meats and any other extra ingredients taken from the fridge. Although it's a cost-saving move from their end, it's damaging the environment in the longer term.
Price-wise, I would say it's really affordable to get a filling meal!
Would I come back here again? Maybe.
My Rating
80%: Ambiance
80%: Price (value for money)
60%: Taste
80%: Location (ease of parking)
70%: Service
74%: Overall Rating
Opening Hours
Open daily from 6 PM – 12 AM (except Tuesdays)
Address / Contact Information
017 493 0932
Zheng Zong Mookata
Jalan Pintu Sepuluh
Kampung Lubok Peringgi
Alor Setar, Kedah 05100
Malaysia