If you are looking for a different roti canai dining experience, do try Roti Canai Celaru. It is totally different from the one you get from the regular mamak outlets.
What is Roti Canai Celaru?
If you know the Malay definition of the word "celaru", you'd know that you're in for a confusing experience with this roti canai dish.
Did you know?
The term "celaru" in Malay, means confused.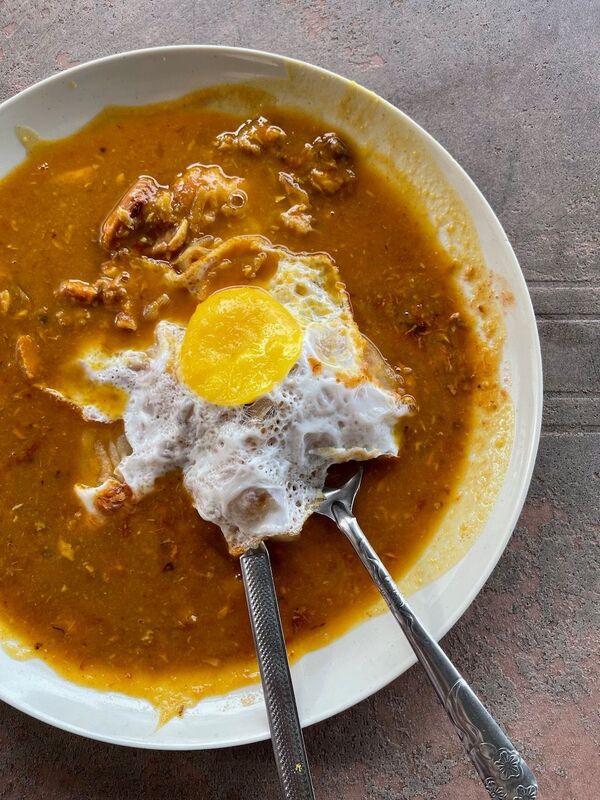 Basically roti canai celaru is roti canai drenched with a mix of gravies (dhal and anchovies sambal), with a side of sardine and topped with a sunny-side up fried egg.
Where is Roti Canai Celaru?
Assuming one is coming from the Alor Setar south exit toll, this place is located just along Lorong Teknik, which is on the way to Pekan Simpang Kuala. Roti Canai Celaru is a roadside stall, with just a stall with a makeshift tent as an extension, set up by the side of the road to serve its hungry customers.
There is a banner tied to a house gate adjacent to the tent though. But I'm assuming that is where they prepare the stuff they serve, as there is no seating space in there.
Tables are limited. So, be prepared to queue and wait for a table. Even on weekday mornings, this stall is packed. I was told that, during the weekends, some have waited for hours for their roti canai celaru. So be ready for a big crowds if you come during weekends.
Be prepared to wait – service is slow
It took me about 15 minutes to get a table. Once you get a table, it will be a couple more minutes before a worker would come to clean your table.
To get your food, this is a self-ordering stall. So, you need to go to the counter to get it done. Even so, it took me another 5 minutes just to get someone to attend to me to take down my order. However, once you place your order, things speed up somewhat.
The food came quickly soon after the order was placed, as they had just finished preparing a batch of the roti. For those of us who are familiar with this food, you will know that the cooking pan usually can accommodate 15 or 20 pieces at one go. There's a downside to preparing in batches though. By the time the roti canai was served, it wasn't hot anymore. Roti canai is best served hot, or at least warm.
Verdict
Although I'm always game for good roti canai, their roti canai celaru just didn't hit the spot. Maybe it's because I'm not the biggest fan of canned sardines. To me, roti canai and sardines just doesn't go together well. This is because the sardines tend to overwhelm the flour taste of the roti canai for me and that's one of the reasons why I like the roti canai so much.
For me, a good roti always has this slight taste of flour accompanied by the ghee used to cook it. But I am aware that many seem not to mind that. Maybe that's because they like the taste and smell of sardines.
However, I won't deny that the roti celaru is definitely unique and worth trying.
I also tried their roti telur. This is the regular roti telur that you get everywhere. I found that their standalone gravy was on the sweeter side. Again, when there is too much sugar in a curry, that tends to mask the tastes one is supposed to get from a particular dish. Sugar is often used to make food taste appealing.
I also tried their nasi lemak. It is plain. There was the usual sambal and a quarter of a boiled egg. There were hardly any anchovies. Taste wise, it was so-so.
Overall, the service could really do with some major improvements – like their ordering system, customer seating, and payment collection.
I was pretty agitated that when I was queueing, as there were some patrons that would just cut queue and snatch a table. I guess it should be even more chaotic during the weekends! They should have an orderly queue system on a first come first serve basis, rather than allow customers to stand next to a table to book the table. This can get really uncomfortable for the customers who are trying to enjoy their meal.
I don't think I will enjoy my food if there is someone standing over my shoulder all the time. And knowing that they want your table will just make you rush through your meal. This is a a big deterrent because sometimes we just want to go out and have a breakfast makan with company in tow. This place would be a bad choice then.
Would I come back? Probably not.
Read also:
My Rating
60%: Ambiance
75%: Price (value for money)
70%: Taste
70%: Location (ease of parking)
60%: Service
67%: Overall Rating
Opening Hours
Open daily from 7 AM to 1 PM (Closed on Sundays)
Address / Contact Information
011 3510 1614