Two weekends ago, Selangor was once again hit by water cuts… again. It can get rather frustrating when this is a recurring issue. My house water tank had run dry… like literally dry, and I had to find other options to get water. My local sundry shop had already ran out of bottled water, so I considered my options – go back to my hometown for the weekend or find an alternative place to stay with water. I chose the latter.
See also: Instagram (@lifeofaworkingadult) Gallery of Hotel Le Méridien, Kuala Lumpur
Parking at Le Méridien Kuala Lumpur
Located a stone's throw away from KL Sentral is Le Méridien. It is also walking distance to Little India's neighbourhood, home to a cornucopia of great foods. Since the hotel is located opposite the main transport hub, it's pretty easy to get to anywhere in the city that is accessible by public transport.
Checking In
Checking in was pretty much straightforward. The staff were both polite and efficient. Although I carried just one knapsack, the concierge attendants kept asking whether I needed help with my bag.
I booked the Deluxe Room with city view for the night at RM247.50 via Agoda.
The Room
I thought the rooms would be old and droll, given that the hotel is quite old (opened in Oct 8, 2004), but surprisingly it was not. First step into room, you will see that the room is modernly designed – with thoughtfully designed USB ports on both sides of the bed and at the desk to rain forest shower-heads. There was also a huge TV, a stand to put luggage and a desk area to work at. And oh, spanning at the end of the room are huge windows that gave me a panoramic view of the city.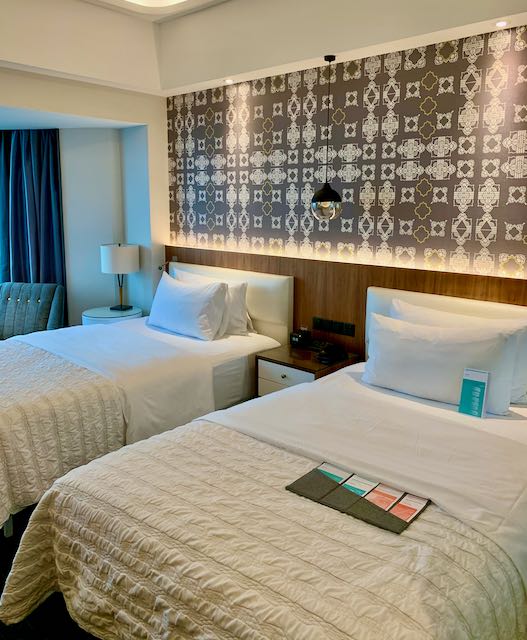 There is also a control panel by the bed whereby you can control the lights and air conditioning temperature and fan speed. You can also set an alarm should you require it. The only thing not available from this control panel is the option to open or close the curtains. It's something I have yet to experience as of today.
The mattress was pretty comfortable, but the pillows were a little too soft for my liking. If you're in need of WiFi, they provide free WiFi throughout the hotel.
The bathroom was pretty standard. You have your basic bath amenities – though this are provided by MALIN+GOETZ. The scents are pretty interesting though. I particularly enjoyed the sage body wash.
They also provide 4 bottles of Spritzer drinking water.
Facilities
The facilities here are shared between Le Méridien Kuala Lumpur and Hilton Kuala Lumpur. The facilities are connected by a walkway at Level 8, and guests from both hotels can use the pools and gyms.
Currently, due to the Restricted Movement Control Order, the maximum number of guests who can use the pool at any one time is capped to 15 people, and guests are required to register at the counter before swimming. The fitness centre also requires booking, and is capped to 12 people per session and closed twice a day for the entire facility to be fully sanitised. These special restrictions are expected to be in place till the end of the year.
Recommendation: ★★★★★
I would definitely recommend this place for anyone who's looking for a nice hotel to stay in KL. The location is great. They give you great service and they have enforced strict hygiene protocols in case you're worried about the COVID-19 pandemic.
Address
2,
Jalan Stesen Sentral
Kuala Lumpur Sentral
50470 Kuala Lumpur
Wilayah Persekutuan Kuala Lumpur
Contact Information
03 2263 7888