Looking for authentic Malay-style kampung food? Look no further! Try Gulai Ikan Temenung Haji Jamil. If you ever drop by Alor Setar, do try out this place! I am personally not a big fan of fried fish or fish curry, but my mom wanted to bring me to try this place out, so I went.
Gulai Ikan Temenung Haji Jamil
Located in the outskirts of Alor Setar at Kuala Kedah lies a quiant little restaurant called Gulai Ikan Temenung Haji Jamil, which is famous for its Gulai Ikan (Malay term for fish curry). I've always thought that Gulai originated from Malaysia, turns out that I was mistaken and it's actually from Indonesia.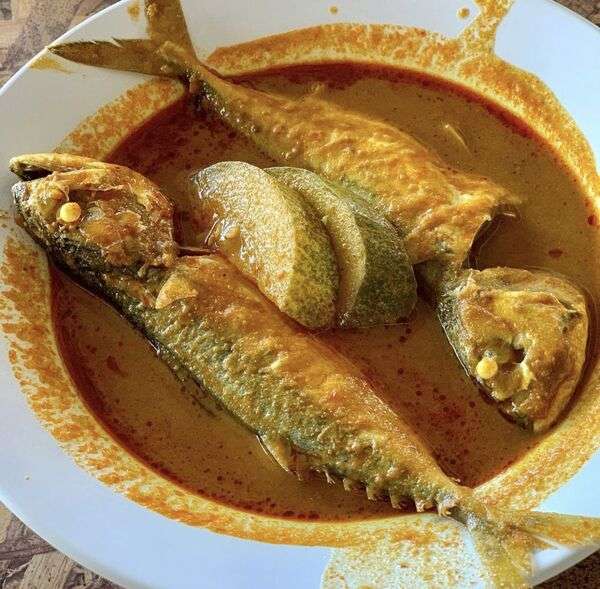 Fun Fact: According to Wikipedia, Gulai is a type of food containing rich, spicy and succulent curry-like sauce commonly found in Indonesia. Gulai is originated in Sumatra, Indonesia and is thought to be the local adaptation of Indian curry, developed and derived from Indian influence on Indonesian cuisine.
See also: Instagram (@lifeofaworkingadult) Gallery of Gulai Ikan Temenung Haji Jamil
This restaurant isn't like those atas restaurants / cafes you find in the city. It's more like a roadside stall, with rather old fittings and no air-conditioning… so expect to sweat a little should the weather be hot (like now), or sweat buckets if you can't really take spicy food! Cleanliness isn't top-notch either, do expect flies to buzz around when you're digging into your food.
It's a self service restaurant. I tried their Ikan Bakar Siakap (fried fish), Gulai Temenung (fish curry), sambal terung (brinjal in sambal), fried chicken, fried egg, bergedil (fried potato) and some veggie.
Verdict –

Recommended!
The fish curry in my opinion wasn't spicy enough, and I personally do not like sour curries (fish curries are usually slightly sourish). Give me Indian-style curry anytime! Their bergedil was nice!… though there was quite a bit of cilantro in it.
Read also: 咖哩麵/鹵麵 (Curry Noodles / Lor Mee) (aka Midnight Curry Mee) @ Pekan Cina, Alor Setar
Overall, the meal came up to a total of RM56.30 for 6 people inclusive of drinks. That's a really reasonable fare for quite a spread of dishes, given that there were two fishes in the fish curry, 3 fried chicken, 2 fried egg and 2 fried potato (as shown in the picture above). There's no way that this will cost as little in the city! Though I'd probably not come back again, given that I don't really like fried fish or fish curry that much, but for those who do, this is probably a place that you must try!
My Rating
60%: Ambiance
85%: Price (value of money)
70%: Taste
80%: Location
80%: Service
75%: Overall rating
Opening Hours
8 am – 6 pm (Sun – Thurs)
(Closed on Fridays and Saturdays)
Address