I have been hearing about Ali, Muthu & Ah Hock for quite some time now… saying that it's a must-try place for nasi lemak ayam goreng, and is comparable to the likes of Village Park. Though I had doubts that any nasi lemak ayam goreng can ever beat Village Park, I headed to their branch at Jaya 33 with my sister on a bright and sunny Saturday morning (and also because I had a buy 1 free 1 voucher from Grab).
See also: Instagram (@lifeofaworkingadult) Gallery of Ali, Muthu & Ah Hock
Ali, Muthu & Ah Hock
The name of the restaurant itself is unique. Ali, Muthu and Ah Hock are quite common Malaysian names, and it's something all Malaysian can engage with.
Parking was easy enough to find (paid parking though). The outlet was rather empty on a Saturday morning. There were no long queues, perhaps due to the fact that they have several outlets around Klang Valley / KL, and this outlet is located where there isn't much footfall on weekends.
The Food
Nasi Lemak Ayam Goreng – RM13.90
I ordered their nasi lemak ayam goreng (RM13.90), and my sister had the same (for free!) and limau ais (RM3.60).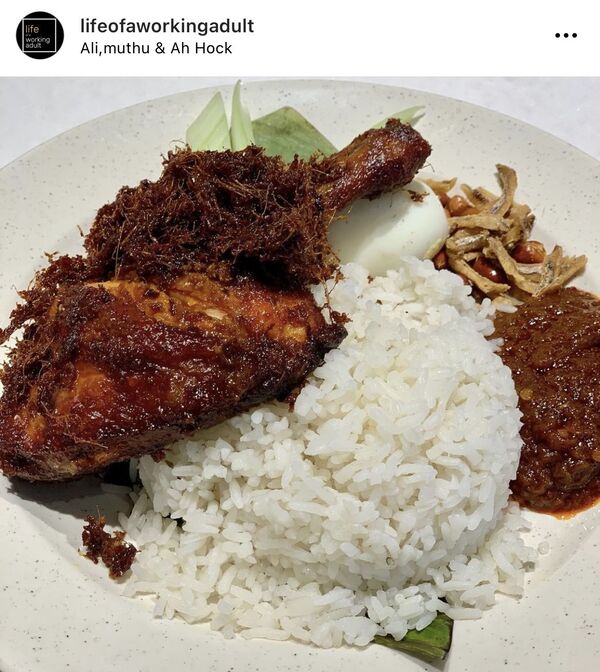 Served on a banana leaf on a plate, the rice was fragrant enough, the peanuts and ikan billis were crunchy, and the chicken was well-marinated.
As for their sambal, I didn't like it very much. It was just tasted a little off to me, as compared to the ones that I usually have. I felt that the chicken was over-fried and oilier than Village Park's (Village Park's sambal wins hands down!).
Their fried chicken skin here was much harder too! This was perhaps because the restaurant was pretty empty, and the fried chicken might have been sitting there for quite some time now.
Verdict
Overall, though it's still a decent plate of nasi lemak ayam goreng, I probably will never visit any of their outlets again, since it's not as good and pricier than Village Park.
My Rating
80%: Ambiance
70%: Price (value of money)
60%: Taste
70%: Location
90%: Service
74%: Overall rating
Opening Hours
Open daily from 8 am – 10 pm
Address / Contact Information
03 7932 2307
No. 3, PG03 Ground Floor, Jaya 33
Jalan Professor Khoo Kay Kim
Section 13
46200 Petaling Jaya
Selangor