Disclosure: Some of the links in this post are

affiliate links

. If you buy something through one of those links, you won't pay a cent more, but we'll receive a small commission, which helps keep the lights on. I never put anything on the page that I haven't personally verified and used.
For more information, check out our Privacy Policy.
COVID-19 struck fear when it first came out at end of 2019. By March, 2020 thanks to modern aviation, it had found foothold on practically every continent. Malaysia entered its first total lockdown phase at the end of March last year. Fear was palpable everywhere. People were told to observe strict measures to avoid being infected. All of us were advised to head straight to the bathroom, bathe and change each time we went out. Many went to the extent of disinfecting even their groceries.
Everyone COVID-19 was deadly and we there was very little we knew about it. Hence, you had everything going overdrive. A year on, the virus is now evolving into different strains and it is even more contagious and as deadly as before. However, our understanding of the virus has also increased. We now understand with certainty on how COVID-19 spreads and now we have more tools to help us combat the disease.
The Carbon Dioxide Sensor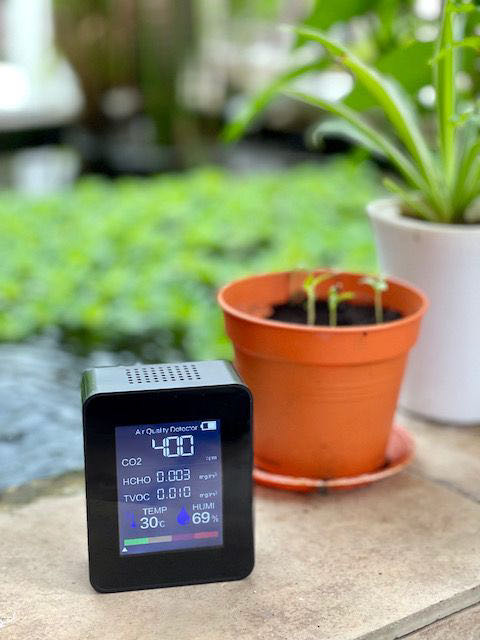 The carbon dioxide ("CO2") sensor is one such tool. Our exhaled breath is filled with CO2 and this is where this compact little gadget comes in handy. The name says it all. This little tool measures the CO2 of its surrounding. Other than that, it also measures humidity, temperature, formaldehyde (HCHO – in mg/m3) and volatile organic compounds (TVOC – in mg/m3). I bought it primarily to test the carbon dioxide levels around me.
The virus can spread from an infected person's mouth or nose in small liquid particles when they cough, sneeze, speak, sing or breathe. These particles range from larger respiratory droplets to smaller aerosols.

World Health Organisation
We know now that COVID-19 is usually transmitted by inhaling the exhaled breaths of those infected. While we can't confirm the existence of COVID-19 with this little tool, it does something else. It measures the amount of CO2 present in the area – an indication of whether the place has good ventilation, and that will give us an idea whether that particular area is at a higher risk of having the airborne virus.
CO2 levels – an indicator of good ventilation
Normal CO2 levels outside are below 400 parts per million (ppm). So if you have numbers higher than that, your place has poor ventilation. You are potentially inhaling stagnant air that is likely coming from other people. With this tool, you will know if an area has good ventilation. Once poor air quality is established, you can take steps to improve ventilation – which helps to lower the risks of infection.
| CO2 Levels | Indication |
| --- | --- |
| 250 – 400 ppm | Normal background concentration in outdoor ambient air. |
| 400 – 1,000 ppm | Concentrations typical of occupied indoor spaces with good air exchange. |
| 1,000 – 2,000 ppm | Complaints of drowsiness and poor air. |
| > 2,000 ppm | Headaches, sleepiness and stagnant, stale, stuffy air. Poor concentration, loss of attention, increased heart rate and slight nausea may also be present. Prolonged exposure may lead to serious oxygen deprivation resulting in permanent brain damage, coma, and even death. |
I tested out a unit which I got from Lazada, and got others to test it out for me at other areas. The first place I tested out, of course was the house. Smaller rooms had higher readings while the hall downstairs had an almost normal reading – generally hovering between 400 – 500 ppm. In the garden, the readings hovered between 400 – 410 ppm.
Did you know that Earth's CO2 passed the 400 ppm threshold in 2015 and has never fallen below 400 ppm since?
Then I had my mom test it out at school and this is what she recorded for me.
In the morning when she entered the class, the reading was 400+ ppm. As the day got warmer, it climbed up a bit. Then she had her first class. 12 students and one teacher, and the reading shot up to 1125 ppm. The air-cons and ventilation fan were switched on and readings returned to 400+ ppm after about 10 minutes. This showed that the ventilation fan was quite effective in clearing the room of the CO2. The readings stayed at 400+ ppm for the rest of the lesson.
Should you get one?
In my opinion, I think this little gadget is quite helpful in helping us understand the quality of air around us. While it is not a total solution to reduce the risk of COVID-19 infections (or any other infections diseases for that matter), it does remind us that we need to open the window frequently to get the air circulating.
Read also: Apple HomePod Mini – A Malaysian Review
Do take note too that this little guy measures just CO2 levels, and not whether COVID-19 is present – which means that in times like this when COVID-19 is still on a rampage, measures such as wearing masks are still most effective in making sure that the virus doesn't get airborne. When things return to normal, it's still a good tool to have around as it will remind us of our air quality. In certain countries, pubs fix this tool to help them monitor the air. When the readings go above 2000 ppm, you'll know that over capacity is happening.
The model I got was from Mainland China, it's about half the price of those sold locally.
There are similar ones on Shopee, but it's slightly more expensive.