Located on the 58th floor of Banyan Tree Kuala Lumpur, is Horizon Grill – a restaurant with both good food and a splendid panoramic view of the PETRONAS Twin Towers and KL Tower as its backdrop.
Meet the Chef at Horizon Grill
As the name suggests, Chef de Cuisine Daniel Wong and his team offers a carefully curated menu of fresh seafood and premium steaks. They also have an extensive wine list. I was pretty excited to dine here, and had high expectations, given the location of the restaurant and the experience of the chefs.
Chef de Cuisine, Daniel has worked in several prestigious establishments in Asia including Beijing, Hong Kong, Singapore and Kuala Lumpur; and most notably, apprenticed under the acclaimed Chef Joël Robuchon. He headed the opening team for Opera Bombana Beijing, a sister restaurant to three other Michelin star restaurants, and currently heads a team of culinary specialists at Horizon Grill, a gourmet restaurant overlooking the city on the 58th floor of Banyan Tree Kuala Lumpur.
Parking at Banyan Tree
Parking is fairly easy to find, albeit expensive! You can either park in Banyan Tree itself, or opposite in Pavilion.
Parking Rates:
Banyan Tree
Mon – Fri
RM5.00 1st hour or part thereof
RM4.00 Every subsequent hour or part thereof

Sat, Sun & Public Holidays
RM6.00 1st hour or part thereof
RM5.00 Every subsequent hour or part thereof

Pavilion Kuala Lumpur
Daily
RM3.00 1st hour of part thereof
RM3.00 Every subsequent hour or part thereof
RM30.00 Maximum charge per day

Mon – Fri
RM8.00/Entry 5PM to 7AM

Sat, Sun & Public Holidays
RM10.00/Entry 5PM to 7AM
See also: Instagram (@lifeofaworkingadult) Gallery of Horizon Grill @ Banyan Tree, Kuala Lumpur
Horizon Grill
Horizon Grill greets its customers with a pleasant and inviting atmosphere. Large ceiling fans and windows, and tasteful decorations strategically placed around the restaurant, giving the place an inviting atmosphere and classy feel.
The service here is fantastic! I was served by Hanif Adenan (Contact: 017 318 4256). He was attentive, and recommended me certain dishes to try as it was my first time here. You may also call him should you wish to make any bookings in advance (as well as your preferred seating choice – either indoors or the outside terrance).
Whilst waiting, bread was given and Hanif brought a collection of knives to pick from for the mains.
Appetisers: Crustacean Bisque – RM128
To start, I tried their Crustacean Bisque (RM128) – it contains warm crab meat salsa, salted lemon, saffron rouille and lobster foam. The taste is somewhat unique and different as compared to the other soup dishes I've had so far. It has a striking aroma, and was surprisingly flavourful and nice, though I would say it is a dish of acquired taste.
The Mains: Australian Lamb Rack – RM148 & O'Conner Tenderloin – RM148
For the mains, I tried their Australian Lamb Rack (RM148) and O'Conner Tenderloin (RM148) cooked medium rare. It was on their promotional menu after the Movement Control Order ("MCO") was lifted. To top it off, I also received an additional 30% off as their re-opening special after MCO (I'm sorry to say that this promo has ended).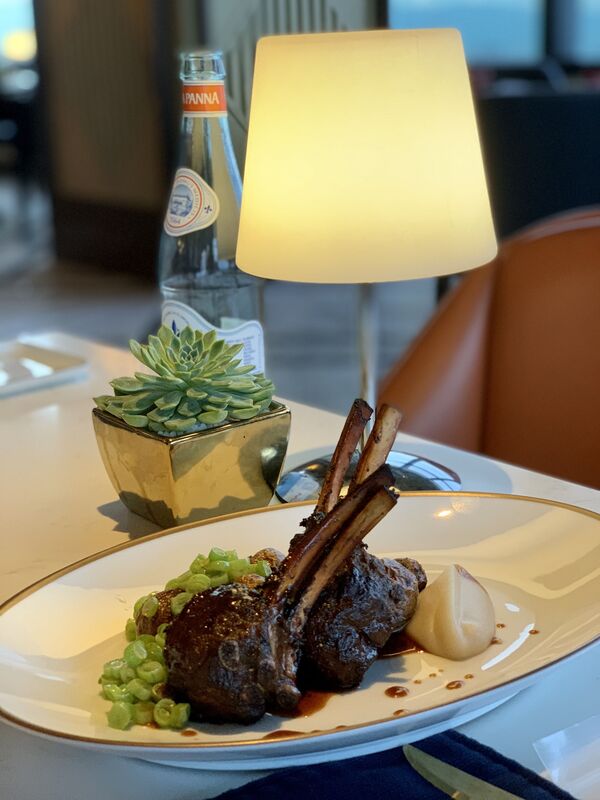 The lamb served with baked baby potatoes was exquisite. It was radiant with flavours, and very tender.
The tenderloin was juicy, but it was not particularly flavourful. The sauce paired the tenderloin well. This kind of cut can be tricky to cook at times, as when it gets overcooked, it can turn dry and tough.
Did you know? The beef tenderloin is an oblong muscle called the psoas major, which extends along the rear portion of the spine, directly behind the kidney, from about the hip bone to the thirteenth rib. It doesn't get much exercise, which is why the meat is so tender. It's encased in a thick layer of crumbly fat known as kidney fat or suet, which can be used in much the same way as lard.
Verdict
Would I go back again? For the price – a clear no. But for the experience, it was definitely worth it.
P.S. There is a dress attire requirement to dine here – smart casual.
Check out also:
My Rating
95% : Ambiance
60% : Price (value for money)
80% : Taste
90% : Location (ease of parking)
95% : Service
84% : Overall Rating
Opening Hours
06:30 AM – 10:30 AM Breakfast
12:00 PM – 03:00 PM Lunch
06:30 PM – 10:30 PM Dinner
Location / Contact Information
03 2113 1821
Horizon Grill, 58th Floor
Banyan Tree Kuala Lumpur
2, Jalan Conlay
50450 Kuala Lumpur