This is my first ride on KTM ETS Business Class. It's been more than 2 decades since I took a train ride, LRT/MRT rides notwithstanding. I guess it has to do a fossilised mindset that road and air transports are superior to rail. However, I was in KL and needed a transport back. I didn't want to fly so I went for KTM ETS Business Class.
Travelling by rail always makes me think about HSR which was put on hold. There is still no HSR as yet for Malaysians. I think many are looking forward to the day when we can have bullet train services. Can't see why countries like Uzbekistan have high speed trains and Malaysia doesn't. It would have made travelling so much more efficient.
For a small country like Malaysia, the role of a well connected rail network can bring so much more. Add that to the fact that we are seeing so many more cars on the road, post pandemic, an efficient rail service would certainly not be in want of passengers. For now, I should think that KTM ETS Business Class is the pride of comfort in rail travel in Malaysia. You can read more about the service here.
The ride
I boarded the KTM ETS Business Class at KL Central. You can read more about KTM's ETS Business Class which is part of their KTM ETS Platinum Service here. Destination was Alor Setar.
If you board at KL Sentral with a KTM ETS Business Class ticket you will get to use the Ruby Lounge while waiting to board the train. The KTM ETS Business Class Coach has its own dedicated steward. A schedule plastered to the door of the lounge when we arrived. It stated the lounge opening times for each different ride. The lounge would be opened for about 40 minutes for Business Class passengers prior to a train leaving the station. Guess they don't want people hanging around too long in the lounge, less it gets too crowded.
My train was scheduled to depart at 9.50 a.m. For my ridle, the lounge was supposed to be opened for the KTM ETS Business Class passengers from 8.55 a.m. to 9.35 a.m. I arrived at the door to the Ruby Lounge slightly past 9 but the doors was still locked. It was almost 9.10 a.m. before the doors finally opened. KTM needs a little work in keeping to their own schedule.
A carpeted lounge greeted me when I entered. Grey and red sofas with numbers on them were neatly arranged throughout the room. 2 sofas shared one side table. The coach steward came to scan our tickets while we were waiting. It was comfortable.
There was also a drinks corner where you have a choice of coffee, milo and teh tarik – all from the same machine. There was also a Coway water dispenser for those who just want plain water. This is a nice touch.
Coffee was not too bad, I must say. The Ruby Lounge for KTM ETS Business Class passengers also has its own attached toilets. When boarding time came, there was a dedicated lift for passengers to bring the passengers down to the boarding area. I find this quite nice. From the lounge which is located on the first floor, I could see a sea of people on the ground floor waiting to board their trains.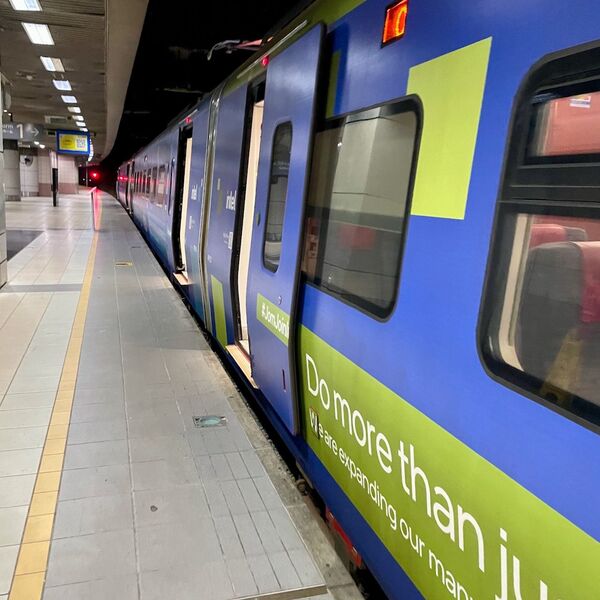 We were allowed to board the train. We took the dedicated lift and when I got down to the train, I could see that we had been allowed to board first. The first thing that struck me when I boarded Coach A was the space. There were only 3 seats in a row. That gave me plenty of leg room. You can also put your seat down and rest your feet at the feet rest attached to the seat in front. A big size person would fit there quite comfortably. Incidentally, only Coach A is dedicated as the Business Coach for KTM ETS Platinum trains.
You even have ample leg room and space for your luggage. For those with bigger luggage bags, there is an additional space at the back (front) of the coach where you can put your extra large bags. Above every seat is the baggage compartment. There is also one charging point for each passenger. I had hardly settled in when the train started to move. It was 9.50 a.m. and the train left as per schedule. 
The food just keeps on coming! 
45 minutes into the ride, the first round of food was served on KTM ETS Business Class. Our friendly and polite steward cheerily handed out the food. Service was good.
You have an option of coffee and tea with a curry puff and mini cream cheese-jam tart. They weren't too bad although the puff was a little too salty for me. But the morning tea was a nice start to the journey.
I didn't really feel bored too. The first hour passed quickly enough as I was typing away on my iPad. The food tray made a good work tray.
Also, each time you looked up in KTM ETS Business Class, there were all these screens which will tell you our location, speed and even outside temperature. These are nice features as you are always in the know where you are. I think one of the downside of rail travels in the past is you were often time left in a lurch, not knowing where along the track you are.
As the train 'chugged' along, I took a walk down the coaches. KTM ETS Business Class is usually the first (or the last) coach, depending on which direction you are travelling. The toilet is just right after (before) it too. It was clean enough but Malaysian toilet habits still have some way to go. Users just can't seem to make it a point to keep the toilet dry. But there was a cleaning staff who seems to be making frequent checks and cleaning.
2 coaches away, I came upon the 'cafeteria' which was really tiny. There were only 2 side tables opposite the cafeteria counter. Half the cafeteria coach is shared the with economy class passengers too.
The internet connection? Meh 
This is one area which could do with a lot of improvement. Internet connection was at snail pace more often than never during the journey. Better connections appear each time we rode into a station. Once we left, the service would turn snail pace, or none at all. I gave up trying to use their onboard screen to look for information an hour into the trip.
Many of my searches ended up with the message "Safari cannot open the page because the server cannot be found." If at all I am able to use it, a page takes exceedingly long to load. Using my own hotspot enabled me to get more done. So, that makes me wonder why KTM is not making attempts to upgrade its internet service. After all, the Business Coach is supposed to appeal to the business travelers.
Some thoughts on public transport space
Space is always a premium on public transportations. The above picture is that of the economy class. The space is tight as each row fits 4 seats compared to 3 in the KTM ETS Business Class. Profit is tied closely to space. Hence, you will always find service providers trying to squeeze as many passengers as they can to maximise their profit.
However, I wonder with technology this might change in the future. Will every traveller get the benefit of his/her own space or cubicle in the future since everything can be tailored to the minutest detail. In the Economy coaches, the space was actually quite cramped. If you happen to sit beside an XL sized person, you will be in for a most uncomfortable journey.
Pior to departure, we were informed that lunch will be served once we pass Ipoh. It was served at 1.00 p.m., just right after the Ipoh stop. This is where I was pleasantly surprised too. Food was long grain rice, with chicken curry and acar. Taste-wise, it was quite appetising. It was a meal that looked simple but was tasty. I rather enjoyed it and can see that the passengers around me did too.
Along with lunch, a snack box containing a mini Sunquick orange drink with a Kit Kat chocolate bar and 2 mini packs of salted peanuts were given. Service wise, in terms of food I think passengers have no chance to feel hungry.
Final thoughts 
Journey in the Business Coach was basically quite comfortable throughout. You get a nice view too when you look out the window. If time is not a constrain, taking a ride on the KTM ETS Business Class is actually a rather pleasant experience. My journey was delayed a little due to a tree that fell across the track, but they managed to clear it quite quickly.
The space in Business Class which translates to less people in one coach makes all the difference too. You also feel rather special travelling via business class with all the service, especially with so much food, which is a reflection of a typical Malaysian hospitality. Would I travel by KTM ETS Business Class again? The answer is most likely a yes because it is nice to be pampered a little while travelling. KTM ETS Business Class does just that for you.