Welcome to The Daily Fix, where people come from far and beyond to get their fix of gula melaka goodies.
The Daily Fix
The Daily Fix is a well-known cafe located in the historic town of Melaka in Malaysia. It is situated in a shophouse at Jalan Hang Jebat, or by the more known – Jonker Street, which is a popular destination for locals and tourists alike.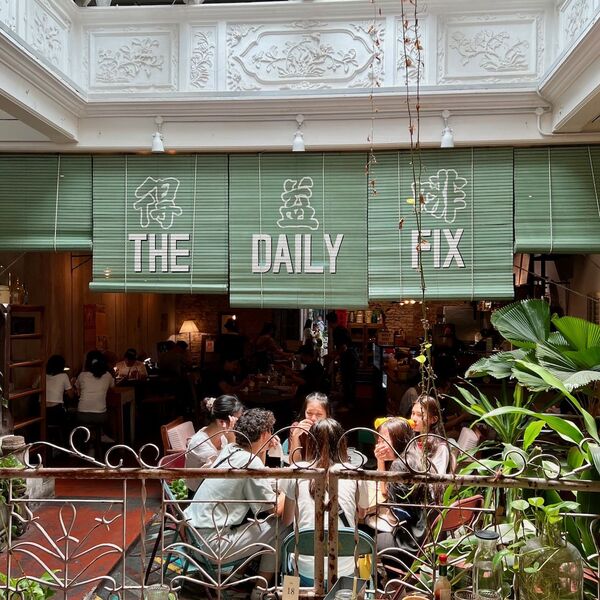 The surrounding area is filled with colourful shophouses, boutique stores, and street vendors selling a variety of goods, from souvenirs to local delicacies. Jonker Street is also known for its night market, which takes place on Friday and Saturday nights.
Did you know?
The Stadthuys is a historical structure situated in the heart of Malacca City, the administrative capital of the state of Malacca, Malaysia in a place known as the Red Square. The Stadhuys is known for its red exterior and nearby red clocktower.
Within walking distance of The Daily Fix, you'll find many other notable attractions, including the Stadthuys – a 17th-century Dutch building that now houses the Melaka Museum; the Cheng Hoon Teng Temple – one of the oldest temples in Malaysia; and the Melaka River, which offers scenic boat tours and is lined with street art and murals. Explore activities to do in Melaka on Klook!
The restaurant has a cozy and rustic ambiance, with wooden furniture, vintage decor, and soft lighting, which creates a relaxing atmosphere for customers. It is well-known for its delicious coffee, which is made with locally sourced beans and roasted on-site, as well as its selection of homemade cakes, pastries, and sandwiches. Their signature dish is their pandan pancakes, but more on that later.
I came on a weekend with my family. As expected, there was a waiting time of about 30 minutes for a table. This place is really popular and gets real crowded on weekends! It is not uncommon to wait for 20-30 minutes to be seated, especially during peak hours like breakfast and brunch. If you plan on visiting The Daily Fix on a weekend, it's advisable to arrive early to avoid long waits.
Once you have been assigned a table by their staff, you can place your order. The Daily Fix operates as a self-service cafe, where customers place their orders and make payment at the counter.
The food came pretty quickly after making payment.
The Food
The Daily Fix offers a diverse range of food and drinks, though its menu mainly features western food with a twist of traditional Malaysian flavours and ingredients.
Pandan Pancakes – RM15
The Daily Fix is famous for their pandan pancakes, a must-try when visiting the restaurant. These pancakes are made with pandan-infused batter, which gives them a distinct green colour and a subtle, sweet aroma. Inside the pancake, it is also stuffed with gula melaka.
The pancakes are served with homemade gula melaka syrup, which is a type of palm sugar that is commonly used in Malaysian cooking. The syrup is rich, caramel-like, and has a distinct smoky flavour that complements the sweetness of the pancakes.
The combination of the soft and fluffy pandan pancakes, together with the sweet and smoky gula melaka syrup, creates a heavenly flavour that many customers rave about.
Gula Melaka Cake – RM10
This was the first time I've seen a gula melaka cake. It is topped with a generous scoop of coconut palm sugar.
The cake is mostly sweet, thanks to the use of gula melaka, which has a distinct caramel-like taste.
Drinks – Iced Salted Gula Melaka Coffee – RM14; Mango Passion – RM15
The salted gula melaka coffee is a first for us. The coffee is light, with a rich caramelised taste. Plus there seemed to be a nutty with a tinge of butterscotch taste. So if you love the taste of butter, this coffee will probably hit the spot for you. Also, for those with sugar dietary restrictions, the good news with gula melaka is it has one of the lowest glycemic (GI) among the different types of sugars. It has a GI35 compared to table sugar or sucrose GI65. So, salted gula melaka coffee can be an occasional treat for those who needs to watch their sugar more than the others.
I did a quick search to see if there are salted gula melaka coffee available commercially and found a couple available. But I am not sure whether it's 100% legit, since pure gula melaka is expensive.
Verdict
The meal set back a total of RM62.95, which includes a 10% service charge and 6% tax.
Overall, The Daily Fix has something for everyone, whether you're looking for a hearty breakfast, a light lunch, brunch, or a sweet treat to enjoy with a drink.
Check out also:
My Rating
85%: Ambiance
75%: Price (value for money)
85%: Taste
80%: Location
80%: Service
81%: Overall Rating
Opening Hours
Open daily from 9:45 AM to 5:30 PM
Address / Contact Information
+6013 290 6855