If you're looking for a no-frills food court stand serving good mookata (Thai barbecue) around Ang Mo Kio area, Bangkok Street Mookata is the place to go!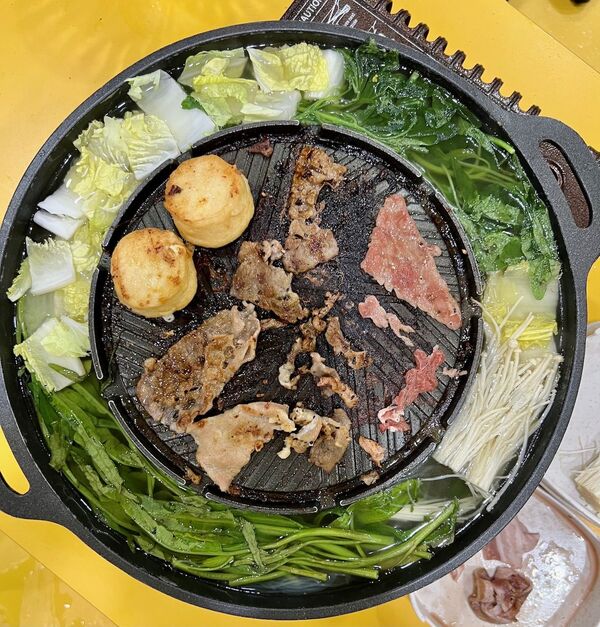 I am a huge fan of mookata (Thai barbecue)! If you have been following my blog for quite some time, you'd have known that I have tried several mookata establishments around Malaysia. What makes or breaks a good mookata experience is the quality of ingredients used, the soup, and dipping sauces.
Check out:
Bangkok Street Mookata
Bangkok Street Mookata is actually quite popular around Singapore. They have a total of 10 outlets around Singapore. Surprisingly, I didn't know about their existence until I stumbled across their outlet at Ang Mo Kio while exploring the area.
Full list of their outlets:
• Ang Mo Kio – 421 Ang Mo Kio Ave 10 #01-1149 S560421
• Bedok – 88 Bedok North St 4 #01-125 S460088
• Bukit Merah Central – 165 Bukit Merah Central #01-3683 S150165
• Jurong East – 286E Toh Guan Rd #01-01 S605286
• Jurong West – 498 Jurong West St 41 #01-426 S640498
• Punggol – 312A Sumang Link #01-05 S821313
• Sembawang – 334A Sembawang Close #01-01 S751334
• Toa Payoh – 211 Toa Payoh Lor 8 #01–01 S310211
• Upper Thomson – 14 Jalan Kuras S577728
• Woodlands – 61 Woodlands Ind Park E9 #01-30 S757047
The Bangkok Street Mookata Ang Mo Kio branch is located at a slope side under a HDB. At first glance, it looks like any other hawker center. But look closely and you'll see that many tables are actually filled with patrons enjoying mookata. There are also other stalls available at the hawker center, though most of them close before the evening hits. In the evening, it fully transforms into a mookata place.
How to place your order? First, you'll need to secure a table. Once you have a table, you'll be provided with a food order chit for you to tick and indicate the quantity of what you want. Then, bring your completed order chit to the counter and make payment. There are no pictures on the order chit though.
When I arrived at about 6:30 PM, there was already a short queue waiting for a table and another queue at the counter to order. By 7 PM, the tables were fully occupied and there was a short queue waiting for tables.
How to Mookata like a pro?
To eat mookata, you first need to lather the pork lard to grease the metal skillet, on which you subsequently grill the meat on. Soup is poured into the moat surrounding the metal skillet, of which you can boil vegetables and other foods. They use a gas stove here.
Did you know?
'Mu krata' or 'Mookata', is a Southeast Asian cooking method, originating from Thailand. The word "mu" means 'pig' or 'pork' and krata is 'pan' or 'skillet' in Thai. Mu krata resembles a combination of a Korean barbecue and a Chinese hot pot, just that the Thai version uses charcoal.
Over time, the soup takes up the essence of the grilled meat juices that flow down as you grill the meat on the metal skillet. The combination of both the boiled vegetables essence and meat juices creates a flavourful and rich soup.
The Food
Platter for 2 – $25
I ordered the Platter for 2 for $25. The platter for 2 had marinated chicken thigh, marinated pork collar, marinated pork belly, smoked duck, prawn, scallop, squid, fishball, crabstick, chinese cabbage, xiao bai chye, sweet corn, golden mushroom and egg. This platter is great value for money, and is the best option for those who like variety and will eat everything in the set.
I loved their marinated meats that came in the platter. The protein served were all sliced thinly which helped in the grilling process of getting it cooked quickly. Although it looked plain, it was well marinated and flavourful.
The vegetables served were all clean. I added kang kong for $1.90.
They also provide a generous jug of soup for you to refill the soup on your skillet once it runs low. The soup quickly became rich and savoury from all the meat juices dripping into it.
Sauce-wise, they have two dipping sauces to pair with the barbecued meats. Both are on the spicier side. I enjoyed the sauce on the right, because it has a pronounced sweet savoury salty flavour, with a hint of coriander that pairs well with the barbecued meats.
Thai mango salad – $7
In their food order chit, there are also food available from other vendors in the hawker center. One of them is this awesome Thai mango salad (som tum mamuang).
This Thai mango salad had the right balance of mango, roasted peanuts and dried shrimp. Although the mango was on the softer side, it paired really well with the barbecued meats from the mookata.
Verdict
Overall, Bangkok Street Mookata is highly recommended. I really enjoyed the food here! It was well prepared although it is in a hawker center setting. Price-wise, it was also really reasonable for the generous portions, and as compared to some of the other mookata establishments nearby.
Service was great as well. The food came promptly after I placed my order and paid for the food at the counter. The staff were really observant as well. Because we were sitting just right beside the fan, one of the staff noticed that the food was cooking rather slowly, and provided an aluminium foil cover to wrap around the stove to prevent the heat from dissipating quickly. Subsequently, when my gas stove ran out of gas, the staff was also quick to replace the gas canister.
If I ever have a craving for mookata in Singapore, I'll definitely be back to fix my mookata cravings at Bangkok Street Mookata.
Check out also:
My Rating
70%: Ambiance
85%: Price (value for money)
80%: Taste
80%: Location
90%: Service
81%: Overall Rating
Opening Hours
Open daily from 12 PM to 10 PM
Address / Contact Information
+65 8855 2929