Orchard Road in Singapore is famed for its luxury retail outlets, world-class international cuisines, and entertainment hub. That doesn't mean you can't find affordable eats for under $20.
49 Seats at The Centrepoint, Orchard
49 Seats is a local restaurant known for its affordable fusion style dishes such as Tom Yam Seafood Pasta and Salted Egg Popcorn Chicken.
Apparently, the first outlet of 49 Seats that opened in Kreta Ayer Road had a seating capacity of exactly 49 seats. Hence, its name. However, after a restructuring exercise in 2017, they have since closed down their three branches and now operate from a single outlet at The Centrepoint. Their 49 Seats Orchard branch is super hidden within The Centrepoint mall. I had to explore the place quite a bit before I found the restaurant.
Unlike their first outlet, this outlet has a large space at The Centrepoint that can accommodate way more than 49 diners. There is still a connection to the number 49 though – their outlet at the Centrepoint is located at Unit #01-49.
Interior-wise, the place looks like an industrial park canteen. The dining table and chairs are all made of metal, and so are the decor on the walls. It is definitely unique and eye-catching. My only thought was the cleaning required to keep it dust free.
The menu of 49 seats is not extensive but you get all the usual Western cafe standards like fish & chips, chicken chop, pasta and finger foods. The menu also has some interesting fusion dishes like Smoked Duck Pasta and Pan Fried Fish with Tom Yum Sauce. To order, you'll need to head to the front of the store and pay upfront for the food ordered. They'll send your order to your table thereafter.
The Food
Creamy Smoked Duck – $14.90 (Upgrade to Set Meal + $4.90)
Although the 49 Seats' Creamy Smoked Duck looks very messy when served – like pasta simply thrown onto the plate, it was creamy enough, and the smoked duck was very tender.
Taste-wise, it was on the saltier side though.
Fish & Chips with Tom Yum Sauce – $16.90 (Upgrade to Set Meal + $4.90)
Now, this is a combination you don't see everyday – fish and chips with tom yum sauce. Each fish / chicken main course comes with a choice of 2 side dishes. For side dishes, you get to choose from mashed potatoes, pasta salad, fries or garden salad.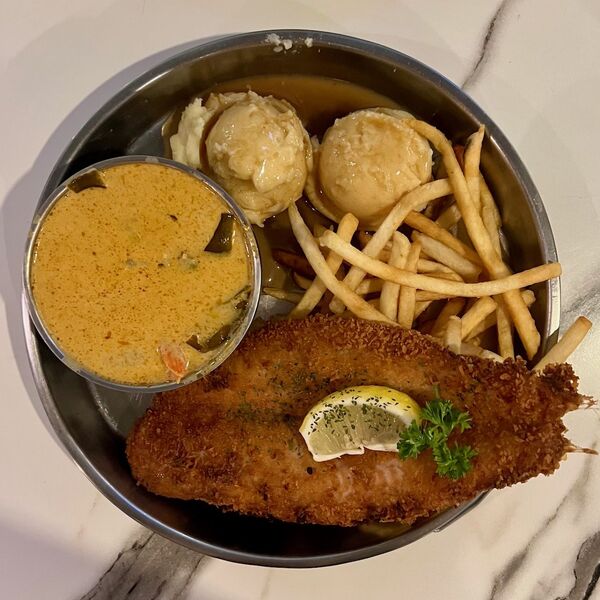 I chose mashed potatoes and fries as my sides, but I didn't know the portions were huge! That meant that I had excessive carbohydrates, though the sides were good as well. The batter of the fish was crispy and the fish had a nice clean taste with good texture. What surprised me was that the tom yum sauce actually had seafood in it – mussel and prawns. I thought I'd be getting just plain tom yum sauce. The sauce was on the saltier side though.
The combination was surprisingly brilliant – the tom yum sauce paired well with the fried fish, which wasn't seasoned much. It balanced out the saltiness of the sauce. The smart fusion of Thai tom yum and Western fish and chips was refreshing.
For all mains, you have the option to upgrade it to a combo set for $4.90. Each set comes with soup of the day and a soft drink. The soup of the day was cream of mushroom, which was served with garlic bread.
Verdict
It is easy to understand why 49 Seats are popular restaurant in Orchard area. If you're hungry and need a big and hearty meal, 49 Seats is a place that should please the palate and the pocket. They also do not impose a service charge on diners here.
Food here is generally on the saltier side. But nonetheless, it's a refreshing take on Thai meet Western cuisine.
If you plan to visit 49 Seats, you may reserve a table beforehand here.
Check out also:
My Rating
80%: Ambiance
75%: Price (value for money)
70%: Taste
80%: Location
80%: Service
77%: Overall Rating
Opening Hours
Open daily from 11.30 AM to 11.30 PM
Address / Contact Information
+65 6225 4332