Laksa is one of the world's best foods. The late Anthony Bourdain would have a bowl of laksa each time he passed through Malaysia. He deems laksa as befitting as a breakfast for the gods. Laksa is a favourite for many Malaysians and there are many versions of it.
What is laksa?
The 2 most distinctive versions are the laksa lemak (aka curry laksa) and asam laksa. What makes laksa so popular is probably the flavours that it carries. The tangy and spicy broth from usually ikan kembung is as Malaysian as it can get. It is believed that the Baba and Nyonya (Peranakan) created the laksa by adding coconut milk, chilli and other local herbs to the basic Chinese noodle soup. It has evolved into what we Malaysians today call laksa.
Most laksa is served with mint leaves, pineapple, onion and cucumber slices as toppings. There are some who will thrown in a hardboiled egg for more flavours. And get this, every state in Malaysia claims to have their own version of laksa today.
Laksa Ong
It was a friend told me about Laksa Ong. Otherwise, I would not have thought to venture here. Since it was highly recommended by my friend, I thought it would be nice to check it out.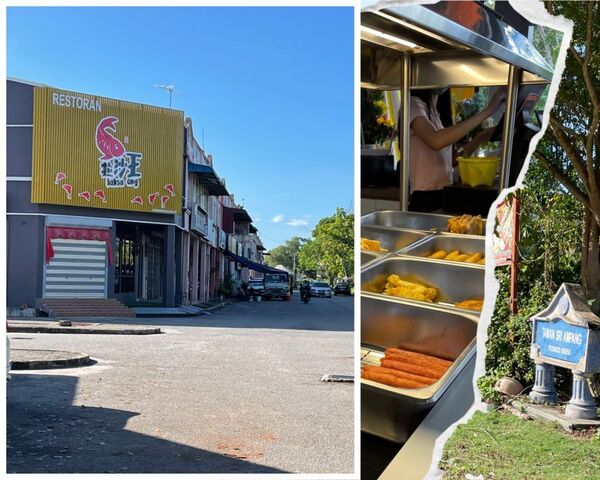 Locating it wasn't too hard considering there is only one row of shop houses at Taman Ampang. Add that to the sheer size of the shop's huge signboard and eye-catching yellow colour background, it is just really not easy to miss Laksa Ong.
Another plus point Laksa Ong is located out of the city centre. Hence, parking is not a problem when you visit this restaurant.
Laksa Ong is a restaurant which provides a different sort of laksa experience. You get to eat laksa in a nice air-con place, quite uncommon in Alor Setar.
The food at Laksa Ong
It was already quite near their closing time (they close at 5 p.m.) when I met up with some friends there. There wasn't much things left for us to order too. All their specials for the day were also sold out. I had actually wanted their mix laksa when I saw their menu but their assam laksa was out. So I had to make do with the laksa lemak.
The lobak was so-so. The brown sauce didn't have much aroma or flavours to it. To me it was quite bland. Good lobak is not just about the fried snacks only. The chilli and brown sauce play very important roles to bring out the tastes of the different fried snacks that make up the lobak. Out of a score of 10, I'd give this a 6.
The shaved ice or bingshu was quite a nice experience. Though simpler than MyKori's complicated dessert offerings I think it is comparable. In Laksa Ong you get flavours from a few types of fruits. I ordered their honey melon bingshu. The ice was really smooth and it felt a little gelatinous to me, sort of like an ice cream but not too sweet. I didn't add the sugar water into the ice. It was just as nice for me as it was. The jelly and honey melon balls went well with the shaved ice.
The above meal with a glass of iced tea came up to about RM45, not really cheap for an afternoon tea for 3.
Would I go back again?
The answer is yes. Laksa Ong is a nice place to hang out, especially in the afternoons. It's usually hard to find a nice comfortable place to sit and just hang out with friends in the afternoons in Alor Setar. The outdoors are just so hot most of the afternoons. There are 2 types of hot weather here, the dry hot and the humid hot. Both are equally uncomfortable.
Either way, at Laksa Ong, you can enjoy your familiar local hawker fares and have them in a cool and comfortable place. The service is friendly and the place is also clean. The only snag is it closes at 5 p.m.
Check out also:
My Rating
80%: Ambiance
70%: Price (value for money)
75%: Taste
90%: Location (ease of parking)
85%: Service
80%: Overall Rating
Opening Hours
Open daily from 11 AM – 6 PM
Closed on Tuesdays
Address / Contact Information
04 773 3382
No 509
Jalan Kilang Tebu
Taman Seri Ampang
05050 Alor Setar
Kedah